It's been an old fashion when webmasters created tons of low-quality dofollow backlinks (i.e., forum profiles, blog comments, articles directories, etc.) and ranked on Google.
But this is not how Google ranks pages in 2023.
It's different now.
There are over 200 Google ranking factors. Some are very important, and some are less significant.
Actually, not everyone can focus on all ranking factors. That's why you don't need to worry about all of them.
So instead of discussing all those 200 ranking factors, you should prioritize the most important ones that work in 2023.
If your rankings are stuck, you can also check if you meet the new ranking criteria so that you could improve the content and rank higher on Google.
Here are the most important SEO rankings factors you can easily focus on and even rank your new content faster on Google in 2023.
Content Quality
Nowadays, Google is focusing more and more on content quality.
Google wants to rank the best valuable content even with fewer backlinks. But this way, Google is making content quality parameters more strict and advanced.
For instance, many people who had some reasonable backlinks and were ranking for a long lost their rankings in the last few Google Algo Updates.
All those were content updates. Definitely, the content was not the only thing, but somehow things were relevant to the content.
For instance, it was a context update when Google started changing titles in SERPs.
There are many other content updates, for instance, product reviews updates, mainly focusing on content quality.
Google wants to ensure the web page can really and quickly solve users' problems.
It sounds like the old mission of Google; yes, it is, but now Google is taking steps to lower the manipulation of giants.
Now let's understand content quality and how you can focus on content quality to rank on Google's first page in 2023.
Quality content key ingredients
According to Google, helpful, reliable, and people-first content is quality content.
If you go through all the guidelines, you will realize that Google wants thorough, well-optimized content written by an expert or enthusiastic.
But I believe even freelancers can write quality content if they focus on the following two things. These two things satisfy Google's requirements.
Expertise
Relevancy to user search
Let's briefly understand both terms so that you can feed the algorithm to rank in 2023.
Expertise: Get the best knowledge of the topic
Google wants experts to write content. The question is how Google makes sure the writer is an expert.
I think Google uses two factors that help them decide whether the writer is an expert on the topic or not.
Knowledge accuracy:
Google introduced a tool called MUM that helps them understand the knowledge's accuracy.
With MUM, Google verifies the information through many mediums, and if the data somehow matches the best available information on the web, Google considers it a valuable piece.
LSI keywords:
Google uses semantically related keywords (LSI keywords) to understand the topic. For instance, if you have used the term 'Apple" on the page, Google will see the words and phrases in the article to decide which Apple you mean.
For instance, if you use the words company, MacBook, iMac, features, and specifications on the page, you are referring to the Apple company.
Makes sense?
So even if you are not an expert, you can find the best information from books, podcasts, and experts and copy how they speak; you are more likely to be considered an expert on the topic.
For instance, when I wrote the article "Business Ideas for Developers and Programmers," I used the terms like front-end and back-end developer. I mentioned popular languages like Python to feed the algorithm. And hence outranked.
It also improves the user experience. If you communicate with people in their languages, they trust you more. That's what Google uses as an on-page factor.
Relevance: Answer what people want to know
If you truly understand the topic, it's not enough. The next big thing is researching which aspects and angles users want to know.
If you are discussing product X. Product X has ten different angles to discuss. Users already know 6 of them and want to explore the other 4. You won't win if you are not debating product X from those four angles you won't win.
Here is a real example to make you understand how to find what people want to know about the topic.
For instance, your topic is "How to rank #1 on Google?". Search it on Google from the country where you want to rank.
If you are outside the USA but want to rank in the USA, you should use any VPN service.
Here are the results for google.com

You can see in the People also ask tab that those who search the topic want to know about the following angles of the case.
Possibility: Can they really rank on Google?
Cost: How much will it cost them? For instance, if use SEO services, how much do freelancers, and SEO agencies charge?
Time: How much time it takes to secure #1?
If you dig deep, you will find many other angles.
Now, do the exact search on forums like Quora, Reddit, and Niche forums.
You can answer all the questions people want to know, and you will easily outrank.
Many advanced AI content writing tools use the same strategy to optimize and rank AI-generated content on Google.
Optimization tools like Rank Math Content AI tools use the same strategy to find the best areas you should include.
Such tools often rely on LSI keywords. You can also find LSI keywords but use the most relevant ones that satisfy the intent.
Keyword Intent:
Keyword intent means understanding the primary goal of the user searching the topic.
Keyword intent plays a huge role in rankings.
You will never rank on the first page if you can't get what the user wants to know.
So make sure to invest time in understanding the keyword intent.
The easiest way is to search the keyword on Google and see what's already ranking on Google. What people are talking about, and you should also discuss the same angle.
For instance, here is a keyword with dual intent. You will find this result if you search "keyword search volume," you will find this result.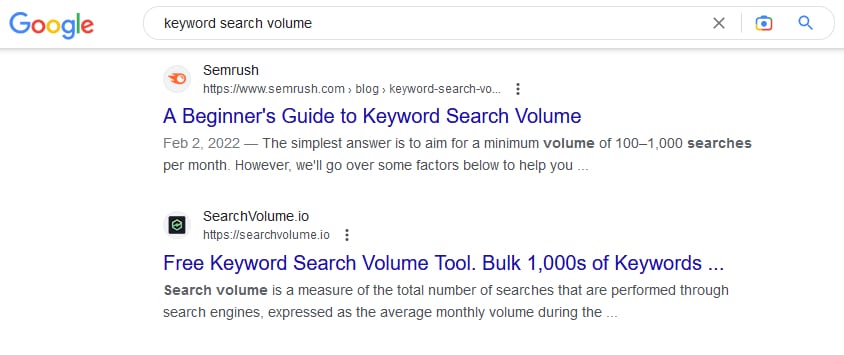 It's clear that people searching the term keyword search volume wants to understand search volume or are looking for tools to find keyword search volume.
But if you go through the complete page, you will see that more results are for tools.
So most searchers want to know the search volume of their keywords.
You won't find dual intent in the long tail keywords. But sometimes, if you go for untapped keywords, as there won't be much or any results for untapped keywords, you might need to rely on many other factors to guess the best intent.
Here is another example of a long-tail keyword. Here is the result for the search term "rank website on Google's first page."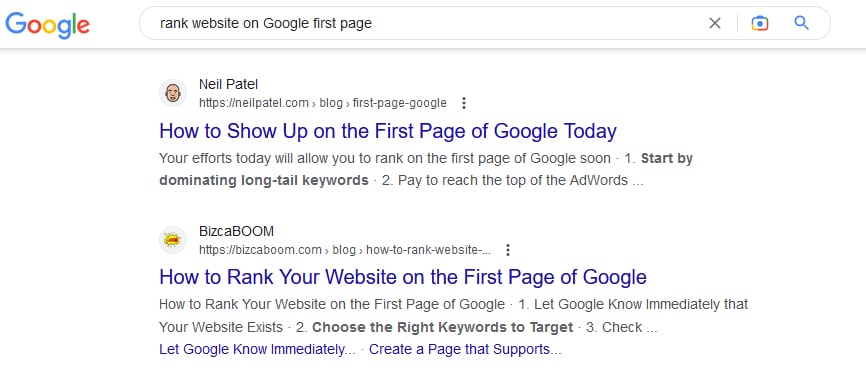 It's clear website owners are struggling with rankings and want to make their websites appear on Google. They need guidance, and you can share the best tips and guide to rank on the first page.
On-page SEO:
On-page SEO is the next big thing that matters the most in ranking content.
OnPage SEO means optimizing your webpage to assist Algorithms in better understanding your webpage.
There are a few prevalent things that you should focus on in OnPage SEO.
Here are the most important ones.
Optimizing titles: Titles should be descriptive, and you should adjust the keywords within your title.

Optimizing URLs: Long URLs don't perform well in search engines. That's why only include the important words in URLs.

Keyword density: Include your main keyword within the content up to 2.5%. But it's not essential to focus on the percentage. Sometimes it can be 0.5% and sometimes it is 5%. It totally depends on how your content looks natural.

Outbound links: It also matters how many outbound links are included and who they are. It's better if you include a few relevant external links. For instance, If you are writing about SEO, you can include this article (you are reading) as an external link to your topic. It will make Google realize that you have deep research.

Anchors: Google has shared some guidelines for using anchors on the page. You should optimize the anchor text on your articles. If the anchor texts are relevant to your main topic, it will help rankings.

Google discourages using generic anchors like "click here", and "this article", but it should describe the topic of the link.

You can see how I have used the anchor "guidelines for using anchors on the page", it will completely describe what you will get if you click the link.

Structured content: It's also important to make your content digestible and structured. Keep the phrases short, make headings, use bullets, and a structured content plugin.

Media: The images and videos included in your article also have a direct impact on your rankings. It's also important to include your main keyword in the ALTs.
Most of the guidelines mentioned above are too basic. If you are on WordPress, you can install any SEO plugin, and the plugin will help you check if the article is SEO-friendly or not.
Mobile-Friendly:
A report found that nearly 63 percent of searches are on mobile, and it's increasing.
That's why Google wants you to focus on your mobile traffic. Almost all of the WP themes are mobile-friendly. Otherwise, you can use any AMP plugin for the best mobile experience.
External Links:
It's a fact that backlinks (also known as external links) have a direct relation to the rankings. I have experienced it many times.
For low-competition keywords, you might not require backlinks (or internal links will be enough), but for keywords with high search volume, you either wait for years to rank or acquire some backlinks.
Additionally, External links also resolve indexing issues.
Speed:
Site speed is one of the 200 ranking factors.
Websites see a huge drop in rankings if they take more than 3 seconds to load, especially e-commerce and affiliate websites.
Every second after 3 seconds has an impact on your user experience. Thus, Google wants the pages to load faster; hence, it's one of the important ranking factors.
Website Authority:
Website authority doesn't mean domain authority or domain rating. But it means how relevant or reliable the website is.
You increase website authority with topical authority and backlinks.
A topical authority means the authority you build by discussing different angles of a niche/category/topic.
Besides backlinks, it also helps you rank on Google.
Here is an example.
A couple of days ago, I wrote an article on Business Analytics. Currently, it's the only article available on the site, and it's not ranking at all.
There are two reasons;
It's not getting links from other articles, so it's not getting a reasonable link juice.
It's the only topic so this site is not an authoritative site for the topic.
So overall, website authority depends on two factors: How many topics you have covered in the same niche, and how many quality links you have gained from authoritative sites.
Although, there are many easy ways to build links if you can't build links, at least you can build topical authority to be an authoritative website.
If you follow the above-mentioned best practices, you can easily rank on Google's first page in 2023.