It's clear that website speed is one of the most critical factors to rank on Google.
The reason is that Google wants webmasters to provide the best user experience – on desktops and mobiles.
And it's not for no reason.
Google has found that people spend more time on the sites with the best user experience. That's why user experience has become another important pillar along with helpful content.
In user experience, the first thing is site speed. People want to see content within no time, especially on mobiles.
But the truth is that optimizing the mobile version is hard. You can't easily increase your site's mobile version speed unless you invest money in the right things.
Even after that, your site won't load in the blink of an eye on a mobile. Let's say my site loads in less than a second on desktop but it takes 2 to 3 seconds on mobile.
So you can't load your mobile version as fast as the desktop version. But you can do your best.
Google says your site should load as quickly as possible. But the reality is if you are using over a dozen plugins, you can't load the site's mobile version in less than 1 second. It takes a few seconds.
But the problem is that every millisecond is playing role in the user experience.
Here is the proof.
Conversion is the ultimate goal but it's not the only reason to load sites faster.
There are some other reasons too. We shall discuss it after a while.
First of all, let me show you how these 4 plugins (we have discussed below) have helped me score 100 on the PageInsights.
Here is the screenshot of scoring 100 on the PageInsights due to those 4 plugins.
100 score is on desktop and 70+ on mobile for most pages.
70+ on mobile is a good enough speed. Yet it can be improved. (I use plugin #2 in the list to speed up on the mobile and it pays off in rankings.)
I prioritize "First Contentful paint", "Largest Contentful Paint", and "Cumulative layout shift". I believe that these 3 factors have a direct impact on user experience.
So if any plugin is not improving these areas but scoring above 70, you should reconsider your plugin.
Here is the screenshot.
Now, let's move forward to some other reasons for which you should prioritize site speed.
Google says that 53% of mobile users abandoned a page if it takes more than three seconds.
Another research says the bounce rate increases up to 90% if a site takes 1 to 5 seconds to load.
Here is another important thing to know.
If you study the last few Google updates launched in 2022, you can easily guess that Google is focusing more and more on page experience.
Page experience has three technical pillars.
Website design
Page speed
Core web vitals
The list of reasons keeps going on.
There are many other convincing resources out there on the internet. But the above-mentioned reasons are enough to focus on website speed.
That's why I focus a lot on website speed.
At least this is what you can easily do and enjoy benefits.
I am more conscious about it once my rankings dropped due to page experience (speed and core website vitals).
When I did deep research, I realized that Google is paying more attention to user experience for commercial sites. If you are selling anything on your site, you should never be careless about your site speed.
For instance, if you have a business blog, or Amazon affiliate blog, where you sell products or services, you can't secure rankings without speed. Google has confirmed that it's more than a tie-breaker in 2022 and onward.
If you want are serious about your blog, and you don't want to get a hit someday, it's the best time to invest in improving your site speed.
As I use WordPress so I am sharing what I am already using on my website to improve my WordPress site speed (and score 100 on page insights).
You can also use the same plugins to skyrocket your site, and hence improve your rankings on Google.
If you don't use WordPress, you can hire any expert to do it for you.
Here are the four WordPress plugins which are enough to speed up your site.
Wp Rocket
WP Rocket is a caching plugin. It's the number one plugin to speed up your WordPress site. According to the WP Rocket team, this plugin is designed to boost your loading time, improve the PageSpeed score, and optimize Core Web Vitals (CWV).
As I am using WP Rocket for years, I will agree that this WordPress plugin works pretty well in boosting your speed and score.
You can improve your site speed more by spending $50.
Here is how I use WP Rocket on my blog.
Install the plugin, and go to settings > Wp Rocket.
Here are the settings that I use for my website.
CACHE: "Caching for mobile devices" is enabled. And "Separate cache files" too.
FILE OPTIMIZATION: "Minify HTML", "Combine Google Fonts", "Remove Query strings", "Minify CSS files", "Minify JavaScript (JS) files", "Load JS deferred" and "Safe mode for jQuery" are enabled.
MEDIA: "Enable for Images", "Disable Emojis", and "Disable WordPress Embeds" are on. Keep in mind that I don't embed anything on the site.
PRELOAD: "Activate preloading" enabled.
DATABASE: Turned on all except "Auto drafts" and "Auto cleanup".
ADD-ON: Google Analytics and Facebook are on.
These settings help me speed up the site.
This is another best plugin to speed up your site on desktop and mobile. I use it to load my site faster on mobile. Google puts too much emphasis on mobile speed because more and more people are interacting through mobiles. The number will keep increasing over time.
So Google prioritizes the mobile version of your site.
I have experienced on my site that if you fail to provide a good user experience on mobile, your rankings will get affected over time.
Especially, it's more important if you are offering product reviews.
In Google's product review update, the primary focus was on content and user experience. If you lack in any of those, you can't rank your site anymore for competitive keywords. If Google has another option to present, you will be nowhere.
That's why investing $70 on RapidLoad will pay off on your commercial site.
However, if you don't use heavy plugins like AffiliateBooster to design your affiliate pages, you might not need it.
The primary goal of the plugin is to reduce unused CSS.
Normally, WP Rocket can handle most of the jobs.
But if you use many design plugins where a lot of CSS is involved, you should invest in this plugin.
Here is how to use it.
Install the plugin from Plugins > Add New > RapidLoad
Now, go to Settings > RapidLoad.
You can manually add URLs to optimize. Or all the web pages will get optimized once someone visits. If it's a small site, let's say a few hundred pages, you can visit all your pages yourself. Once you visit the plugin will automatically add the pages in the Queue and optimize.
Now go to "Advanced Rules" and turn "Enable to eliminate render-blocking CSS", "Generate separate mobile version of critical CSS." on.
After that, if the following settings are not enabled, turn on the settings given in the image.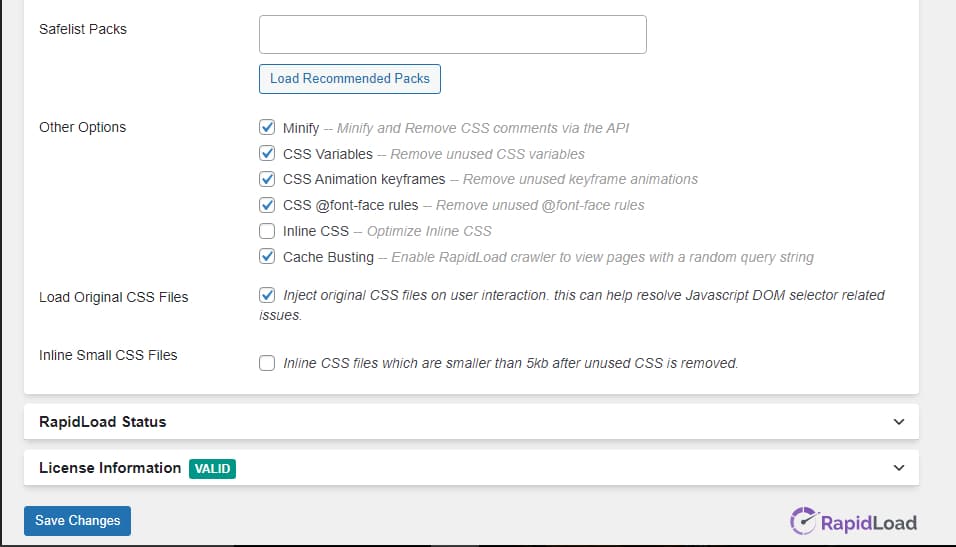 As I was using the affiliate Booster plugin to design affiliate posts. It was putting a heavy load on all the web pages. My affiliate posts are usually less than 20%. 80% of the site was bearing this heavy plugin for no reason.
It was hectic.
Similarly, as you are NOT using all the features of any plugin, but all the plugin files are loading on all webpages, it slows down the page.
Why put this burden on the site?
Asset cleanup is the plugin that helps you remove all the unnecessary plugins and files easily.
The free version is also good to speed up the site, but if you want to put your site speed to the next level, you should upgrade to the pro version.
Here is how to use it.
Install the plugin from "Add new" under Plugins.
Activate "AssetCleanup"
Turn on "Manage in the dashboard".
Now once you will publish the post, all the plugins will appear under your post. You can turn off unnecessary files and plugins.
You can also turn on "test mode" if you are afraid of using it. In test mode, settings are not applied publically.
Imagify
I love using Imagify. It compresses the images and converts them into WebP to load faster. WebP format is optional but I use it to load images faster.
And the great thing is that this plugin is free for small sites.
If you don't use many images on the site, you can stick to the STARTER plan. But if you have tons of images, it's a great thing to invest your money.
It will surely pay off.
It's easy to install and use.
Go to Plugins > Add New > Imagify
Activate and add email to get the API key.
Go to settings and optimize images.
You are done.
The above-mentioned 4 plugins in combine can get you amazing results.
But if you can't afford paid plugins you can rely on free plugins too. Let's say, you can use "Litespeed Cache" instead of "Wp Rocket" and skip the "RapidLoad".
You won't get the best results, but it's better to have something than nothing.
Although, if you have a commercial site, and you sell your products or services, investing the site speed should be your priority.