First, here are the screenshots of my score of 100 on the PageSpeed test. My website is fast, yet I never lose an opportunity to improve my website speed because I know how it has an impact on rankings and conversions.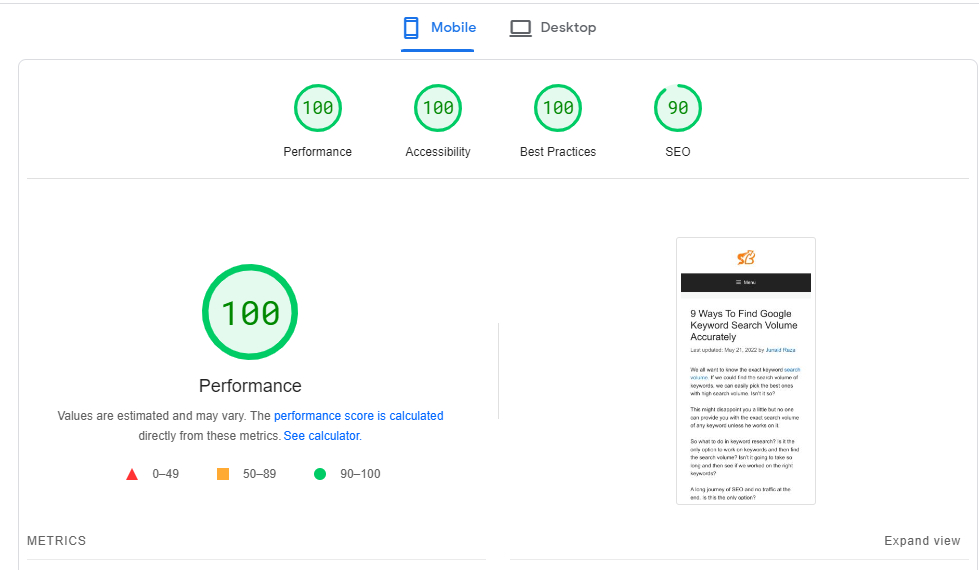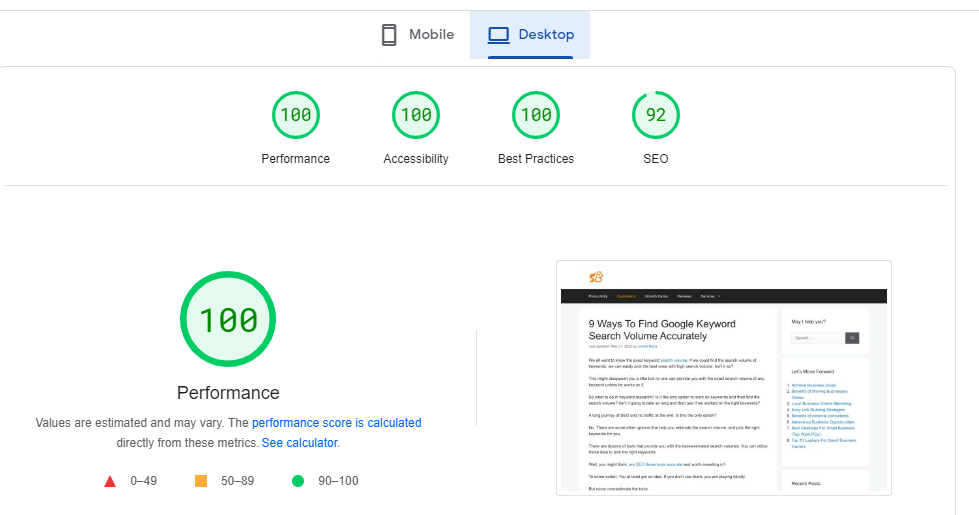 Google says that core web vitals are ranking factors; Core web vitals are mostly about website speed. If it's not fast enough, you are less likely to pass CWVs.
And if you don't pass the test, you might lose rankings.
Why take risks? When you can pass the core web vitals with a score of 100.
Yes, if you are on WordPress, with the help of three plugins (almost free), you can make your website fast.
And it won't require any technical skill. Even a beginner can easily install the plugin, turn the best settings on and lead on SERPs with a fast website.
Before we get started, here is why it's important to speed up your site on desktop and mobile.
Google says that 53% of mobile users abandoned a page if it takes more than three seconds.
Another research says the bounce rate increases up to 90% if a site takes 1 to 5 seconds to load.
According to research, every 0.1 seconds of loading time influences 8% of conversions.
According to Google, every 1 second fast time increases 20% of conversions.
Wp Rocket
WP Rocket is a caching plugin. It's the number one plugin to speed up your WordPress site. According to the WP Rocket team, this plugin boosts your loading time, improves the PageSpeed score, and optimizes Core Web Vitals (CWV).
As I have been using Wp Rocket for years, I believe it's true.
They offer a free and premium version. If you don't want to invest $50/year on a caching plugin, you should choose any 5-star free caching plugin like Litespeed cache.
That's a free one. I also use that on another blog and am satisfied with that plugin. You can use the free plugin if you are working on an informational blog.
However, as I Wp Rocket here, I recommend using this plugin on your business website to pass CVW with a score of 100.
Here is how to use it.
Install the plugin, and go to settings > Wp Rocket.
Now, go to the plugin setting and optimize it according to your website needs. Here are the settings you might use for your
CACHE: "Caching for mobile devices" is enabled. And "Separate cache files," too.
FILE OPTIMIZATION: "Minify HTML," "Combine Google Fonts," "Remove Query strings," "Minify CSS files", "Minify JavaScript (JS) files," "Load JS deferred," and "Safe mode for jQuery" is enabled.
MEDIA: "Enable for Images," "Disable Emojis," and "Disable WordPress Embeds" are on. Keep in mind that I don't embed anything on the site.
PRELOAD: "Activate preloading" enabled. Enable Link preloading.
DATABASE: Turned on all except "Auto drafts" and "Auto cleanup."
ADD-ON: Google Analytics and Facebook are on.
Cloudflare
The next big piece of advice relevant to Wp Rocket is using a CDN.
Wp Rocket also offers a CDN, but that has no comparison with Cloudflare. You can see here why Cloudflare is better than Rocket CDN.
Once you update your name servers, you can easily integrate Cloudflare into your Wp Rocket plugin.
It will help you remove the cache memory of your Cloudflare from the Wp rocket settings.
The fact is that Cloudflare is one of the best tools to speed up any of your websites. But it takes a reasonable amount to use it.
Although there is a free version of Cloudflare, it only works well with starter sites, which don't have significant traffic.
Your plugins slow down the site. You can't uninstall all your plugins, but you can disable them or their unnecessary features.
As you are NOT using all the features of any plugin, but all the plugin files are loading on all web pages, it slows down the page.
Secondly, you might not need to use a plugin on all pages.
For instance, if you realize the importance of a great web design and decide to use some plugins to design some of your web pages, you need not load that plugin on all your web pages.
Why put this burden on the site?
Asset cleanup is the plugin that helps you easily remove unnecessary plugins and files on separate pages. It takes a few minutes to turn features/plugins off on any page, but these minutes remove the unnecessary burden on your site.
The free version is also good for speeding up the site, but if you want to put your site speed to the next level, you should upgrade to the pro version.
Here is how to use it.
Install the plugin from "Add new" under Plugins.
Activate "AssetCleanup"
Turn on "Manage in the dashboard".
Once you publish the post, all the plugins will appear under your post. You can turn off unnecessary files and plugins.
You can also turn on "test mode" if you fear using it. In test mode, settings are not applied publically.
Imagify
I found Imagify years ago, and I loved using it.
It compresses the images and converts them into WebP to load faster. WebP format is optional, but it's recommended to load images faster.
And the great thing is that this plugin is free for small sites.
You can stick to the STARTER plan if you don't use many images on the site. But if you have tons of images, investing your money is a great thing.
It will surely pay off.
It's easy to install and use.
Go to Plugins > Add New > Imagify
Activate and add email to get the API key.
Go to settings and optimize images.
You are done.
It's how I secure a score of 100 on Google's page speed test, and you can also use the same strategy to improve your site speed and pass core web vitals with a score of 100.