71% of the businesses have their websites. Others (usually small business owners) find building and maintaining a website hard or expensive.
But that's not true.
This guide covers both areas. You will learn how to start and maintain your business website easily and how to do it under your budget.
But before we proceed to the easiest way to create your business website, let's see why it matters.
As it's a big marketplace, brick-and-mortar businesses should open franchises to expand. Smart business owners create websites for limitless expansions.
The list goes on and on. You can find many other impressive reasons to get your business online.
The great news is that it's not hard or expensive to do. There are many ways to do it completely free. Let's say you can make your business appear on Google for free. Or how to tag your business on Facebook. The free presence will also get you visitors and sales.
But the best way is to start a website with your brand name. You can also start with a one-page website that we have discussed here.
When you start a 1-page website, it doesn't mean you can't add more pages. You can easily expand your website whenever you have resources. It won't cost you extra money all the time.
So here is what you pay for starting your one-page website (realistically, the website would have many pages).
Starting a fully functional one-page business website will cost between $200 to $400 a year.
$200 is for a WordPress website (easily expandable), and $400 is for a fully functional Shopify store. Both are pretty inexpensive compared with the benefits you get for your business.
Before we discuss both ways to start a business website, let's see which one suits you the most.
Shopify Or WordPress for a one-page website?
To understand which platform will suit you the most, let's see what you want to do with your website.
As it's a one-page website, it must not be a store. Right?
It can be any consulting services, a static page to present your brand or a payment gateway. Right?
Now, let's be a bit more specific.
If you want to start a website for your laundry business, a car dealership business, consulting services, or any similar business with a custom homepage, contact us, about us, and privacy policy pages. You also have plans to start a blog to interact with your audience; WordPress is the best CMS for your website.
It will be much cheaper than Shopify or any other e-commerce platform.
But if it's a commercial online store or you want to interact with people through your website, where you have to keep control of sales, purchases, payments, or other business tasks, let Shopify do it for you.
Shopify is the best affordable e-commerce platform to run an online store.
Got your answer?
Now let's see how Shopify will work.
Starting a website with Shopify
Starting your online store is easy with Shopify.
Here are the steps to create and design your online store on Shopify.
Sign up for a 14-day trial.
Once you sign up, it will redirect to your store's admin panel.
Choose the best suitable theme and layout. There are tons of free and paid themes in the Shopify themes store.
The best advice is to find a responsive, fast theme. The reason is that website speed plays a significant role in commercial sites' SEO nowadays.
Add theme under "Online Store" in the admin panel. And publish.
Customize your theme settings according to your business. You can browse your competitor's store to take a better idea.
Now click on "All products" to "Add products."
You can also set up collections (a group of products, say, different product sizes).
You are done.
You will pay $19 per month for the starter plan. For serious business owners, the service is quite inexpensive. You can't get so much comfort at such a low price.
The store comes with its Shopify domain name, but once you purchase your brand domain name, you can set up your custom domain anytime.
In return, Shopify will keep a record of everything that you do in your store. And 24/7 support won't let you worry anytime.
Best Shopify alternative (cheap solution)
Creating a business/commercial website with WordPress is easy and cheap.
WordPress is way better than Shopify and many other platforms if you don't want to use it to create an online store.
But it doesn't mean you can't create a store with WordPress.
WooCommerce WordPress plugin is the best solution to create an online store on WordPress.
Here is how easy it is.
First of all, you purchase a domain and hosting. Connect your domain with your hosting. Now follow the following steps.
Install the WordPress on your domain in the hosting's cPanel.
Select a theme (free or paid). Use a professional but light theme to let your site load faster.
Choose your plugins (based on the website demand). Here are 4 plugins to speed up your WordPress site.
And hit publish
Now you can log in to your WordPress admin panel to edit your website. If you have an experience with it, you should hire an expert to do it for you.
On Fiverr, people are charging $20 to $300 to design your website. I think you should find a good WordPress designer below $100.
Now let's go through all the steps for setting up a WordPress site.
Here is how to build a cheap business website
The following steps will give you a clear image of how much a 1-page website will cost.
Buy your domain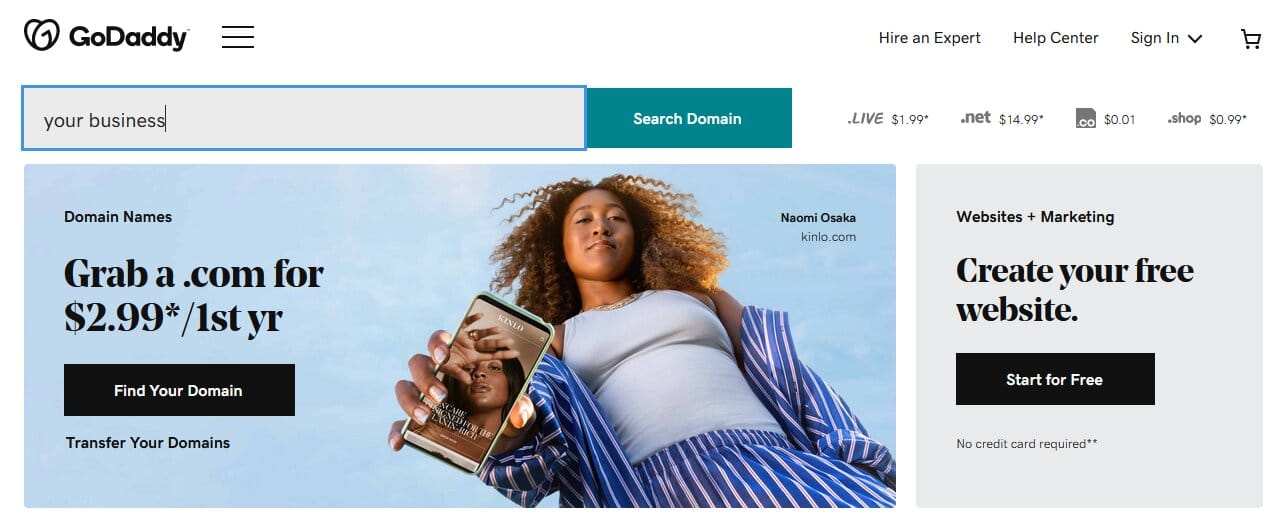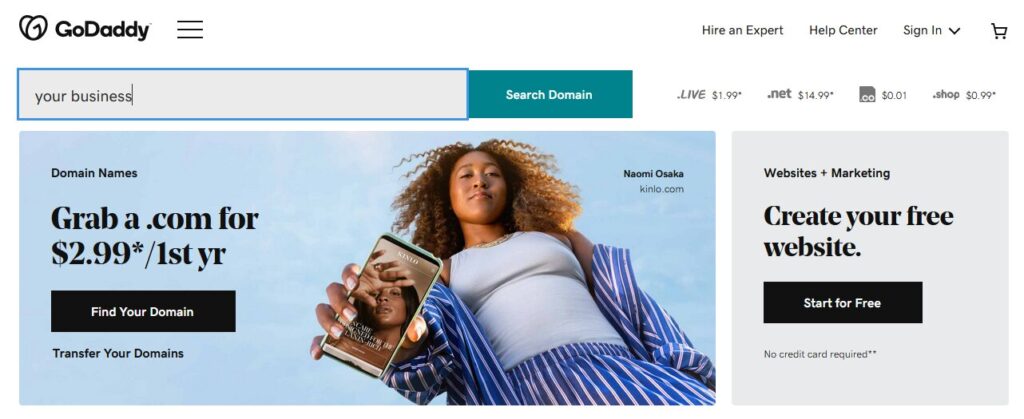 The first step is to choose and buy the right domain name.
If you are a brand, the best scenario is to buy a domain with your brand name. Otherwise, it would be best if you had a name with a broad meaning.
The next step is also important, where you will see how much you shall pay for the domain.
Choose the right extension for your domain.
The extension and your name should give an idea of your business.
Here are the most common domain extensions; you will also learn why those extensions are used.
Once you know which domain extension suits you, follow the following steps to buy your domain.
As I keep domains on Godaddy, I shall tell you how you can buy a domain on Godaddy. It doesn't cost you much more than most other domain registrars.
Go to godaddy.com
Search for the domain
Select the domain with your required extensions.
Continue to the cart and complete paying for the domain
Depending on the domain name and extension, the domain might cost you from a few bucks to hundreds of dollars.
Let's say you are a store, and your store name isn't a premium name; you can get the name.store at a very cheap rate. Maybe, at $2 (promotional). After that, you can renew it at a regular cost of nearly $80 a year.
Similarly, if it's a .com domain, you can get it at $3 (for the first year) and renew it at $20 a year.
On average, it will cost you $10 to buy a domain for your business website for the first year.
Buy hosting for your website.
The next step is to choose Hosting for your website.
There are many hosting providers out there. All the popular ones are great.
You can even go for your favorite one, but if you are looking for the best cheap solution, Hostinger is matchless.
I have been using Hostinger for a long time and have never been in trouble unless I get more traffic than my plan.
Before we discuss choosing a plan, let me tell you the only drawback of using Hostinger.
Once you need support, you might need to wait for 20 to 30 minutes to get a response from the agent.
It sucks.
Now, let's see which plan is best for you and how much it costs.
The only thing that matter in choosing a plan is your traffic.
How much traffic will your website get?
Here are the details for small to medium-sized websites.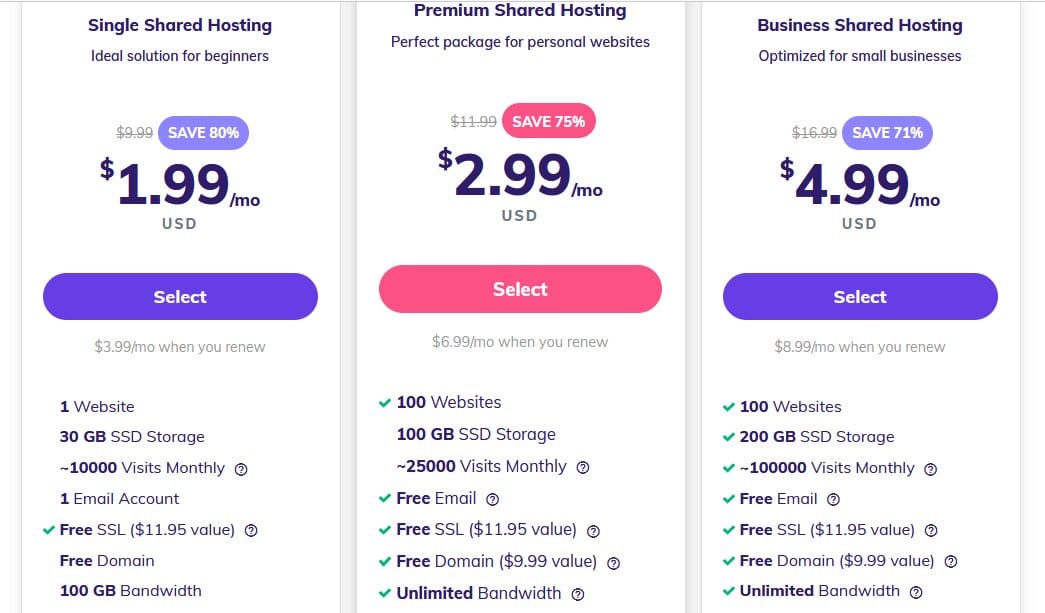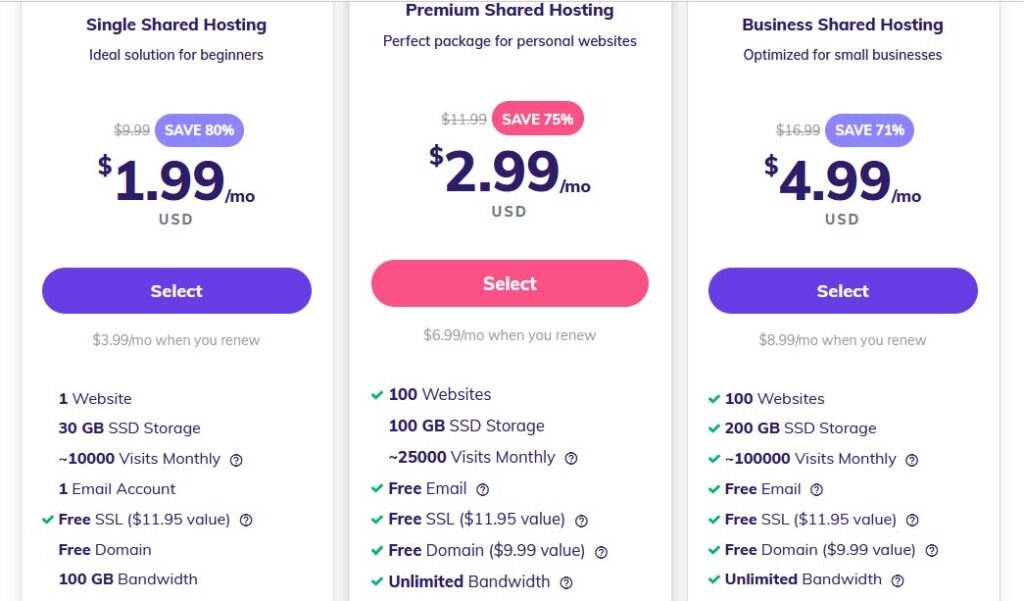 For instance, we imagine you are going for business shared hosting for your medium-sized business website.
So the price for your hosting is $60 a year.
Select your content management system
There are many CMSs that you can use for your business website.
The most famous CMSs are WordPress, Joomla, and Drupal.
You can install any of the systems.
Secondly, you can also ask a developer to develop your website and host it on your hosting.
You don't want to run a store because it's a one-page website. My recommendation is to use WordPress.
There are tons of plugins and themes that help you design and run your website efficiently.
Design your website
The last step is to design your website.
Whatever CMS you use, there are many themes you can use.
Indeed, the best ones are the paid ones.
If you don't find a suitable design for your website. The best is to ask someone to do it.
Designing a website may include many things, and it's worth investing to ask a professional to manage it.
Actually, your website outlook matters the most in user experience.
My recommendations are for the GeneratePress theme because it's fast.
Hire a designer
If you manage to do it yourself, it's excellent and won't cost you any dollars.
Otherwise, a designer will charge you some money and create a perfect landing page for your business website.
A designer will charge you (on average) $200, and they will manage to do everything you want them to do. You will tell him what you want, and he will do it for you.
It's also safe to provide your WP login details earlier, but don't give him your hosting cPanel details. If he changes WP login details, you can reset it in your cPanel. So it's still in your control.
Make sure you are clear about what you want. Also, learn some SEO basics to prioritize and raise questions if they don't do well.
For instance, website speed is now a Google ranking factor. A poor designer may ruin your response time and hence website speed.
It's questionable. Makes sense?
Create content
A designer won't create content for you. It's all your responsibility to provide him with content.
The content may be simple text, testimonials, and a business description.
Business blog writers will charge you a small amount to do it for you. You can also use my copywriting services to create content for you at affordable rates.
The total cost may range from $20 to $100 if it's textual content.
The images are sometimes free from Unsplash.com, and sometimes it will cost you.
One-page website price estimation
At last, we can estimate the total cost of a one-page business or personal website.
There are a few one-time investments.
Depending on the work, one-time costs can be from $100 to $300.
Yearly charges are up to $80.
So the total cost to build and run a one-page business website ranges from $180 to $380.
Secondly, if you can design your website yourself, the website price will only be up to $80 a year.
Now it depends on whether you create a WordPress website or go for a Shopify store. Depending on your choice, the one-page website price or cost of a simple Shopify store will be between $200 to $400.