Before I tell you the exact cost of getting yourself a one-page website, let me explain why it's important to have at least a single-page website.
And it won't be as expensive as you may have read from many popular service providers, who charge five to ten thousand dollars.
Especially if we build your website, you will receive exclusive benefits that are not available elsewhere. I have discussed these special benefits at the end of the article.
Importance of having a website
Websites have become a crucial ingredient for business success. They offer the opportunity to target clients who are actively searching for your services or products.
Fortunately, most businesses now recognize this importance.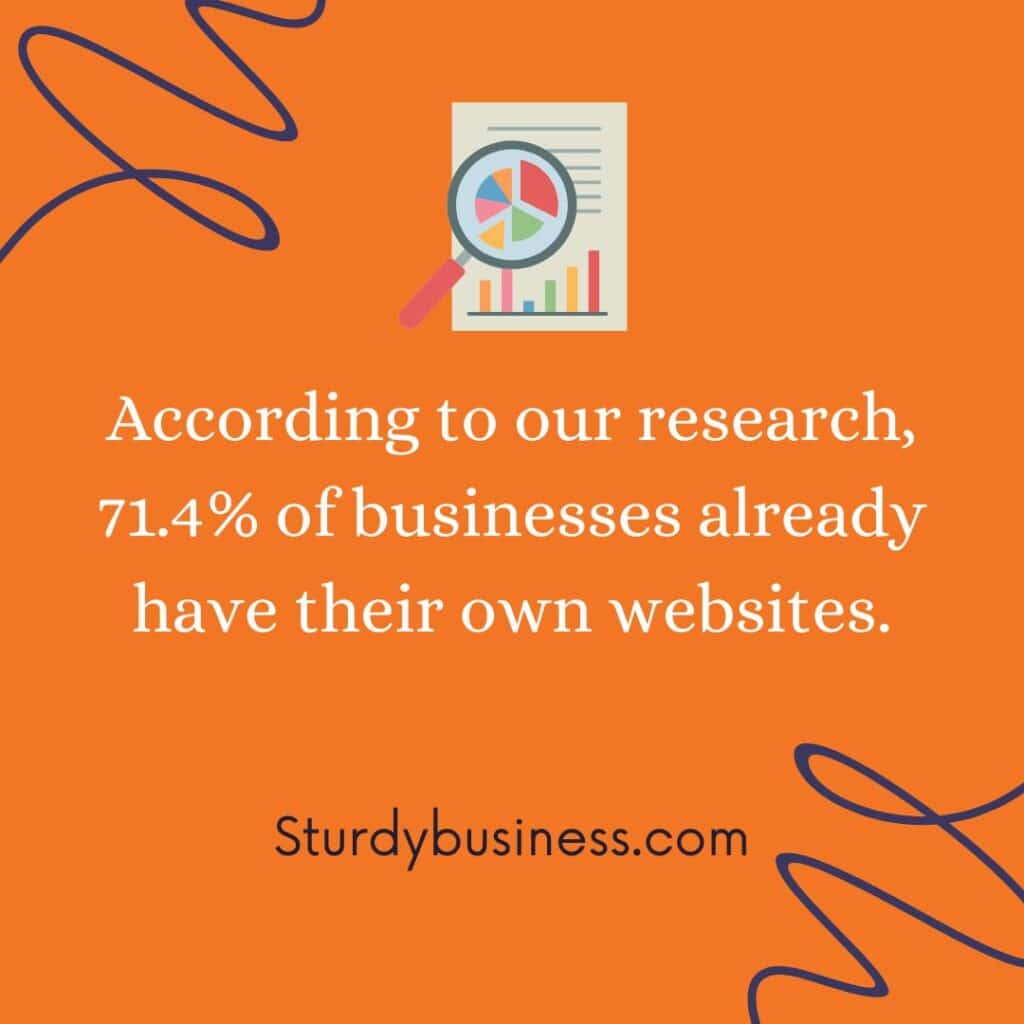 According to our research, 71.4% of businesses already have their own websites. This percentage has significantly increased compared to last year.
However, it's important to note that not all of them are utilizing their websites effectively.
Many of them have opted for one-page websites simply to present their basic information to customers. Some service providers have chosen to create portfolio websites.
Having a one-page website is a good starting point, but it's not sufficient.
I understand that leveraging a website the right way to attract potential customers costs money, and if you can't spend $1000 per month on SEO, you won't be able to acquire clients.
For instance, businesses often experience the following benefits from having websites:
However, it does involve marketing expenses, as businesses allocate budgets for various marketing strategies.
If you don't have marketing plans, every business should still have at least a one-page website to effectively represent their brand.
For instance, if you visit the homepage of sturdybusiness.com, you'll notice that it is presented as a lead generation SEO and copywriting agency.
This clear presentation helps visitors understand the primary goals of any business.
Similarly, you should consider what impression you want visitors to have of your business when they visit your website. It's essential to carefully manage the perception of your brand through your website.
Now, let's explore the cost of obtaining a single-page website or a more comprehensive 1-5 page fully functional website.
One-page website price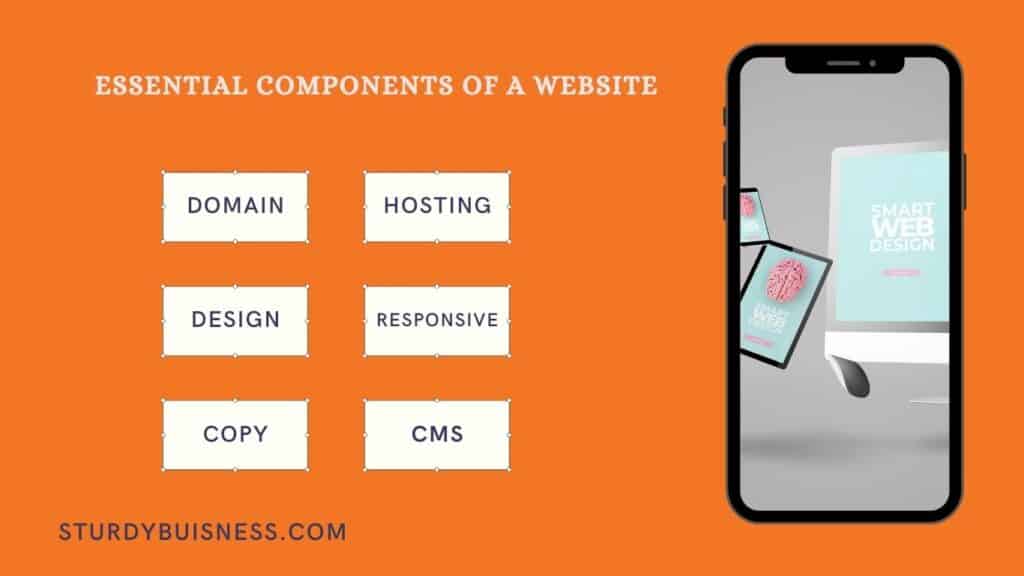 Let's break down and examine the cost of building a single-page website.
There are several essential expenses that you must consider when developing a professional website.
For instance, here are the essentials of any website:
Domain ($15/year)
Hosting ($35/year): I use Hostinger hosting (aff. link)
Design ($100 to $250)
Responsiveness ($0)
Copywriting ($50 to $250)
These are fundamental requirements without which you cannot proceed with building your website.
Beyond these fundamental requirements, you have various options for building your website:
Hiring a web developer to create your website from scratch using coding.
Utilizing website builders such as Wix, Shopify, or Squarespace.
Use a content management system (CMS) like WordPress
Now, let's discuss which option would be most suitable for your needs.
Price when you hire a developer to build your website
Developing a site from scratch with coding requires a significant amount of work. You have to build both the user interface and the backend interface, where you can add content or make changes.
Consequently, this type of website can be quite expensive.
A developer may charge you anywhere between $500 and $5000 depending on the workload. It's advisable to pay this amount only if you genuinely believe that you need a manually coded website.
Here are a few reasons why people choose manually coded websites:
Customization: Manually coded websites provide full control over customization. They are suitable when you have unique ideas that require extensive backend work.

For example, a few months ago, one of my clients shared a new idea where he wanted to offer a product on installment payments and have complete control over his website to meet his specific requirements.
Large Websites: Some individuals have large websites, and in such cases, manually built websites offer benefits in terms of site control, speed, and cost-effectiveness.
Cost: Apart from WordPress, website builders often come with additional costs. Therefore, for larger-scale projects, opting for a manually coded website can be more cost-effective.
As you can see, the reasons for preferring coded websites are mainly applicable to large businesses and when specific user experiences are required.
If you only need a simple one to five-page website, it is recommended to rely on page builders like Wix, Squarespace, or Shopify or free CMS platforms like WordPress.
Pricing when you use website builders:
You can utilize website builders such as Wix and Squarespace to build your website, as they offer templates and allow you to make changes easily.
These platforms are suitable if you need a simple portfolio site to represent your brand without actively seeking to attract potential customers. However, as your website starts attracting potential customers, it may become an expensive option.
For e-commerce websites, Shopify is considered one of the best site builders. It provides comprehensive management tools for controlling all aspects of your e-commerce website. Sign up for Shopify here (aff. link).
Now, let's discuss the cost of leveraging a free CMS like WordPress to build your site.
The benefit of using a free CMS like WordPress is that you don't have to pay monthly fees, and it offers a lot of customization options. You are not restricted to templates and can implement any changes or modifications you desire on your site.
Price when you use CMS like WordPress, Joomla, etc.
When using content management systems like WordPress or Joomla, you can build your website using just one domain and hosting.
Additionally, you have the option to utilize free themes and plugins to construct your website.
Overall, it is the most cost-effective solution for building your website.
1 to 5 pages WordPress website price:
Now let's break down the price of a one-page website and examine how much extra you would need to pay to build a fully functional five-page website.
Here is the breakdown:
Domain name: $14.99 per year
Web hosting: $35 per month
WordPress theme: $59 (I use GeneratePress.)
WordPress plugins: $100 to $200 (These are plugins I use to speed up my WordPress sites.)
Professional design: $200 – $500
Content creation: $50 to $250 for each webpage (depending on quality and expertise)
If you are specifically referring to a single-page website, you can obtain a one-page WordPress site for approximately $650.
However, if you require a fully professional website that truly represents you or your business, it is advisable to add additional pages such as About Us, Contact Us, and Portfolio, and include Privacy Policy and Terms and Conditions pages.
If we recalculate the prices for a fully functional five-page website, it would cost around $1000.
However, if you intend to leverage your website to attract potential clients, such as setting up a lead generation stream, there are some additional considerations you need to take into account.
Actually, this is the approach I follow when building websites for business owners.
Exclusive benefits you receive with your website:
Along with everything discussed previously, there are some additional steps I take to ensure optimal results from a website. Here are a few of them:
Starting with the Ideal Customer Profile (ICP):
As a content strategist and copywriter, I understand the significance of the ICP and its direct impact on conversions.
The ICP allows you to gain a deep understanding of your customers. When building a website for a client, I begin by creating an ICP.
Here is an early screenshot showcasing the initial stage, but the complete ICP contains much more detail.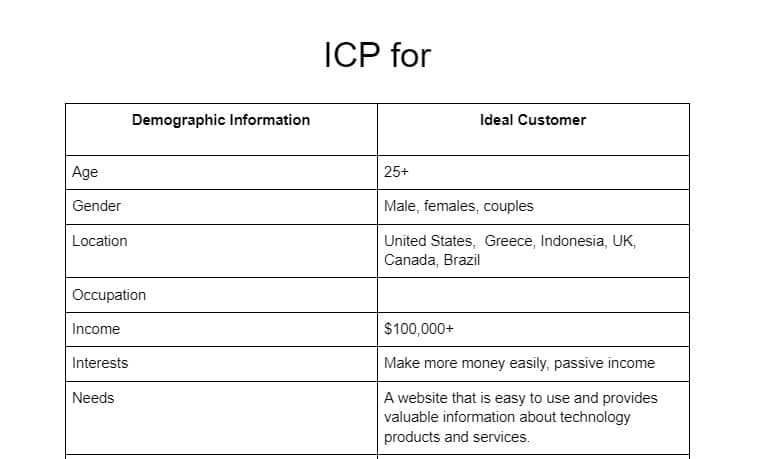 Through thorough research like this, you can effectively target the right audience and enhance your selling approach.
Identifying the Unique Selling Proposition (USP) and Branding:
I strive to identify the USP of the business in order to utilize it for branding purposes.
In branding, we create a brand guide based on your values and missions, ensuring consistent application across all channels.
Keyword Research:
Next, I conduct keyword research to write an SEO copy for your homepage. This helps in finding the most relevant keywords that align with your business's primary goals.
SEO Copy:
As a result, you receive a fully optimized SEO copy that enhances your search engine rankings and helps you reach your potential customers.
While proper SEO is essential for achieving high rankings, an SEO copy serves as the initial step towards attaining your goals.
Conversion Rate Optimization:
I also ensure that your website is fully optimized for conversions.
The most remarkable part is that if you order your website now, you will receive all these additional services at no extra cost.
You will only pay $1000 to acquire a fully functional website.
In conclusion, a single-page website may cost around $600, while a fully functional professional website of up to five pages can be obtained for just $1000.
By choosing Sturdy Business for your up to five-page website, you will receive the same package for $1000, along with numerous other benefits that you won't find elsewhere at this price.
How much does a single-page website cost?
The cost to build a fully functional professional website is $650.
What is the cost of a small website?
The cost of a small website can be around $1000, depending on your specific requirements.
How much does a website cost for 1 year?
The yearly cost of your website varies depending on its components. If you are using premium plugins and themes that have yearly charges, you will have to pay renewal fees on a monthly basis.
However, if you do not have such premium components, you will only need to renew your domain and hosting.