Over 50% of businesses said that a business blog is a highly powerful marketing tool. Some companies get the best returns on investments with their business blogs.
But not all businesses get the same results.
Some businesses don't consider it as worth investing in. It's not because blogs are not influential, but there is something else that doesn't let them get the best results.
It's the right business blog strategy.
Companies and well-established businesses never invest in anything without a well-researched strategy. Startups usually don't invest time and money in such things. That's why they fail to get the best from their efforts.
You need a perfect strategy to get the best from your startup or business blog.
Luckily, we have uncovered a fantastic blog strategy that most companies use. And today, we are sharing that blueprint with you.
You might already know the benefits, but the following facts will give you a clear picture.
Before we start with the right business blog strategy, let's remind ourselves of some benefits of business blogs. These benefits will also make it clear why startups should have blogs.
81% of the buyers research online before they make a purchase. GE Bank Research
79% of online shoppers spend most of their time researching the product. (Source: Hubspot)
56% of the marketers said blogging is effective, and 10% said they got their BIGGEST ROI (return on investments) from blogs. (Source Hubspot)
Businesses with blogs get 400% to 800% more traffic than those which don't blog. Hence more leads.
77% of the users read blogs. (Source TWP)
In short, almost 81% of buyers are researching online to make decisions. You have an opportunity to get in touch with them even before they make up their mind.
Secondly, most of them read blogs. So you can easily catch them by creating content for them.
But it's not as simple as it sounds to be.
If you don't have a blog strategy, you will get a few leads even after publishing hundreds of blog posts and getting tons of visitors.
Here is why this happens.
If you don't have a blog strategy, you don't know:
You don't know who is reading your content
What are their pain points?
How to win users' trust?
How to market your product without aggressive marketing?
Hence, you can't always find the right customers and can't convert.
So with the right content strategy, you be specific, target the niche audience, find highly relevant keywords, write covering content, and get leads for your business.
Now let's discuss everything in detail.
Set clear goals for your business blog
This step differentiates the winners from the losers.
If you don't invest time in setting clear goals for the blog, you might publish 100s of articles and get thousands of visitors, but you will not maximize leads.
Here is an example to make things clear.
Say you are a restaurant. You have a blog on your business website. Your blog's primary purpose is to get customers to visit your restaurant. You are publishing recipes and sharing restaurant marketing tips. Apparently, all those topic ideas are relevant to restaurants. Do you think visitors will visit the restaurant?
No.
As you didn't target the right audience, the visitors have no interest in visiting your restaurant. Their interest area is information, so they visit the blog and leave.
So to get the most of the ROI on your blog, it's essential to be clear about your blog's goal. It will help you work on the appropriate topics for the right traffic.
Ask yourself what you want to get from the blog.
Businesses usually blog for,
Brand awareness
Promote products
Help guides
Get leads
Get sales
It might sound hard at the moment to decide what you want to achieve with your blog. But if you have well-written SMART goals for your business, it will become easy to set blog goals.
Your blog's purpose should align with your startup's primary goals.
But here is what you should do if you are a new startup.
As you are in the early stages, people don't trust new startups, so you should focus on building authority, winning trust, and getting leads with your blog.
You can also prioritize writing compelling copies to get direct sales.
Whatever your goals are, be very clear and specific.
Know your audience first
70% of buyers consider "content that speaks directly to their industry" as very important.
Every startup's ultimate goal for a blog is to convert the reader. Isn't it so?
It becomes hard to convert a reader if you don't know the reader. Personalized content is way more effective than generic content.
To write personalized content, the first step is to research and know your audience closely.
Once you are clear about the audience, you can write personalized content.
You already know what they do, how they speak, and what kind of professionalism they want from your content.
The other loss to publishing generic content is you can't build topical authority. Hence search engines won't consider you authoritative for a specific audience.
You might already know that Google nowadays shows personalized content to its users. People don't get the same results for the same term they enter on Google. (Source: John Meuller)
As you become specific about your targetted audience, you are more likely to appear on Google for the right audience than your competitors.
In short, if you are clear about your audience and have an ICP (ideal customer profile), you not only convert the visitors but rank higher on Googe as well.
Find the pain points
The next big step is to find the pain points of the customers.
It's a beautiful part of the research where you get ideas to promote or improve your products or services.
In this step, you realize the issues with your or your competitor's products or services.
Let's say you are a tech company; you offer SaaS or Paas: it's an incredible product or service. But its interface is not user-friendly. It's a pain point for the users.
Think of all the aspects of your products or services. Spend time on Q/A forums and social media platforms, especially Reddit, to find out what the customers are discussing.
Go deep, and find out most of the problems users face, even the smallest ones. The more you know, the more you can reach the customers and convert.
Think of your solutions
It's the point where you realize how you can improve your services to make them more user-friendly.
I visit one of the famous departmental stores.
Over time, I realized that they are even focusing on their own sales data to redesign their store. They keep on changing the store's structure to make it more user-friendly. They put seasonal products and their most sold products close to the entrance, etc.
So it's the step where you write down all the benefits or solutions you offer to the customers. Be genuine, and don't think you are doing a great job.
Maybe, your product isn't user-friendly. Redesign it and make it easier before you start writing about UI/UX.
You can also promote your mistakes and tell your audience that you are now more user-friendly than earlier.
In short, find out why someone would leave a problematic startup and choose yours.
Find the right keywords
This step is one of the pillars of any blog.
If you are new to SEO and don't know what exactly keywords are. Here is a simple definition. Keywords are the search terms people search on search engines.
Let's say you might have entered on google "a startup blog strategy" or "how to lay out a content strategy for a startup blog"; both are keywords.
Keywords can be of different types. The two most important ones are informational and commercial keywords.
Keywords' intent itself tells you who is searching and why?
So it's the point where all the myth is solved.
Even if you have an amazing business blog writer and your service has incredible features, you won't reach the right audience if you don't have the right keywords.
The question is, how to do appropriate keyword research?
Once you are clear about what you want to achieve from your blog section, you can easily find relevant search terms.
Many tools offer you a one-click solution to find relevant keywords. Ahref (the most high-in-demand keyword research tool) now offers a free keyword generator.
You can put your queries in the search box and click to find 100s of relevant keywords.
I don't totally rely on tools. Once I get the head term, I put keywords on Google to see what users search with Google auto-complete.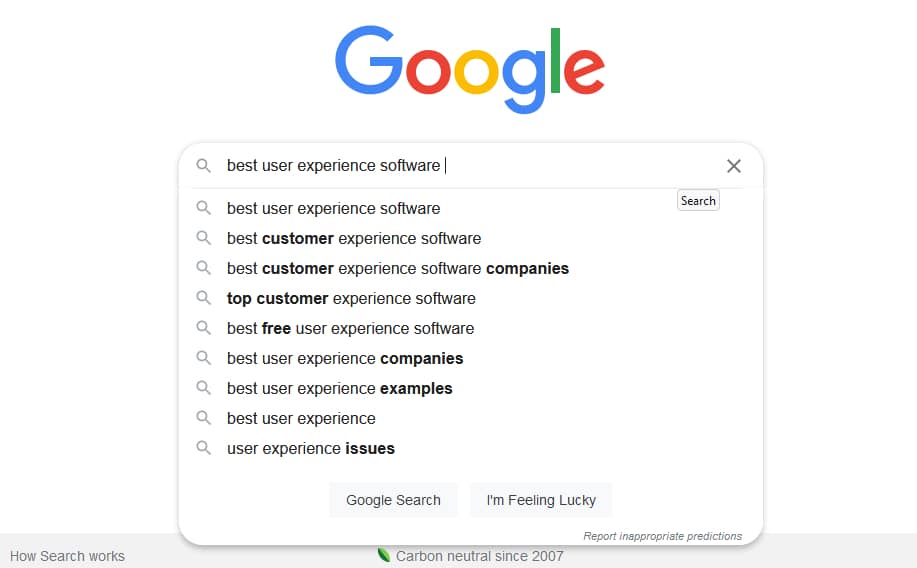 At least collect hundreds of topic ideas and finalize the most relevant ones for your startup blog.
Always check the keywords' difficulty
Ranking on Google is tricky.
It's not as if you publish a compelling copy today and you will start getting traffic tomorrow.
It will take months to a year to rank on Google. (Source: Google)
So be patient.
But there is one way to rank new content faster on Google.
Here is how to do it.
In this way, you might not get high-search volume keywords because all of those keywords are difficult. But it will lower your efforts and energy to rank on Google.
In short, forget high-search highly-difficulty keywords. Find low-competition keywords; don't wait for years to rank on search engines.
Invest in blog design
Buyers make their minds on the first impression if you are authoritative or not. Two main things influence the buyers the most.
Blog design
Your content
You will lose visitors' trust if you don't care about the design.
Say you don't have an easy-to-navigate beautiful design, you don't know about easy-to-digest content structure, and you have no idea about the best font size for the readers. The reader will get annoyed and bounce back.
So it's critical to invest in your blog's design.
In short, don't waste your efforts on a fluffy, hard-to-navigate blog design. Invest in creating a beautiful startup blog.
Publish converting content
If everything is great, but your content doesn't engage the user, all in vain.
I know how hectic it is.
Thousands of blogs lose rankings yearly due to low-quality content in core updates.
Google wants to prioritize user experience. If visitors bounce back, you will see a drop in rankings soon.
So, investing in your content is the second most important pillar to a blog's success.
But it's easier said than done.
Here is how to do it.
The best solution is to hire full-time employees, invest in their training, and provide them with the best possible information about your products/services and the customers.
Once they know everything about the pain points and your services, tell them to write content with the best practical copywriting techniques.
In case you can't hire full-time employees. It's going to be a hectic job to find the best copywriters in an affordable range.
So the best solution will be to find a freelancer with a reference. People care about their reputation. They work harder in such situations.
If you cannot find a writer with references, here are the best places to find business blog writers.
Freelancer.com
Fiverr.com
Scripted.com
The copywriters will charge you a reasonable amount for each blog. Others would not write great content.
So if you need a business writer on a budget, here are my affordable copywriting services.
Blog post frequency and schedule
You can't forget blog post frequency and schedule in your startup's blog strategy.
Once you are done with everything else, like market research, keyword research, and writing content, set a plan for blog post frequency and posting schedule.
Sticking to one strict schedule has its benefits.
Your readers and subscribers know when you shall create the post, and they visit the blog to read it. It is also a best practice to fix Google indexing issues. It means you will face fewer indexing issues.
For instance, you publish your blog post on Monday morning. Google crawlers will visit your blog on Monday morning to get fresh content.
The second thing is to decide how many posts you should make on your startup blog.
Every blog post is an opportunity to get more visitors, hence a chance to get leads or sales.
But.
Researchers have found that you should at least make one blog post a week.
Businesses that post 16+ blogs per month get 700% more traffic than those that don't.
So it's up to you to decide if you have the budget and create one blog post every second day. Otherwise, at least four will help you maintain the traffic.
Promote your blog
Promoting your blog is the fastest way to rank higher on Googe. It also gets you visitors, even before you start ranking.
So it's crucial to build a blog marketing strategy.
There are two practical ways to promote your blog.
Social media:
58.4% of people use social media. At least every second person you see is on social media.
So social media is a great way to promote your blog. It can get you instant traffic. It can be either free or paid. For instance, there are four ways to get traffic from Facebook. Three of them are free.
But it's not simple.
You need an expert to use the appropriate techniques to get traffic from social media platforms.
Experts know which platforms are great for which kind of startups.
It's similar to what we have discussed, that social media can save 90% in the car dealership business. And the best platforms for car dealerships are LinkedIn and Twitter. More than 50% of Twitter users own a car.
Well, it will be pretty different in your case. Your social media strategist will decide according to your startup.
Link Building
Backlinks bring traffic directly and indirectly.
A backlink leads a user to your blog. And it's also making your blog authoritative for search engines.
So investing here is the best way to rank higher and get free organic traffic.
Here are ten simple link-building ideas to get started.
An SEO agency can do a great job in link building. It's way cheaper and better to use SEO agencies instead of doing it yourself.
Monitor your blog
You can't complete any startup strategy without a monitoring strategy.
The same is here.
It's never wise to keep blogging without monitoring. The monitoring lets you know which of your pages are performing well and bringing the most ROI.
You also understand which blog posts are not performing well and how to improve them. There are many other benefits that you realize over time.
For instance, you can link low-performing blog posts to high-performing posts to increase ROI.
Google offers a solution to monitor your blog's performance on Google. You can use the Google search console and Google analytics to monitor everything about your blog's performance.
Once you have a complete blog strategy for your startup or small business, you can easily start a highly converting and leads-generating business blog.
Should A Startup Have A Blog?
Every startup should start a blog. The reason is that, with a perfect blog strategy, 10% of businesses get the highest investment returns with blogs. You can also the best returns with your business blog.
Can blogs generate leads?
Almost all businesses with a content strategy always get leads. So yes, blogs can generate leads for your business.
How can I convert my blog into a lead generation?
If you have a blog, you can convert it into a lead generating by applying the right content marketing strategy. We have uncovered the most effective blog strategy for all businesses.