We have already discussed business ideas for developers and programmers. Those ideas could be an excellent fit for all developers and programmers, in general.
But upon request, we thought to share nine unique web development startup ideas.
Web development has great significance in the online market. As the internet market is growing, the potential for web development is growing the same way!
The reason is apparent that every website or blog we say is a by-product of web developer's efforts.
So if you are a developer, no matter front end, back end or full-stack developer, you are so important for the growth of any business.
For instance, Google has started considering webpage speed and user experience as ranking factors. That means 7 billion websites available in the world needs a developer either for UI design or speeding the web pages.
To make a long story short, web development has massive potential as a business in the market.
Let's discuss practical web development business ideas.
Start Your Company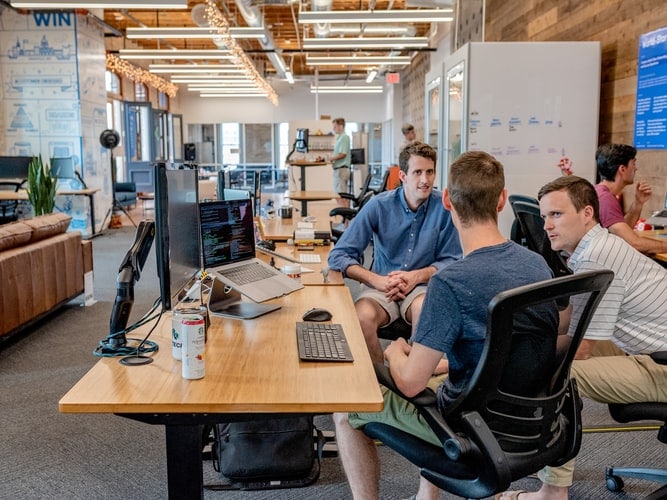 The first best idea is starting a services company.
It could be your sole proprietorship business where you alone work initially, where you can offer your services to different companies based on your speciality.
Companies usually prefer hiring external consultants for short term projects.
Otherwise, you can offer them long term services based on your speciality. Say stores like Amazon, eBay need a web developer to maintain their stores.
The next question that might come to your mind is, how companies will reach you?
The answer is simple. It's you who will reach them, letting them know what's wrong with their websites or stores and what needs to be improved. How beneficial it could be.
Say your specialization is in UX. You can take any landing page, see what's hindering the conversions, and what can you do.
You offer your first company that it didn't work; you won't charge anything. Suppose it worked. How long your startup can go now?
Become a Freelancer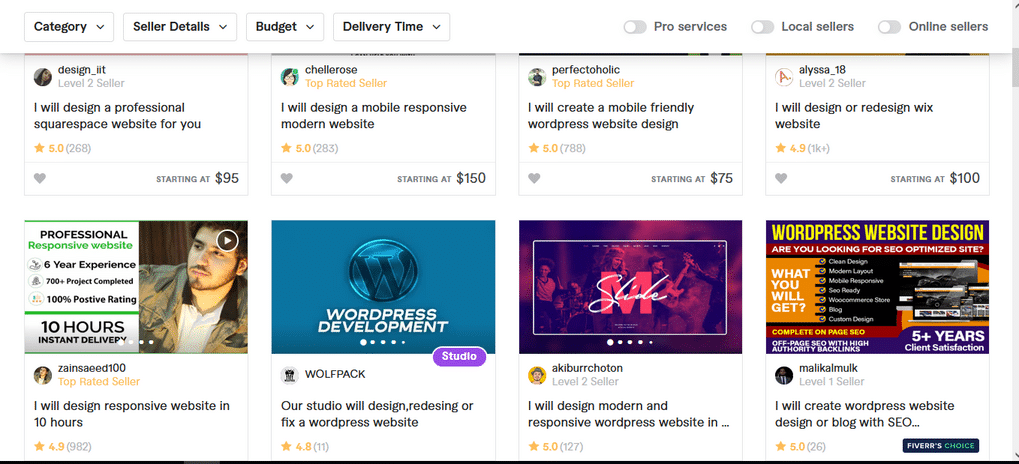 In freelancing, you offer your services as you do in your company, but its strategy is different.
There are tons of freelancing platforms where SMBs, enterprises and startups offer projects or find experts to solve theri problems.
So the main difference is that here needy people are already on the market. They will offer a project and pay for you after completion.
The famous platforms are, Fiverr, Upwork, Freelancer, and now LinkedIn is also launching its freelancing platform (that must even better than many others).
Note: We added the screenshot to show how many projects are availing on those platforms. We searched for a single keyword "website design" and found that freelancers have already completed thousands of projects. And it's only one platform.
You can utilize all the best freelancing platforms to get huge business in this niche.
Create a Social Platform
Creating a social platform like Twitter, Facebook, or LinkedIn, could also generate passive income in return.
You can use that website in many situations.
You can present that platform as your portfolio
You can run the platform to get engagement
You can sell it
You can ask for sponsorships
You might be thinking that as there are already tons of social platforms, how can you compete with them.
That's true. A startup can't compete with giants.
But a startup can secure space in the market. The only thing that matters is that it should be unique and appealing to the user.
Look at the example of TikTok. TikTok was launched at a time when there were many giants in the markets, including Google +.
But still, TikTok idea was so appealing that it changed the trends and secured its position along with the giants.
If you believe that you have an idea that can revolutionize the internet market, try it.
The other best example could be Fiverr. Fiverr got fame even when Upwork and Freelancer were the most popular freelancing markets.
Offer a Theme
Offering themes is a great business these days.
As I said earlier, Google is looking for highly speedy and user-friendly websites. The layout has great significance in business now.
It led companies to think of their layouts and designs.
You will rarely find any websites as they had been in 2006.
You can either create a theme for some specific commercial businesses or WordPress sites. Both have huge potential and a big market.
For instance, I use WordPress. I have a GeneratePress theme. It's simple and speedy. However, there is always room for improvement.
Suppose you analyze this theme. You find what sucks in this theme.
Now, you create a theme with an excellent color scheme and high speed. And start reaching people using GeneratePress, letting them know that how and why they should move. How many conversions will you get?
Surely you will get the great attention of WordPress users.
The same is for commercial stores.
WordPress uses PHP, but other stores can be based on some other languages. You can pick one with your expertise.
Note:
The theme is a great long term business idea because it's not one time process.
You keep working on your theme. You keep on updating to make it compatible with the new trends. This is how theme owners earn from their existing buyers.
However, building a theme, creating a website, or offering a wp plugin, demand powerful marketing.
You can ask influencers or market your business with digital marketing strategies. You should only try it if you have a strong marketing budget.
WordPress Plugin
A good plugin is a pillar of a successful WordPress site.
Say a WordPress user can't even think of a sustainable business without SEO Plugin, Cache plugin, Redirection plugin, and many others.
If you believe that you can offer something unique at an affordable price, it will surely work.
For instance, it's not been so long when I saw Rank Math with a few thousand downloads.
My friends referred me because Rank Math was offering great services for free. At that time, Yoast and a few others were the most popular plugins. But sooner, the Rank Math plugin got fame.
Their strategy was pretty appreciable.
They started offering great features in the free version that made them popular among WordPress bloggers. However, their premium version has worth investing features for bloggers.
This is how they started competing with giants.
That means, no matter how crowded the market is, if you offer something better for free, people will start loving it.
If you are curious how you can earn from a plugin. There are two pretty easy methods.
#1 is to offer a Pro version with some other excellent features, or keep it free, and ask for donations like many other great free plugins.
Maintain eCommerce Stores
I thought to add it as a separate business idea because it has a huge market.
The Digital revolution has changed business trends. Now people can't survive without digital appearance.
That means everyone either needs an eCommerce store or a commercial website for their business. Just like all other businesses, such stores and websites need maintenance from time to time.
If you know how to maintain and even help them grow their stores or websites, every business would love to hire you.
It might look difficult to find business in this niche, but why don't you think to reach out to 100 businesses with fully personalized emails?
It will make a difference.
Offer a Course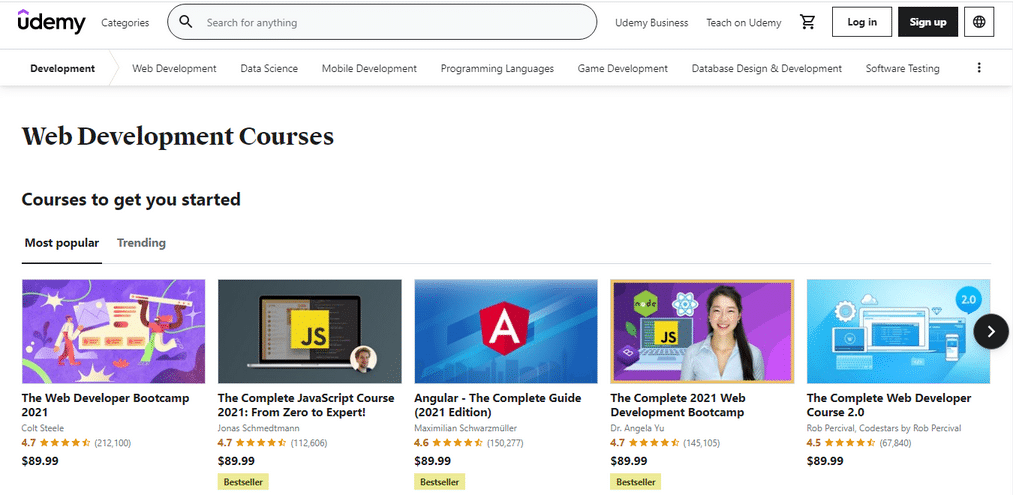 Offering a course is another great web development business idea for creative people.
If you are good at any language, whether it's a simple one like HTML, CSS or Jave, you can offer a course.
Say you keep exploring the unique ways to use these simple languages for great web design or great user experience. You can easily sell your skills.
However, the language Python is high in demand. The reason is that it's also used in Artificial Intelligence, machine learning, data analysis, and some other advanced skills.
If you sharpen your expertise in Python, you can either move to advanced skills or prepare others for it with your course.
Preparing a course is a one-time effort. You can upload offer your course directly or on platforms like Udemy.
After that, it's only marketing your product to get more and more sales.
If you could get a freelance writer who could offer you a great copy, it will make your day.
Start a blog

Starting a blog could be a great web development startup. And the great thing is that anyone can start blogging without money anytime.
There are many benefits of starting a blog. You can monetize it. You can sell services and offer courses to premium users.
Let me make it a bit more clear.
People searching for web development related problems could be either students or beginners of the field or at most website owners.
Such audiences are premium audiences in this niche because they may be looking for a course or services expert to solve their problems.
Note: We checked search volume of a single query "web design" through Ahref Tool (screenshot added above). It has 263K global volume. By this you can see that how far you can go in this business if you could satisfy the user.
Start a YouTube Channel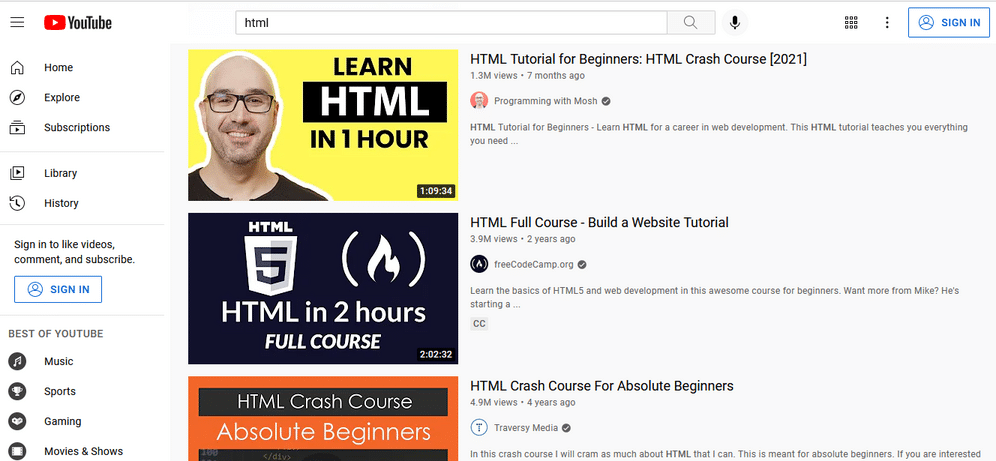 YouTube is the world's biggest visual search engine. It has billions of active users a month.
People use it for entertainment purposes and also for learning things.
Whatever your specialization is, you can start a blog and give your unique solutions to user problems.
Once you get 1000 subscribers and 4000 watch time, you can apply for Adsense. It's not over. You can offer your courses, make sponsored videos and earn through affiliate links.
I search the term "HTML" on YouTube, and you can see in the screenshot that there are 1.3 million views of the first video in just 7 months. It shows that even a simple language like HTML can get you huge business on YouTube.
If it appeals to you, we have written an in-depth guide on starting a YouTube channel and getting paid in five unique ways.
Summary
Web development is crucial for any online business. If you are a web development expert, you can start your own business and earn from it.
We have discussed nine web development business ideas for startups. Anyone can begin with and earn handsome money from your business.
Share if you enjoyed reading it!