You might be looking for affordable SEO services for your small business to scale or grow. It's possible that it's not the first landing page you visited:
You might have already searched or tried some cheap SEO services that never got you anything.
Whatever your story is, if you truly value your business and want to scale it to the next level, or if you are in B2B and want to acquire thousands of leads every single month without breaking the bank, you have finally found the right SEO services you actually need.
Because, first of all, these SEO services are truly affordable for any small business owner. Additionally, you will get way more than what many leading SEO agencies charge – that's around 5 to 10 thousand dollars.
You will get even more, receiving three to five times the value they offer, all at half the price. (I have checked their packages and can assure you of this).
Do you want to see pricing and packages for small businesses in our SEO services? Here are affordable SEO packages that not only help you rank on the top results on Google and other search engines but also help you build a brand.
If you have tried cheap or expensive SEO services, why don't you think about trying our affordable SEO service for your small business? Your branding, growth, and business success are just one email away!
Here's why small business owners love our SEO Services!
I must say it's a blessing dealing with Junaid, his SEO and marketing methods are unique and efficient. He is very honest and hardworking, smart and very reasonable with prices. I would highly recommend you to anyone. Thank you very much.

– Travers Kurt
I love working with Junaid. He does things properly. He has done much more than just SEO. He has a strong grasp of lead generation!

– Peter
And it's not for no reason. You actually secure top positions for your favorite search terms.
For instance, if you are in B2B (screenshot of B2B business), you can expect to get thousands of leads in a few months. And thousands of leads can be a gamer changer for your business.

Additionally, your website will represent your brand. So that people would love to link to your website.
For instance, I recently acquired about a dozen authoritative links with no additional effort.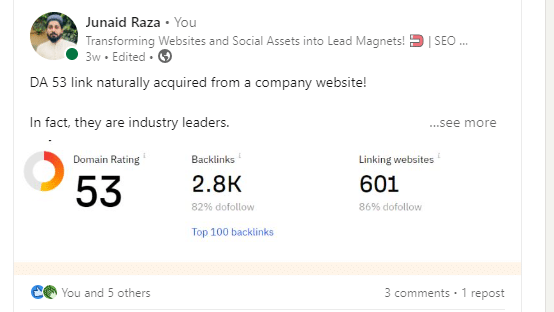 And also from this one:

Still confused? Let's discuss more.
Before we discuss how I can bring you massive leads with our affordable SEO services, let's see why millions of small businesses are investing in search engine optimization (SEO).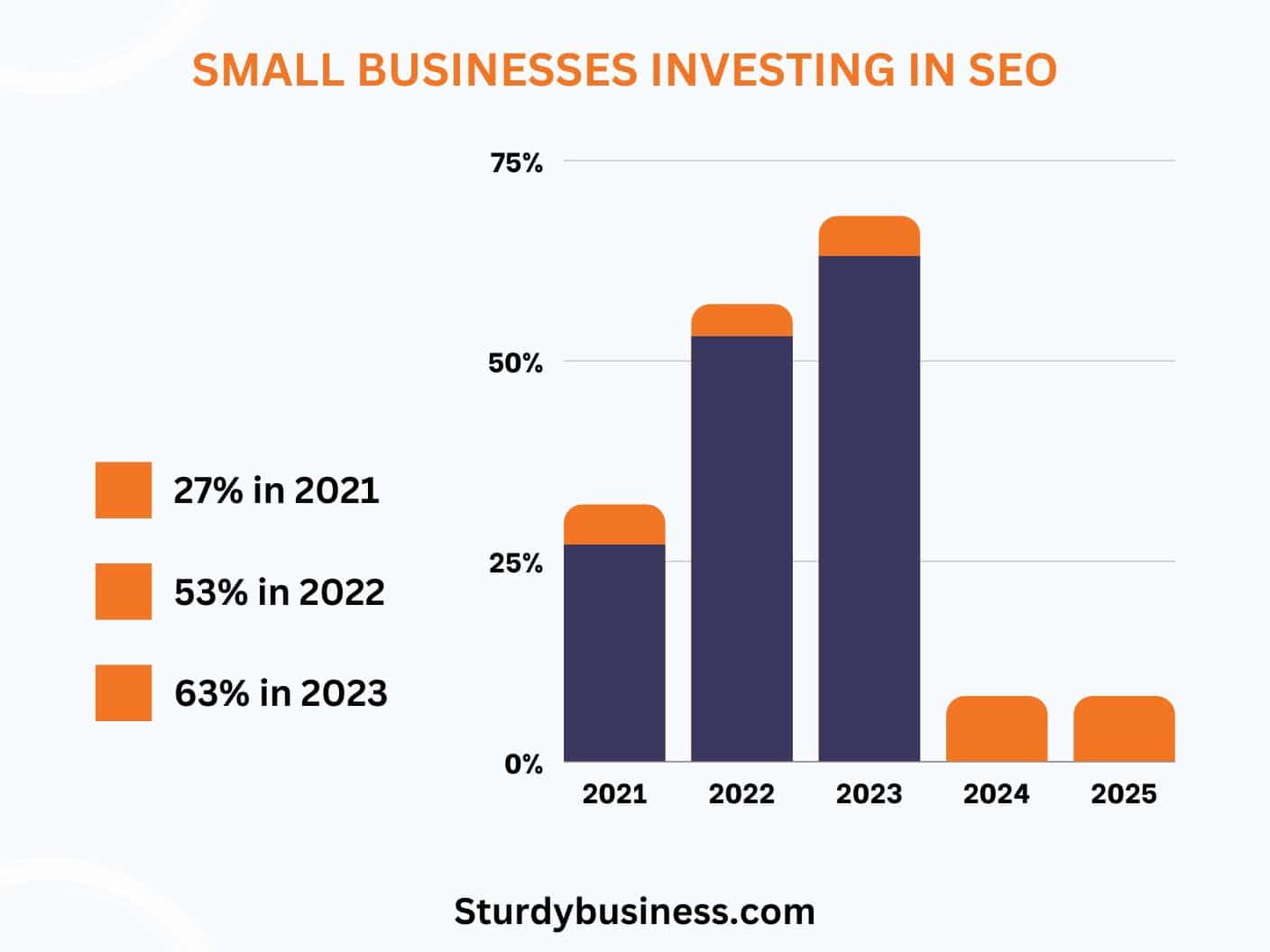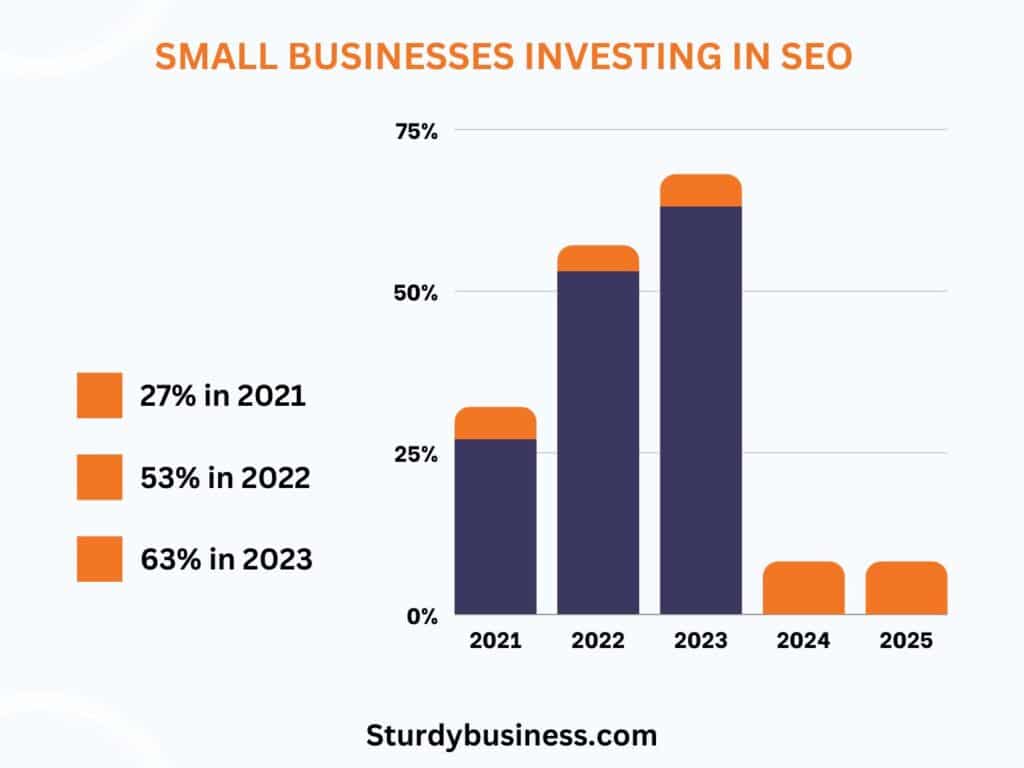 It might surprise you that over 25% of small businesses started leveraging SEO services to target potential customers last year, and this figure is increasing day by day.
Why?
Among all the reasons, the top one is that with search engine optimization, you can target the exact potential customers, making it the best marketing strategy for lead generation.
Now, let's delve into how SEO is a more beneficial marketing strategy in the long run.
No matter what small business you have and how you run it, whether you are a SaaS company, belong to fintech, coaching, entrepreneurship, or manufacturing, if you are investing in marketing, what's your primary goal?
Definitely, it's to increase your reach and attract more potential customers.
To achieve that goal, you use different advertising and marketing mediums.
Most of the marketing tactics businesses use to bring you quick benefits. Let's say you turn on your ads on search engines (SEM) or social media (SMM), and you start getting sales. However, the moment you turn them off, your investments are nowhere to be seen.
Depending on your sales, you can judge your return on investment (ROI).
But.
Marketing tools like search engine optimization (SEO) and building email lists have a long-lasting impact.
In fact, both tools are assets that work like passive income.
And most business owners understand this.
So, if you are a small business and not using these powerful tools, you are missing out on a goldmine.
Matchless benefits of SEO services for small businesses
If you want to know if search engine optimization is worth it for a small business, here are the matchless benefits that you won't find anywhere else.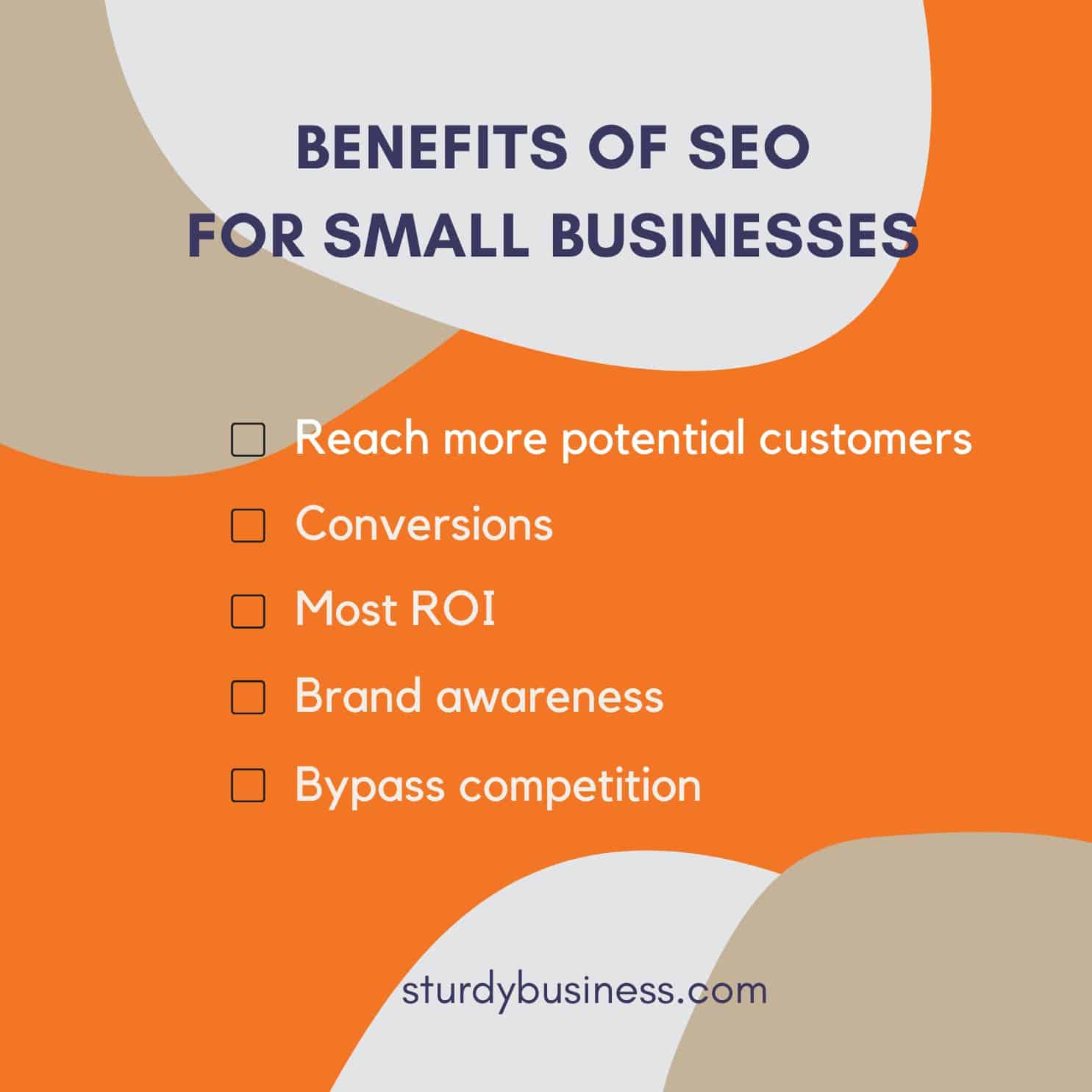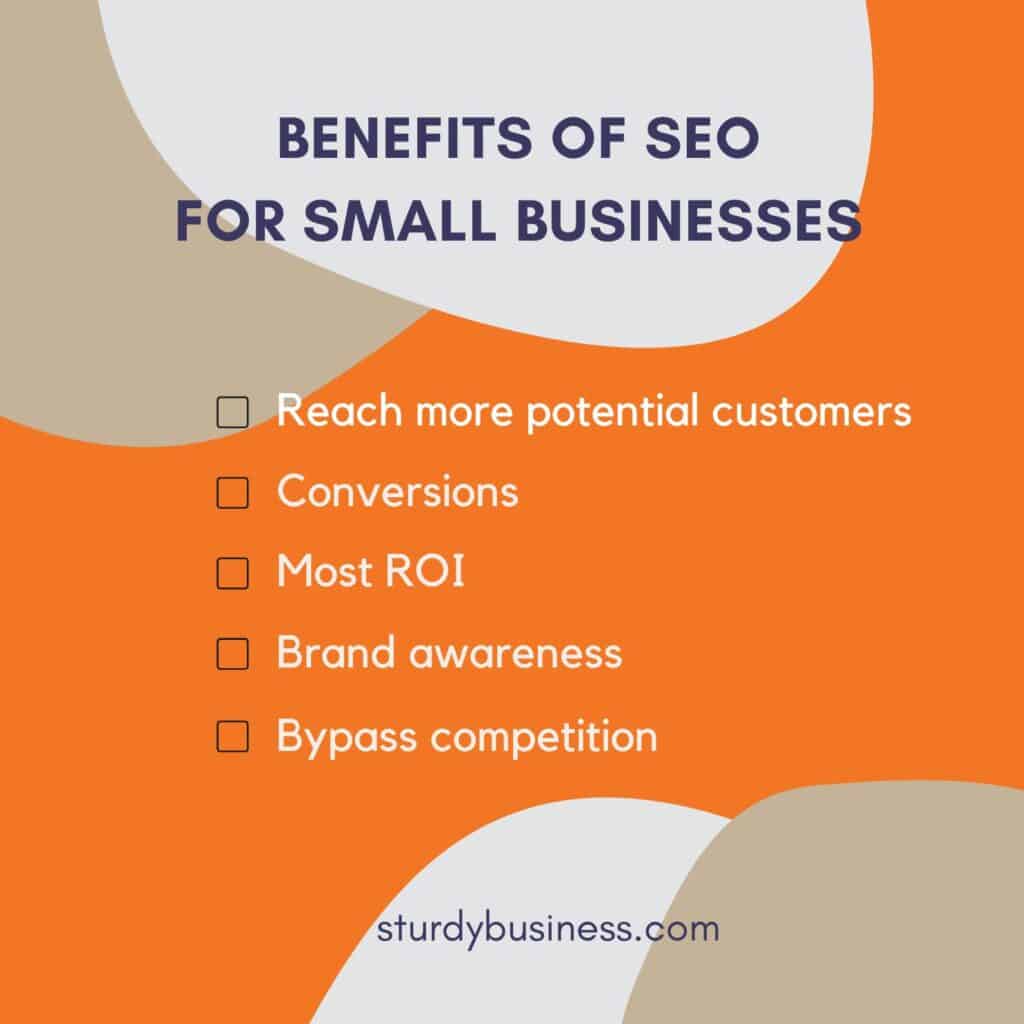 Reach more potential customers:
According to research conducted by GE Capital Retail Bank, 83% of shoppers use online research before making a purchase. Additionally, another study reveals that 93% of online users rely on search engines.
This means that over 77.19% of your potential customers are conducting online research through search engines.
With search engine optimization, you have the opportunity to target all of them and attract new potential customers for your business each and every month.
Conversions:
Most businesses believe that SEO is simply about ranking a web page at the top of search engines, particularly Google, and considering the job done.
Certainly, the primary goal of search engine optimization is to achieve the #1 position on Google, but it's not the only objective. Advanced SEO has evolved beyond that.
In search engine optimization, the next significant aspect is conversion rate optimization (CRO).
For instance, if you're a SaaS company or a consultant and your website is attracting a lot of unproductive traffic, it can burden your site and make your SEO efforts costly.
With the right SEO strategy (which I frequently employ), you also prioritize conversions resulting from all your SEO efforts.
Most ROI:
As you have complete control over your SEO efforts, such as selecting the right keywords to achieve optimal results, SEO becomes a powerful tool for maximizing your ROI.
For example, if you implement my content strategy both on and off your website, you can experience a significant increase of 110% in ROI.
However, if you choose to rely on cheap SEO services that lack an effective content strategy and their sole focus is getting your website on the first page, preferably in the top position, by hook or by crook, you will not achieve these results.
Brand awareness:
Most of marketing pros claim that branding is a new way to do marketing. That's what you do with SEO and SMM.
In addition to lead generation and sales, search engine optimization is a powerful marketing tool for building brand awareness.
With the right SEO strategy, you can enhance the online visibility of your small business, which in turn builds trust.
It is common for people to trust websites that rank higher on search engines and address their pain points effectively.
In fact, that's what you do in the sales funnel of your SEO strategy!
Bypass competition
No matter you are in B2B or B2C, there must be some of your competitors with large marketing budgets, in-house teams, and advanced marketing tools that are well established in the industry for years.
You can't compete with them, can you?
Not even on PPC.
So what's the solution when you have industry leaders as your competitors?
SEO helps you bypass the competition and reach potential customers.
Here is how it happens.
According to Google, 15% of new searches each day. You can find those untapped opportunities, produce high-quality content and increase qualified organic traffic and web leads.
These were the top benefits you get by implementing SEO strategies but there are still many other advantages your business gets due to the right SEO strategy.
If you run a small business and want to utilize all these benefits with the right SEO strategy, you can message me here, and we shall discuss how SEO can be a game changer for your business.
(PS: To save time, if your business belongs to banking, loaning, or any unethical businesses, you should find someone else for SEO services.)
The question that might arise in your mind is, "Why should you use our SEO service for your small business? Why not choose one of the many other SEO companies that have hundreds of reviews and a proven track record of decades?"
There is nothing wrong with working with those SEO agencies. As I told you, they charge many times more than my agency, so it's a no-brainer that this is an affordable SEO service for small businesses.
Also, here is what you won't get in any affordable SEO services.
Reasons to use our affordable SEO services for small businesses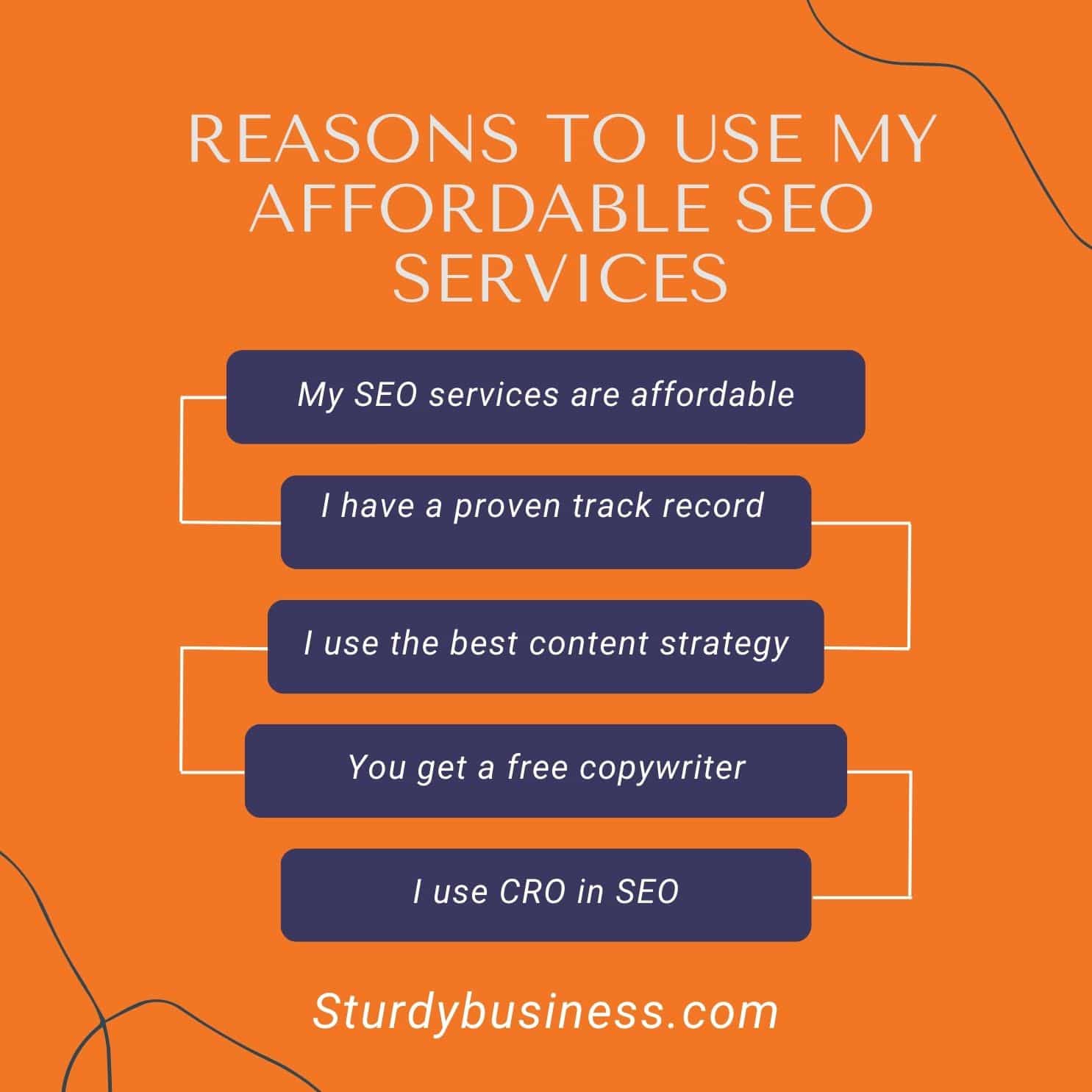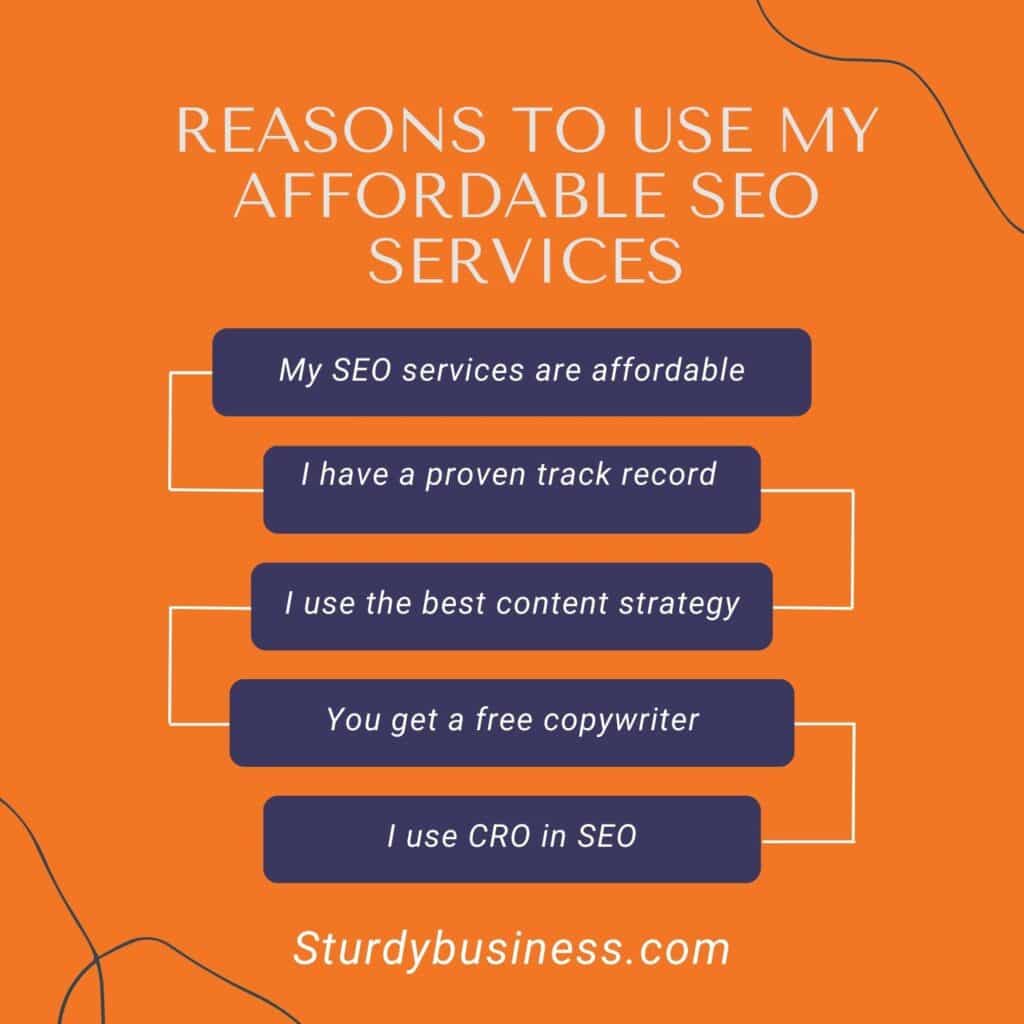 Here is how I can take more care of your investments and deliver the best results.
Our SEO services are affordable:
SEO is expensive and it's not without reason.
SEO involves content writing, link building, and optimizing and monitoring your site carefully.
All of that has its expenses.
For instance, the writer will charge for content, on-page SEO specialists invest time, outreach experts have their salaries, and people offering links charge over $100 on average.
All this makes SEO expensive.
But.
I utilize Semantic SEO and target untapped opportunities, which makes SEO more cost-effective compared to many others.
For instance, with my affordable SEO services for your small business, you are likely to save approximately 40 to 50% of your budget.
On average, most SEO agencies charge over $3000/month for their services. However, with my affordable SEO services, we can begin improving your business website's search presence with a budget starting at $1300/month.
We have a proven track record in SEO:
I understand that money is not the only factor that matters in business. What truly matters the most are the results.
I have successfully achieved high rankings for hundreds of webpages across thousands of keywords, consistently placing them on the first page of Google.
Additionally, I have secured rich snippets numerous times, showcasing expertise in optimizing content for enhanced visibility.
As a content creator and copywriter, I possess the skills to produce research-based content that becomes a valuable asset over time.
With this expertise, I am confident in delivering quality work that aligns with your business values and goals.
We only use whitehat SEO techniques:
If you are new to SEO, you may not be familiar with the concepts of whitehat, greyhat, and blackhat SEO strategies.
However, I will explain my work in simple terms.
I strictly adhere to whitehat SEO practices, which are ethical and in line with search engine guidelines. These strategies will help improve your rankings for targeted keywords without risking any penalties.
In other words, I will employ the best practices that ensure long-term success for your business without putting your website at risk.
We use an effective content strategy that brings optimal results and never lets you regret:
Besides all other reasons, this is where I believe my affordable SEO services can provide significant benefits for your business.
I employ a strategy that ensures every dollar you invest is well taken care of.
Let me elaborate on it.
Mistakes are a part of our journey, and we learn from them.
Throughout my SEO career, I have made numerous mistakes and gained valuable insights from them.
The most important lesson I have learned is the importance of working with a strategy that you won't regret later.
For instance, recently IBM removed 80% of their content because it was a burden and costing them for no reason.
Even Neil Patel admitted that he was bearing millions of traffic due to not having a perfect strategy.
So he also dropped his pages to lower the burden.
I have analyzed many small business websites, and most of them are making the same mistake.
However, if I work on your website, I will create a content strategy that not only aligns with the primary goal of your website but also brings you optimal results, maximizing your return on investment (ROI).
I know how to do that.
If your business is struggling with issues such as low traffic, leads, conversions, or branding, we can discuss strategies to overcome these challenges.
You get a free copywriter with SEO services:
You may already know that I am a copywriter, and I possess the skills to craft persuasive copy that converts.
In the past year, two of my SEO copies generated $125K in business through organic traffic.
This is a unique advantage you won't find elsewhere, as copywriters often charge significantly more than content writers, making their services expensive to hire.
We use CRO in SEO to help you optimize conversions.
SEO brings potential customers to your website, but without a solid understanding of conversion rate optimization (CRO), you won't be able to fully monetize those visits.
CRO focuses on optimizing your business website by enhancing the user experience, making it easier for visitors to find what they're looking for and take the desired action.
By implementing effective CRO strategies, you will witness a significant improvement in your conversions, leading to an increase in leads and sales.
Email us:
(PS: To save time, if your business belongs to banking, loaning, or any unethical businesses, you should find someone else for SEO services.)
Best SEO practices I use for small businesses
Now, if you are wondering how you can do SEO yourself without paying or how I will manage your SEO for your small business, here are some of the best practices that you can use to optimize your website for search engines and generate organic traffic.
SEO Audit:
If you already have a website, the first step is to conduct an SEO audit.
This audit will provide you with insights into your current standing and identify areas for improvement.
You will discover various aspects that require attention, allowing you to prioritize the most important ones.
Screaming Frog is an excellent tool for conducting SEO audits, although other SEO tools like Semrush also offer this service.
Prioritize to-do list:
Now, with a clear understanding of your current position, you can prioritize tasks to get started.
For example, if your website has cluttered UI/UX, navigation issues, technical problems, or does not pass Core Web Vitals, these are the top priorities to address.
Organize all the tasks in your to-do list based on priority.
Once you have improved the UI/UX, you can shift your focus to technical SEO.
Technical SEO:
Since you already have a website, it's highly likely that you have some technical issues. These could include broken links, keyword cannibalization issues, images without ALT text, or a poorly structured internal linking system.
It's important to address these technical issues first.
Then you should start an effective Content strategy.
Effective content strategy:
An effective content strategy consists of setting clear goals, building an ICP (ideal customer profile), and targeting the right keywords.
Here is how:
Set clear goals for your business website:
In SEO, this step is way more important than anything else. In fact, this makes your SEO investment more valuable and you get the most ROI, that's why you can't expect this much deep research from cheap SEO services.
Here is how to do it.
Be very clear about your business goals.
At the end of the day, what do you want to achieve?
Do your monthly goals help you get your yearly goals?
When you have clear goals, you can choose the best content strategy for your small business website.
Build ICP:
When you have clear goals, building an ideal customer profile (ICP) becomes easier.
During the process of building an ICP, you delve deep into understanding your potential customers.
It's important to grasp your target audience's demographics, interests, needs, search behaviors, and, most importantly, pain points.
Find untapped opportunities:
Based on your ICP and their pain points, you should figure out untapped keywords that align with your sales funnel or website goals.
There are several tools available for keyword research, including:
Ahrefs: A leading industry tool that now offers a free version as well. It is a reliable option for conducting keyword research.
SEMrush: Another popular tool that provides comprehensive keyword data and analysis.
Google Autocomplete: Utilize Google's suggestions and autocomplete feature to uncover relevant keywords and search queries.
By leveraging these tools, you can gather valuable insights and find out the keywords that will drive targeted traffic to your website.
Here is a complete guide on how to find untapped keywords for your business.
Create a content plan:
When you have your selected keywords, the next step is to plan your content strategically.
Consider the angles you will cover to address the pain points of your audience and establish authority in your niche.
The thumb rule is to choose the appropriate content type, select the right angles to discuss, and focus on relevant problems.
Based on your gathered data, create an outline for your content. You can use AI tools to assist in outlining your content or do it manually by researching the top 5 search results on Google for the specific keyword you are targeting. This research will provide insights and ideas to structure your content effectively.
On-page SEO:
There is a possibility that you may have hired an SEO content writer to handle your content creation. If that is the case, you don't need to worry about on-page SEO.
However, if you haven't found the right writer yet, managing on-page SEO can be a challenging task.
If your website is built on WordPress, I recommend installing an SEO plugin such as Rank Math or Yoast. These plugins will provide guidance and assistance with the basics of on-page SEO, helping you optimize your content effectively.
But if you are not using WordPress and are on platforms like Joomla or Drupal, where SEO tools like Rank Math or Yoast are not available, you can follow the instructions below to optimize your content:
Optimize your title and description.
Include keywords in the first and last paragraph of your content.
Optimize your headings by incorporating relevant keywords.
Add keywords to the alt tags of your images.
Optimize your anchor texts by using descriptive and keyword-rich phrases.
Use LSI (Latent Semantic Indexing) keywords, which are terms related to your main keywords and provide context to your content.
Off-page SEO:
Once you have completed all of this, you can now begin your link-building campaigns.
Link building can be a demanding task, as you reach out to numerous individuals, but only a few of them are willing to provide links without requiring payment.
Bloggers frequently charge more than $100 per link.
If you prefer not to pay $100 for every link, you can rely on these off-page SEO best practices.
Local SEO:
If you are a local business, it is important to ensure that your business appears on Google by utilizing Google My Business (GMB) and Google Maps.
Additionally, you should submit your site to local directories and ensure that the same accurate information about your business is used consistently across the web.
Should you outsource your SEO?
As you can see, SEO is a very hectic and technical job. If you miss any point or are not proficient in it, it will take much more time to see results and become considerably more expensive than what experts often charge.
Therefore, if you don't have an in-house team to run your SEO campaigns, you must outsource to an SEO consultant or agency that understands your business well.
They will deliver optimal results without compromising your branding.
Factors to consider when choosing SEO services
If you are a business, you cannot outsource it to just anyone. Most freelance SEO professionals on freelancing platforms may not have expertise in branding, content strategy, and conversions.
Therefore, you should be careful when selecting the right SEO services for your small business.
Here are the factors to consider when choosing SEO services.
Quality of services and expertise:
The most crucial factor is to assess the quality of SEO services and the expertise of the service provider.
If you reach out to cheap SEO services, you will see that they offer generic SEO plans that they apply to every website.
They lack a unique strategy tailored to your specific business.
They lack an understanding of branding and how to effectively incorporate it.
They lack knowledge of CRO (Conversion Rate Optimization) and its integration with SEO.
They lack an effective content strategy to achieve optimal results.
And the list goes on.
Therefore, it is essential to verify if the SEO service provider can genuinely meet your requirements and deliver the highest ROI.
Pricing also matters the most.
Maybe, you can't pay thousands of dollars each month. So you should rather choose affordable SEO services where you get the same package at much lower prices.
For instance, I offer you 40 to 50 percent lower rates for the same SEO packages and plans that famous SEO agencies are offering.
(PS: To save our time, if your business belongs to banking, loaning, or any unethical businesses, you should find someone else for SEO services.)
Is SEO worth it for small business?
Yes, SEO is worth it for small businesses. SEO brings you more potential customers, builds authority, and helps you bypass competition to survive in the crowded space.
Another benefit of SEO is its long-lasting effects, and you can enjoy the compound effect if you keep working on it.
How much should I pay for SEO per month?
The price of SEO services depends on the package. If the SEO specialist is working on 5 pages, the prices will be different from working on 10 or 20 web pages.
Typically, SEO prices start at over $1000 and can go up to $5000 for a small business website. For instance, if you check our affordable SEO services for small businesses, our first package starts at $1300, that's a great package for up to 5 keywords.
How long does SEO take to work?
It often takes 3 to 6 months to see significant results in SEO. However, if you are targeting a highly competitive keyword, it can take years to secure top positions.