Folks have started recognizing that even small businesses must be online. That's why over 71% of small businesses now have their website, and if their business is B2B, 91% of them run their blogs.
Running a website or blog isn't an automated process; It requires highly skilled labor to rank the pages on search engines, especially Google.
This is because Google secures over 91% of the global search market. So if you are on Google, you are everywhere.
The process of ranking a website on Google is called SEO (search engine optimization).
As a result, businesses get free valuable traffic.
Here is how this traffic may convert effortlessly.
As SEO is inbound marketing, where consumers find businesses when they need them), it often gets more leads and conversions.
For instance, if you have landed on this page, you need an affordable SEO service for your small business. The ultimate purpose of any small business is to get more clients.
So as you are looking for an SEO service, and we offer the most affordable SEO services for small businesses, we may collaborate on your project.
This is what SEO will do for you.
Whatever your business is and your audience, they must search for businesses like yours whenever they need them.
You can target them, or your competitor must be already doing it.
Let us introduce your business to your clients.
Let's discuss your growth strategy at [email protected].
Why should you use our SEO services?
You might say everything you said is true, but why should I use your SEO services?
The reason is that Sturdy Business offers affordable and result-oriented SEO services. Often consultants and agencies charge $75 to $150 an hour or even higher, but we offer professional SEO services at $50 an hour. That's way cheaper than any other SEO company charges.
Many might say, "you get what you pay for," but it's not always true.
As our primary goal is to help businesses grow, we want every small business to afford SEO. That's why we offer professional SEO services at highly affordable rates.
Secondly, if we offer affordable SEO services, it doesn't mean we don't care about your branding or reputation. When collaborating with any business, we mean it; we take care of their reputation, branding, and ultimate goals.
So we work efficiently on their branding, take care of businesses' values and goals, and never use any blackhat techniques that might get instantaneous results that will harm them in the longer run.
The other reason for availing of our SEO service is the results.
We have worked on hundreds of keywords for many websites. We even ranked them in the #1 position on Google.
As we closely monitor this industry, we understand what works the most. It's no more a link-building game, it's more than that, and we do that for you.
For results, you can see that Sturdy Business ranks for over 1000 keywords on Google on numerous Google positions.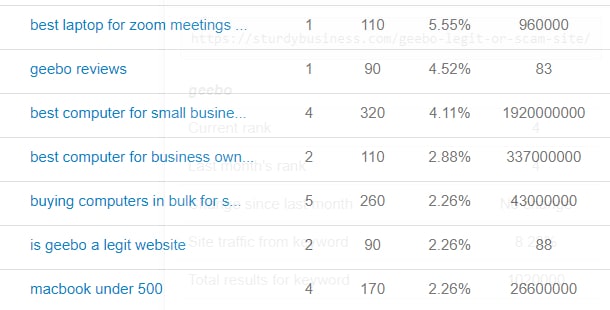 Indeed, the rankings mentioned above might not be relevant, but we make money through affiliates, so these rankings matter to our blog.
We will find relevant keywords that will yield to your business and rank them on the first page.
Here is what we shall do in this SEO offer:
SEO is no more an easy thing. It takes a lot of sweat to secure top positions on Google.
We shall take care of everything. For instance, we shall;
Fewer formalities, more results: We prioritize work and results. So we do our job keeping the objectives in mind. We won't surprise you with a long, confusing sheet; we will implement best practices to rank on search engines.
SEO Audit: This is the beginning of something big. We shall see where you are and what we shall do to push your website up instantly.
Technical SEO: We shall monitor the technical part of your website, technical issues, website speed, page experience, etc.
Keyword research: Keyword research is an important pillar. If you don't find the right keywords, after the long journey, the traffic will be a complete waste of resources. We find the best keywords to get the highest ROI. We also prioritize finding untapped keywords to skip the competition.
On-page SEO: This is the most important part of SEO. We shall optimize your webpage for a massive boost in rankings, and we mean it. It will include optimizing H1, H2,…H6 tags, images, and overall page optimization for targeted keywords.
Off-page SEO: Google says they are devaluing links over time, but we are constantly monitoring it plays a big role in rankings. Google devalues low-quality backlinks, not valuable links. We shall manually build valuable backlinks for your website. We shall find link opportunities to build high-quality backlinks. We use competitors' link analysis, broken link strategy, guest posts, press releases, niche forums, and HARO to find those opportunities. We also focus on business listings, submissions, question-answer forums, and organic social media marketing if it is relevant to your business.
Search Console accounts management: We shall manage your Bing and Google search console accounts to submit sitemaps and check rankings and issues.
In fact, we do more than that.
We understand that your primary goal is to get clients. We prioritize that goal and find all the easy opportunities to get you, clients.
For instance, one of our clients was offering a service that had a sound search on YouTube. We strategized to target that traffic. Here is what we have done.
We wrote a copy, outsourced video on it from a USA freelancer, added it on YouTube and other video platforms and optimized all those submissions to rank organically. It was all done in our SEO package.
So when we are on it, we make things happen.
Want to try?
Email us at [email protected].
Your email may contain,
Your website URL (for research and audit)
Your primary keyword (if any)
What's your ultimate goal: Traffic or Leads?
Hiring hourly vs. SEO packages
Are you confused about whether you should hire an SEO specialist hourly or whether SEO packages are worth it?
If so, here are some deep understandings.
Many SEO companies offer SEO Packages; it sounds safer as you are clear about the work done, and you can inquire if it was not done on time.
But when you hire an SEO specialist on an hourly basis, you get almost the same or sometimes even higher quality.
When someone is working on an hourly basis and is loyal, he is more likely to take care of everything that you usually may not get in SEO packages.
For instance, if an SEO expert, while working on an hourly basis, optimizes a page, he would get time to adjust keywords naturally. Otherwise, he might fit keywords on the page for rankings, but it might look odd for user experience.
Otherwise, there is no big difference.
In both types of hiring, the expert has a strategy for your website. And he only follows that strategy for rankings.
For instance, if you let us rank your website on Google for organic traffic, we will start by looking at current issues, which can be technical issues or on-page or off-page SEO.
In the first step, we will fix those issues and optimize the on-page, including user experience.
Then, we will follow the off-page strategy, prioritizing the best practices to get the highest ROI.
How much should a small business invest on SEO?
It depends on your website. If you have a large website with hundreds of pages, it might cost you a few thousand dollars a month.
And if it's a small website with quite a few blogs, 2 hours a day is enough.
On average, SEO experts charge around $100 an hour, costing you around $4000 a month. But if you use affordable SEO services by sturdy business, you save 65% on it.
Is SEO worth it for small businesses?
Here is why SEO will be worth it for small businesses.
SEO is inbound marketing, where you target highly relevant customers. So leads and conversions can be massive.
The other big reason is that it's a long-lasting investment. You will get new customers daily if you have targeted some keywords and are on the first page.
What are afforable SEO services?
Most SEO experts charge $75 to $150 an hour for SEO. If an SEO company, agency, or freelancer offers services at much lower hourly rates, it's affordable.
The best example of affordable SEO services is SEO services by Sturdy Business; they charge $35/hour for professional SEO services.
PS: No SEO company can guarantee results. We implement best practices to rank on Google, and we have done it hundreds of times and got results all the time; we will do it for you as well.