For online business success, keyword research is one of the BIGGEST online success factors. If you are good at finding great keywords, everything else in SEO becomes way too easy. I bet!
I am truly not overvaluing keyword research.
And this weight on keyword research doesn't mean putting other things down. It's a fact that creating a clickable title, a compelling description, and writing a converting copy is as important as finding excellent keywords. Everything has its own significance.
But if you couldn't find great keywords, it will give you a way too tough time. Finding great keywords mean finding pretty easy ways to get things done.
Not long ago, I experienced it on many of my earlier websites. I was focusing on everything other than finding easy-to-rank keywords. It was a sucking experience, and I will never do that again.
If you are a new business or starting a new blog, either an informational or Amazon affiliate blog, then undoubtedly, the methods I shall share with you here will make your day. It will reduce your efforts by many, many times.
You might not find all of these methods on a single webpage elsewhere because Tool Providers and Digital Agencies have already secured the first page of Google and other search engines.
Indeed, the primary purpose of any tool or agency is to convert you. So they shall provide all the details to use their tools, but won't let you think out of the box.
There is nothing wrong with using them. Sometimes you find many great opportunities out there. But the problem is that they don't have all the untapped keywords. And not even accurate search volume for low keyword difficulty phrases.
Here is the reason.
Google has confirmed that they see 15 to 20% of new searches daily. That means tools don't have those keywords because those keywords are never searched before. And hence not even written.
Here comes a great opportunity for beginners.
We will find those underserved keywords for your business or blog.
In short, this guide is especially for those beginners who are not getting results from their efforts. They might be working hard, writing content, and sharing it with others, but it's taking so long to make the business appear on the first page of Google. Or the Amazon affiliate blog isn't giving results.
In this guide, I shall share the best possible tactics (thousands of people practically experienced) to find underserved keywords for my business and blogs.
I also use two paid keyword research tools, and I shall share them with you.
So if you are still reading it, it shall make your online journey so easy that it will be worth your time.
Let's start finding untapped keywords for your online business and blogs.
Best Keyword Research Tools (Free And Paid)
Here are some keyword research tools that I have used for my business and blogs.
Google Ads (100% Free tool)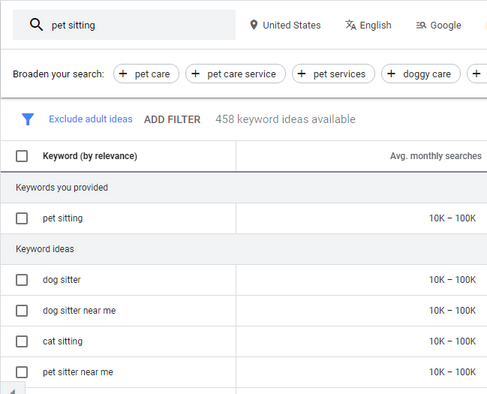 Google makes most of the money from Google Ads.
People spend a lot of money on Google ads, and that's why Google makes things pretty easy for them. Google helps them find highly converting keywords to target and attract customers.
But this gives all business owners and bloggers a chance to use a fantastic keyword research tool for free.
Anyone can create a free account on Google Adwords and start finding the best keywords for a business website or a new blog.
Let's discuss how you can use it for your keyword research.
Type "Google Ads keyword planner" on Google.com and go to keyword planner or click here for keyword planner.
Sign in to your account.
Click "Discover new keywords".
Enter your product or service's name.
Pick the best suitable keywords for your services.
There shall be thousands of keywords out there. But not of all they are for you. You need to pick the right ones.
If you have to run a campaign, you can choose money keywords with high volume. But if it's for your business website. You should try to select the untapped keywords only.
To see which keywords are indeed untapped, you need to put all those keywords in Google.com and see if someone else is targetting them.
If there are quite a few targeting those queries, that means it's the right one for your website or a beginner blogger.
Finding the Untapped Keywords
First of all, let me make something clear.
Untapped keywords mean finding those keywords which not anyone is discussing yet or at least not giants are discussing those keywords directly.
Those keywords can be (and mostly be) with low volume. But not every time. Sometimes, you get pretty cool traffic.
As you are going to lower your efforts, you will be able to rank your site without backlinks, so traffic should not be your priority in the early days.
Traffic will increase over a while.
Here is how to do it.
Mostly, I use the Google search technique (available at the end) to collect a reasonable amount of keywords around a topic.
Once I have some keywords, I start putting all the keywords to find the untapped keywords.
This takes a lot of time, but that time doesn't matter. This time makes my day in the upcoming day.
Once I put the keyword, I notice the following things.
Check domain authority (with Moz chrome bar). If sites with low DA are on the first page, that means giants have not picked this keyword yet.
Reddit and Quora links(ay of them). If Reddit or Quora link is there, it's surely the easiest one.
If the topic is specifically not discussed. If you couldn't find the exact answer, that means there is a huge space.
I use allintitle:keyword to see how many people have discussed it. The lower, the better.
Suppose it's the commercial keyword. I check how many stores are there on the first page. If there are many web stores on the first page, I give it a try because my informational content might outrank (that's what I believe.)
This will take a lot of time to find untapped keywords, but don't panic. This effort is the pillar to successful blogging without competing with giants.
Here is an example to help you pick the right ones.
The example is not the best one, because it doesn't belong to any of my sites. You can even pick this keyword if you are in the kitchen niche.
But this example will make you understand what I tried to explain.
The keyword I recently found is, "best Japanese oven for baking".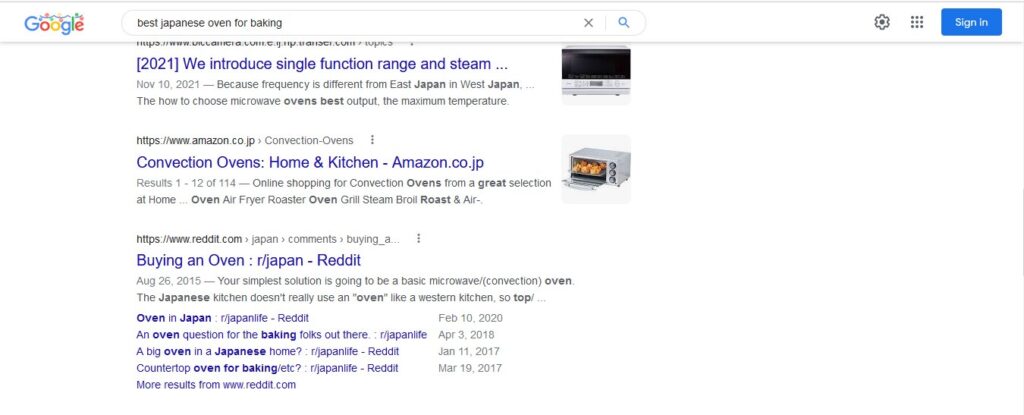 You can see that the results are not exactly discussing the topic, and Reddit is also there.
Now let's confirm it.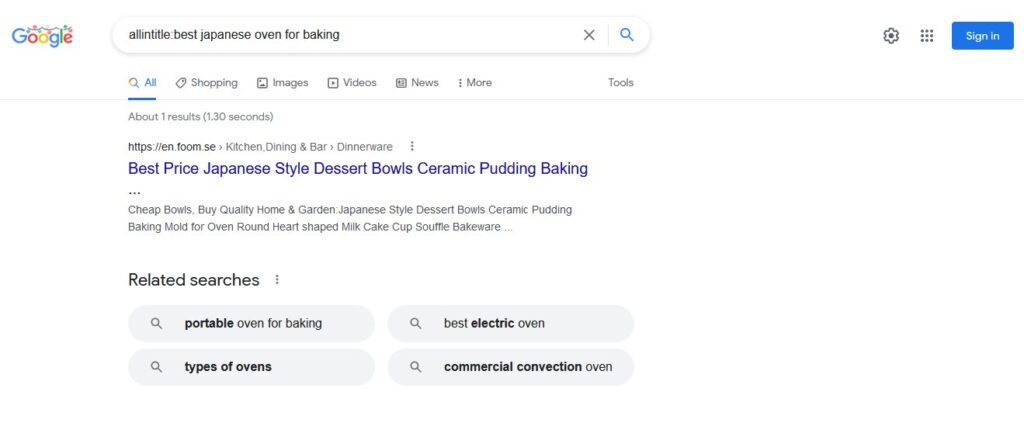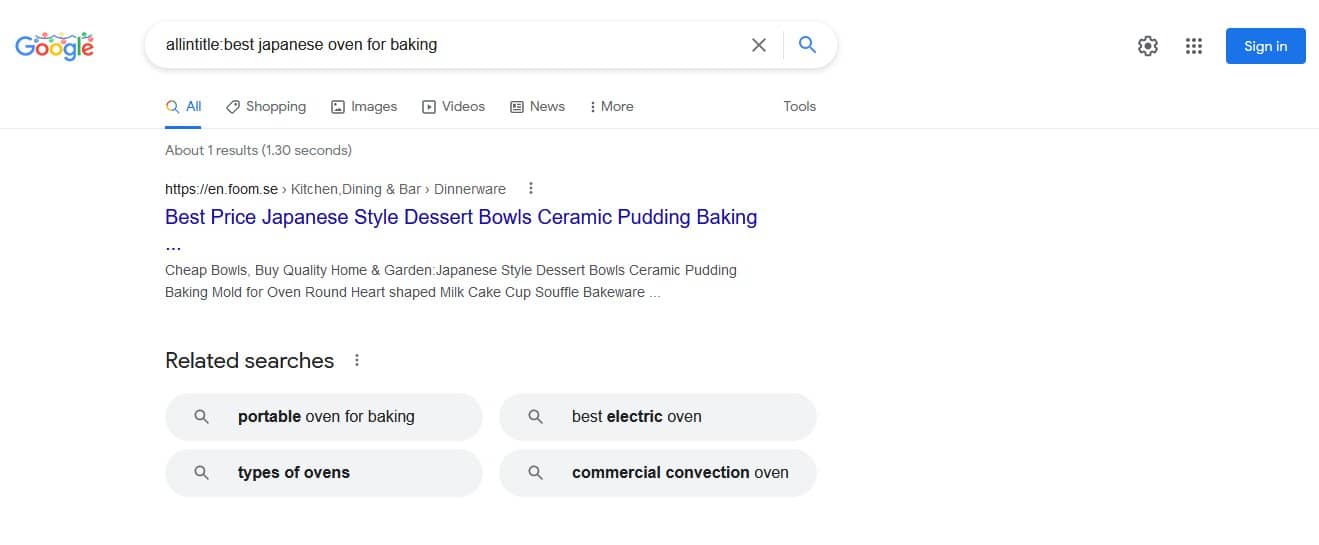 Luckily, there is only 1 site discussing the exact term.
Even if there were 7, it was a nice keyword. Whatever method you use to extract keywords, this technique to find the untapped keywords will work the same.
Bing Keyword Research Tool (100% Free tool)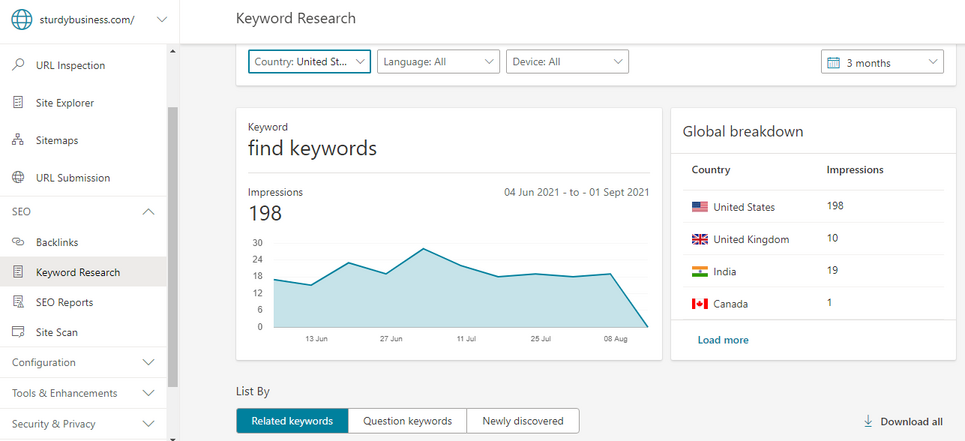 36% of Americans use Bing.
So if you are in the United States, or at least you are targetting the United States, then you can't forget the Bing Keyword research tool.
Yes, Bing also offers a free keyword research tool.
These keywords will not help you for Bing but also for other search engines because the problems in a specific area are the same for all customers.
So if some people are searching for a query on Bing, they must be exploring the exact problem on Google with a few variations.
Let's say you are looking for keywords, then the different variations we see on Google and Bing are, "how to find keywords", "how do I find keywords for my business", "how to find keywords for my blog, or website" etc.
If we see the bigger picture, for all these queries, the answer is the same. That's why if you find something great on Bing, it will work for all search engines.
Here are a few easy steps to use the free tool.
Search "Bing webmasters keyword research" or click here.
Sign in, if not already.
Put the main topic.
Pick the right keywords.
It won't take more than a minute to find many queries in front of you.
Keyword Surfer – 100% Free Tool

Using as many apps and tools for your SEO gives you more untapped opportunities. You are more likely to see queries that different apps and tools have gathered in their database.
That's why I use many different tools for my research.
Keyword Surfer is one of them. Keyword everywhere is also a freemium app that's pretty similar to keyword surfer. You can use any of these apps.
I use keyword Surfer as an extension that tracks all my queries and gives me an idea of what relevant phrases people are searching for and how much volume those queries have.
It's pretty easy.
Type "Keyword Surfer" on Google or Click here to install the Chrome extension.
Once installed, search any query on Google.
Get ideas relevant to that query in the "Surfer Box".
Pick the untapped keyword following the same method mentioned above. (Search each keyword manually to check if it's explored or not).
Ahref keywords Explorer (Paid Tool)

Along with free tools, I use two paid tools to see if I can find some fantastic ideas for my blog.
Remember that, no matter how expensive the tool is, it won't show accurate data about a query. It's always up to you to judge if the query can have great searches or not.
The tools might give you many times lower volume and pretty few search terms or phrases. It's better to be alert while using any of these tools.
Using Ahref Keywords Explorer is pretty easy.
Go to Ahref.com
Click "Keywords Explorer".
Put your main topic, and click search.
Click "Matched terms" to see find opportunities.
You can adjust your search with filters like Keyword Difficulty (KD), volume, Word count, and other filters.
Pick the right ones for your business.
Storybase (Best Paid Keyword Research Tool)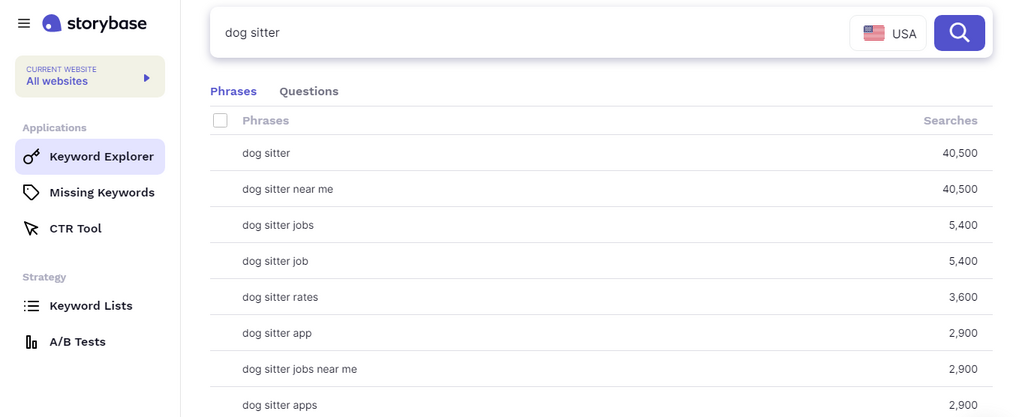 Storybase is one of my favorite keyword research tools. It's also easy to use.
Go to storybase.com
Click "Keyword Explorer".
Type your main topic; let's say it's "Dogsitter".
Pick the right queries for your business (or blog).
Just like Ahref, StoryBase also has an excellent database. It's worth investing.
Secretive Free Methods To Find Actually Untapped Keywords
There are two secretive ways to find untapped keywords. The first one works for new businesses and blogs. The second one works for old websites and blogs
Use Google.com (Find underserved keywords)
Once I started following this secretive way to find keywords, I reduced my efforts by 50%.
The reason is that in this way, you will explore those excellent keywords that really no one is already targeting.
As I said earlier, there are 15 to 20% of new queries. That means there is a considerable chance for any beginner to find those keywords and secure the space.
It's my favorite method to find untapped keywords because of two reasons.
It takes time and effort because it's a manual process.
No one is sure about the search volume.
Yes, that's true.
These two reasons are the pros and cons of this method at the time.
As no one is sure that the keyword you found will grow with time, it's a risk to waste your efforts. But at the same time, it's a blessing because giants never touch such keywords. Giants don't put money on something blindly.
However, we can take an idea if any keyword will grow with time or not. That will share at the end.
Now let's see how this method works.
First of all, clear your browsing data, and remove cookies. Or open an in-cognitive mode.
If you are finding it for your country, that's great. But if it's somewhere else, then you should use a proxy to change your IP.
If you are outside the USA, UK, or Canada, and you want to target any of these countries. Find a proxy that will let you browse from that country.
If it's a local business, be closer to that place because Google provides you queries based on your location (and browsing history).
Now follow the following steps to find actually untapped keywords for your business or blog. You can also use the exact strategy to find LSI keywords as well.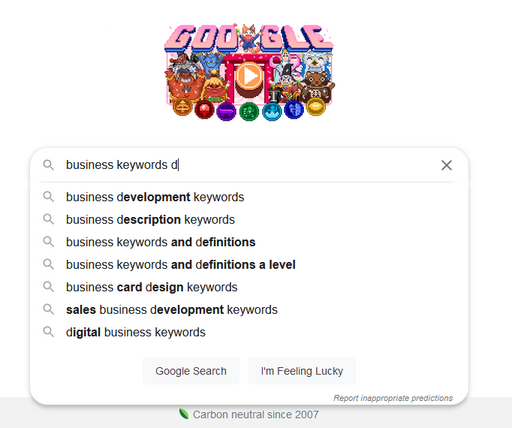 Be very clear about your niche.
Pick a broader term for which you want to find a keyword. For instance, it's "business keywords", "laundry services", "beauty tips", "health care", or "pet services".
Put that keyword in google.
Give a space.
Now write the alphabet "a". Many queries will appear.
Test all those queries in Google to see if the exact answer is available.
Now write the alphabet "b".
And follow the last step once again.
Keep doing it for all the alphabets.
You will sooner see that there are still tons of free opportunities are there, that you can pick and target on your website or blog.
Use GSC to Find Untapped Keywords
This is another best way to find some excellent opportunities for your business and websites.
Suppose you have submitted a sitemap in Google Search Console (GSC) that you must do. You will see how the site is appearing in Google. For which queries and questions, your site is appearing in search results.
Most of the time, your site will appear for the exact keywords you targetted on the webpage. But sometimes, Google might find your webpage pretty relevant for a new query.
And after Titles Change Update, it will happen more often.
Here comes an excellent opportunity for you.
Pick those keywords, and write compelling copy for those keyword ideas.
Summary
Keyword research is the pillar to online business success. If you could find the best keywords, it will reduce your efforts by 50%.
That's why businesses invest a lot of time in it. And as a result, get huge benefits.
We have shared some unique methods to find untapped keywords for your business and blogs. This article is especially for those beginners who don't want to spend a lot of money on expensive tools and can't compete with giants.
If you are one of those, let's find out the best-untapped keywords so that you could easily rank on Google and earn huge benefits from your business.