Chairs are one of the must-have items for an office. An office can't be complete without them. However, when it comes to productivity, they can make or break it.
One major issue facing typical office workers is that they sit in a harmful office chair throughout their workday. However, a small investment can make their lives easier!
For instance, an ergonomic office chair can improve posture, minimize back pain, and enhance productivity.
In a nutshell, ergonomic chairs, such as the office chairs we discussed below, will help make people more comfortable in the office, enabling them to bring more value to your business.
Additionally, the following office chairs are so stylish that they can enhance the overall aesthetics of your office, giving it an expensive look.
SAMOFU Office Chair – Best overall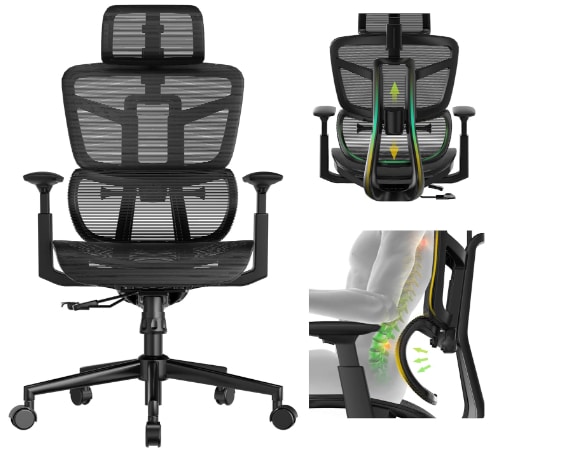 1. 4 inches up and down height adjustment
2. Adjustable lumber for neck, back, and waist support
3. Comfortable seat cushion
Puresoft Office Chair – Cheap overall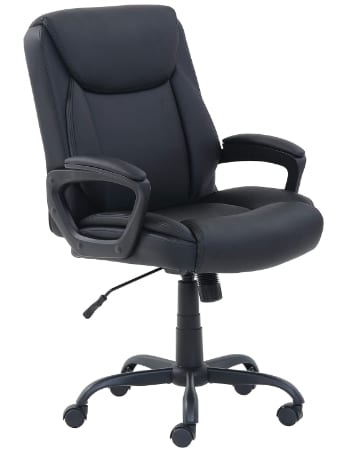 1. Versatile and lightweight
2. Suitable for offices, home offices, and conference rooms
3. Supports up to 275 pounds
Here are some of the best ergonomic chairs that can be used for work in a home or office setting. The price range of the following office chairs is between $50 to $350.
1. Nouhaus Ergo3D Ergonomic Office Chair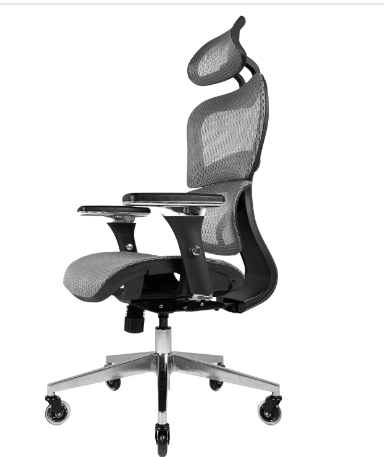 Some key points:
Available in black, gray, blue and burgundy
16.3″D x 27.95″W x 44.09″H
It comes with silent and smooth blade wheels
4D Adjustable Armrests
Provide optimal support for your back, neck, and arm
Reasons to buy:
+ Comfortable and supportive with 3D lumbar support and adjustable armrests.
+ Breathable ElastoMesh material for all-day comfort.
+ Customizable features like a mesh headrest and 4D adjustable arms.
+ Stable and durable with a 5-Point Base and dual castors.
+ Easy assembly without the need for sophisticated tools.
Review:
Get yourself the Nouhaus Ergo3D Ergonomic Office Chair—and you get a whole new playground! With this chair, you can't go wrong when it comes to comforting and supporting yourself as you work.
The 4D Adjustable Arm Rest converts them to suit your needs by keeping you in the right posture while typing and browsing.
But that's not all! Your back will thank you for the 3D lumbar support. It fits well into the shape of your body and assists in reducing soreness or pain. It is not only breathable but also gives a modern appearance to your office space.
Its depth is about 16.3 inches, with a width of 27.95 inches and a height of 44.09 inches. The seat is large enough that you can fit into an easy position on it. Such a sitting is made up of an integrated approach to balance the seat depth and width, as well as a general height, for comfort consideration of various body sizes.
Added features such as the mesh headrest and 4D adjustable arms also provide more customization for optimizing your body's comfort.
One of the advantages is that it is made of breathable ElastoMesh, which is not like sitting on a wire as with other chairs; therefore, it provides comfort all through the day.
Furthermore, the 5-Point Base with dual castors guarantees stability and endurance, making it suitable for adults weighing up to 125 kg. The set of blade wheels is softer than the silk itself when rolling over the hardwood floor.
The blade wheels, for instance, are amazing. However, they are not just smooth and easy to glide; they also slide over various surfaces, enabling you to walk around with comfort in an office setting.
Let's now consider one of the colors, grey. This is a perfect choice for any working space, as it is flexible and fits easily into any office decor, bringing a modern and sophisticated appeal to the surroundings.
Especially, if you are buying for men, this could be a great addition to men's office.
It's super easy to assemble! In this situation, you do not have to use sophisticated tools or spend time trying to understand it. In just a couple of easy steps—and here it is!
Believe me, this chair is worth every penny. It is not only comfortable and supportive, but also durable. It is a reliable partner for life owing to the high caliber materials used and robust construction. And the best part? It won't break the bank
Overall, if someone is aiming to refurbish his office, he should choose the Nouhaus Ergo3D ergonomic office chair without any doubt. It is made for you- it is comfortable and durable.
2. OFIKA Home Office Chair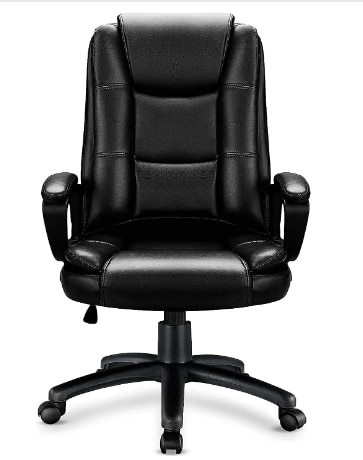 Some key points:
Available in Black, Brown, Cream white and Grey
23.82″D x 25.53″W x 46.41″H
Soft cushion, comfortable arm, and lumbar support
Easily recline up to 110°
Adjustable Height and Armrest
Easy to set up
360° rolling wheels
Material: Faux leather
Reasons to buy:
+ Unparalleled comfort with cloud-soft cushioning and excellent ergonomic support.
+ Highly adjustable.
+ Stylish modern leather finish.
Review:
As a business owner, I am always choosy when it comes to selecting an office chair. Once upon a time, I ordered a horrible regular one, and it completely destroyed my posture, leaving me with backaches. That's when I invested in an ergonomic office chair; it was just great! And I still have it.
When talking about comfort, the OFIKA office chair pops up in my mind. Let me tell you, I have had firsthand experience using it, and it is definitely a total revolution, and people are already loving it! It's like sitting on a cloud-soft down cushion while the ergonomics give you that high back and lumbar support that makes your back feel good, especially when engaged in activities that take long hours.
But here's the best part: the chair is super adjustable! With this feature, one can raise that position all the way to an angle of 110° and thus have enough free space for relaxation or concentration.
With it being adjustable in terms of height and even armrest, it will therefore be a perfect fit for your body! Isn't it all about locating the just-right balance?
It is easy to set up; you don't need any intricate guidelines or instruments, and guess what? Delivery is super fast, too!
Moreover, with 360° rolling wheels, you can easily move about your workstation. Your very own roller coaster without any loops or drops!
The OFIKA Home Office Chair has measurements of about 23.82 inches deep, 25.53 inches wide, and 46.41 inches higher than the floor. This is the perfect size to give relaxation and support and, at the same time, fit snugly into your office.
And about material! The chair has a modern leather finish that fits into any workplace. Moreover, they are available in colors such as black, brown, cream white, and grey, which you can select depending on your style and the atmosphere of your place of work.
To sum up, it appears reasonable to say that the OFIKA Home Office Chair is comfortable, adjustable, and stylish. You could say it's a personal assistant who works for you all day!
3. Actfull Ergonomic Office Chair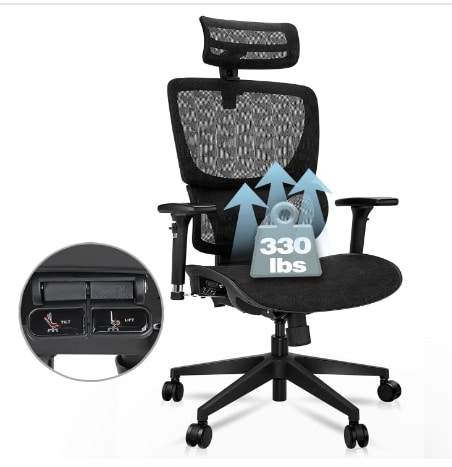 Some key points:
Available in black
17″D x 26.5″W x 48″H
It has a 3D adjustable Armrest and headrest
To find the ideal position for your comfort, it can be rotated, moved forward or backward, and adjusted up and down
Smooth and quiet mobility
Adjustable height
Weight is 40.56 pounds
Reasons to buy:
+ Effortless tilting mechanism and comfortable pillowtop headrest.
+ Easy height and tilt adjustment with a convenient button.
+ Ideal for home offices, offering an adaptive and comfortable work environment.
Reasons to avoid:
— Slightly hard to assemble but not a big deal
Review:
Being in an unpleasant chair makes me crazy. I mean, who in their right mind would work with a sore back? And that is what a cheap chair can do to your body. So how should one improve the situation here? You just have to buy yourself a high-end ergonomic, adjustable chair to suit your body. As soon as you buy it, you can see an improved mood and better productivity.
Therefore, the Actfull ergonomic office chair is highly recommended.
The reason is that it tilts you back easily at any time without strain. Comfortable pillowtop head rest that is supportive for maintaining good posture. One can raise or lower the table and tilt the chair just by pressing a button.
This chair is tough, thanks to its design, as well as being very comfy for a whole working day's sitting. When you sit on it for eight hours, the pain in your lower back decreases.
Ergonomic comfort—this office chair is just the job for that. The lever lets you change the angle of the backrest and lock it at the desired angle. Additionally, with a separate lumbar cushion and independent spring support, it provides great comfort for people of different heights.
There is no need for you to care about strength and hardiness! The chair has strong, solid aluminum alloy feet and is able to take a weight capacity of up to 330 lbs with its 85mm gas lift
Want to get up and move around while working? No problem! The chair's 65mm PU coated castors provide smooth mobility on various floors without any noise.
Adjustable 3D armrests as well! They can be raised downward, turned left or right sideways, or slid forward or backward.
This is a strong and dependable chair, weighing 40.56 pounds. Rely on it, as it will stay by your side all day long.
Finally, the high back office chair is equipped with an adjustable 3D headrest, giving support to your neck. With this, it could be regulated upwards and downwards, moved forward or behind, and even rotated, giving a better viewing point. Say goodbye to neck strain!
Its size measurements are approximately 17 diameters, 26.5 widths, and 48 inches in height. At seventeen inches in diameter, it's quite soft, but its twenty-six and a half inches width comfortably accommodates your movements. In addition, it stands at 48 inches in height and is good for the back.
As for your home office, there's no better choice than an Actfull ergonomic chair.
These features combine to create an environment that is adaptive, comfortable, and easy to move and use, providing almost a portable oasis of productivity. Therefore, if you are seeking a chair that will enhance your work experience, consider trying this one. You won't be disappointed!
4. Amazon Basics Classic Puresoft Office chair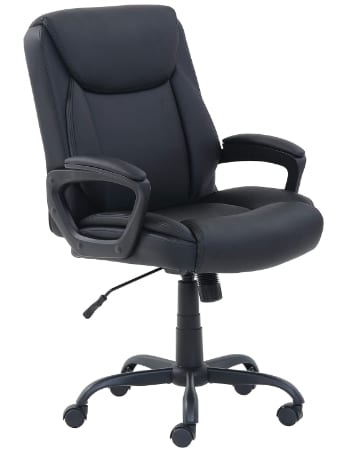 Some key points:
Available in black, brown, and cream colors
26″D x 23.75″W x 42″H
Supports up to 275 pounds
The product's weight is 25.3 pounds
Reasons to buy:
+ Adjustable seat height and tilt control for customizable comfort.
+ Armrests enhance arm and shoulder comfort while seated.
+ Versatile and lightweight, suitable for offices, home offices, workstations, and conference rooms.
Reasons to avoid:
— Lacks advanced features like adjustable lumbar support and reclining.
Review:
The Amazon Basics office chair is the cheapest one available, at around $80. People are liking it in this price range.
Talking about its overall look, it's a basic chair that comes in three colors: black, brown, and cream. Pick any that will appeal to an office environment.
This is an all-in-one comfortable chair suitable for use in offices, home offices, workstations, and/or conference rooms. This is lightweight and can thus be easily moved in case there is any need to do so.
The seat height can be adjusted as per your preference, along with tilt control, which permits you to adjust sitting in a comfortable position like raising, lowering, reclining, or sitting upright.
Puresoft PU padding lays soft and comfortable, adding up to many comfortable hour-sitting.
Mid-back design is pretty good at supporting the lower part of your back, which enhances good posture when working.
The armrests make it more comfortable to rest your arms and shoulders as you sit in the chair.
This can adapt with an alteration of height to fit, for example, individual preferences or different desks.
However, this chair is missing a few advanced features, such as adjustable lumbar support and reclining ability, which consumers may prefer for personalization purposes.
However, with a weight carrying capacity of up to 275 pounds, this chair could be unsuitable for individuals weighing more than this.
The stability is affected by various aspects, such as the armrest and the stability of the base. Some people claim that it's not quite durable for a long-term service.
In summary, this is a cheap option for an office or computer desk's basic chair. Though not fully equipped like high-end seats, it offers reasonable comfort as well as function.
5. SAMOFU Office Chair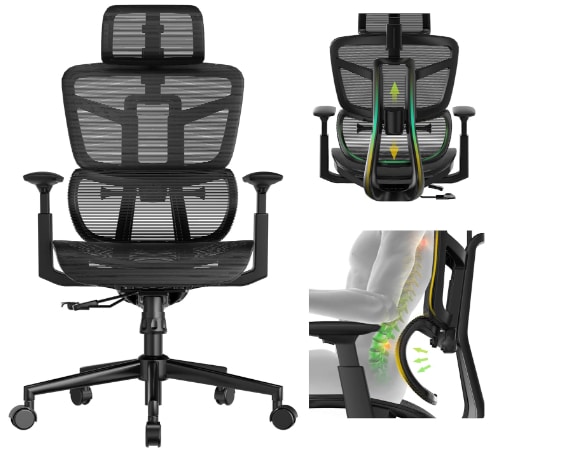 Some key points:
Available in black
17.32″D x 24.8″W x 54.22″H
Can easily be lifted and adjusted with buttons
It has a 4inch up and down height adjustment
Adjustable lumber for neck, back, and waist support
Comfortable seat cushion
It has a weight of 20.91 kg
Reasons to buy:
+ Sleek black finish that enhances the workspace aesthetics.
+ Comfortable seat cushion designed for all-day sitting without discomfort.
+ Suitable for power napping.
Reasons to avoid:
— Armrests may not stay in place.
Review:
Want a chair that'll make your work setup more comfortable and keep you in check? The SAMOFU ergonomic chair is your best bet.
Besides the health benefits, this chair just looks good with a sleek black finish. Measuring 17.32 inches in depth, 24.8 inches wide, and 54.22 inches tall, it's got plenty of space to get into any position you want.
But the greatest thing about it is how easy it is to adjust the height. Just tap a button, and you can ascend or descend without any effort from you. And there's an adjustable range of 4 inches, so you can find just the right position for any posture.
Working for long hours usually leaves us in discomfort, but this one added an adjustable lumbar feature to help with that. It lets you support your neck, back, and waist. Set it up however way is most comfortable for you to sit during work.
When designing this seat cushion, they made sure comfortability was their main focus. We all know how uncomfortable seats can be when we're sitting on them all day, but here's where those problems stop. The seat cushion provides support while lounging in it all day without feeling like a rock or paperweight, at 20.91 kg, ensuring it won't break after your first use
The ergonomic chair has a headrest that supports your neck and head, providing extra comfort. Armrests can adjust to fit your arms in the right position, reducing strain on your shoulders and wrists. The chair is also equipped with smooth wheels for easy movement.
Additionally, the back of the chair can be adjusted to different angles. It can be set at a 90-degree angle for when you need to focus, a 110-degree angle if you want to relax, or a 135-degree angle for power napping. This makes it flexible enough to meet all your needs throughout the day.
Unfortunately, there are some downsides to this chair. The biggest is that the back support is too reclined, even in its most upright position. There's also difficulty in finding just the right seat setting, and the armrests don't stay in place.
It's not the best choice for people who aren't 120 lbs and don't sit with their knees together tightly either. Plus, shorter individuals may find it uncomfortable since the back of their knees will hit its depth.
6. SIHOO M18 Ergonomic Office Chair For Big And Tall People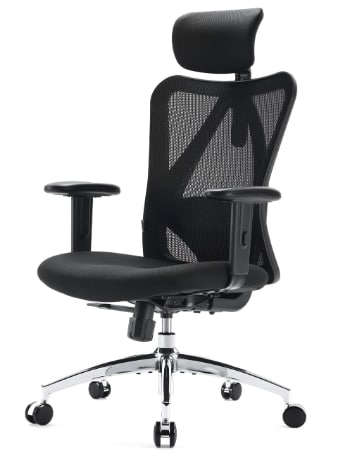 Some key points:
Available in black, grey, and orange colors
27.5″D x 11″W x 21″H
Adjustable lumbar support
The item weight is 17 kilograms
Great for gaming and Office use
Suitable for people 5'6″ to 6'2″ tall
Reasons to buy:
+ Ergonomic design promotes upright sitting and helps prevent back pain.
+ Built-in auto-release mechanism for adjustable lumbar support, suitable for individuals with back problems from prolonged sitting.
+ Headrest and armrest support
Reasons to avoid:
— It may not be ideal for shorter people.
Review:
The Sihoo M18 ergonomic office chair that has a built-in auto-release mechanism offers lumbar support that can be adjusted if you have back problems as a result of sitting too much, for example, due to a desk job.
It takes much effort to work at a desk. In fact, yes, it is possible. One can purchase a standing desk, but at some point in time, one will need to sit.
After all, what is the point of sitting when you can only get the benefit of it in an uncomfortable and not-so-pleasant way for your back?
The Sihoo M18, a chair that claims it offers triple spinal relief, aids the many hours office workers sit.
I liked its understated, classical appearance as a chair. This chair is quite comfy, but it doesn't take after those racing-like computer chairs that have become so popular nowadays.
The seat's back consists of a flexible and porous mesh. On the back of the Sihoo, there is a knob through which you could adjust the lumbar support. The lumbar support may be varied by around two inches as well. Those who tested it had a good time with it; the catch lies in whether it would work perfectly well with exceptionally tall people.
I especially liked this feature because I discovered that most chairs lack sufficient lower back support so that one can sit comfortably for very long periods.
The headrest itself is excellent, though short users may miss the whole point. If you're very tall, the headrest can be set back upright by about 3 ½" or so.
For office workers or gamers, the SIHOO M18 ergonomic office chair is definitely a great selection.
It comes in three stylish colors: black, grey, and orange, which enable customers to select based on their desired taste. The chair features a depth of 27.5 inches, a width of 11 inches, and a height of 21 inches, promising generous support for users.
Apart from being ideal for gaming, the chair is fantastic for office use. It has an ergonomic design that fosters upright sitting to avoid back pain or troubles. This flexibility is what makes it highly popular among gamers doing so for both gaming and work.
This chair ranks very high overall, however, if one happens to be a shorter person than 5'3", there is probably no suitable height adjustment for this chair.
7. TfficeTingco Ergonomic Computer Desk Chair
Some key points:
Available in solid black colour
22.4″D x 24″W x 47″H
It weighs 18.48 kg
Head, back, and adjustable lumbar support
Up and down height adjustment
Weight capacity 330lbs
Reasons to buy:
+ 3D armrests with larger, thicker, and softer PU cushioning.
+ Up-and-down height adjustment for the perfect seating alignment with your table.
+ Can be tilted at any angle
Reasons to avoid:
— Taller people may see headrest issues.
Review:
With a sleek black finish, this solid black TfficeTingco ergonomic computer desk chair is ideal to complement any office setting and bring about a feel of classiness.
This chair is 22.4 inches deep, 24 inches wide, and about 47 inches tall, allowing users to sit comfortably.
This chair, which weighs 18.48 kilograms, is very strong and will last a long time. This product is ideal for numerous people due to its ability to handle 330 pounds in weight.
Some of the remarkable characteristics of this chair are the adjusting functions in the heads, backs, and lumbar support. The chair is adjustable to accommodate individuals' particular needs for comfort, thereby ensuring good posture, which prevents back pains/discomfort.
Additionally, the TfficeTingco features an up-and-down height adjustment that enables you to get just the right seating to suit your table. The chair also tilts at any angle offering freedom of movement for a comfortably long time while working.
Whether it's an important project or a leisure gaming session, this chair delivers all the required support and comfort. Therefore, this ergonomically designed keyboard will not distract you while giving you full attention to your work.
It's also great that this chair pays attention to every single thing and creates a feeling of ultimate comfort. These 3D armrests come equipped with larger, thicker, and softer PU cushioning, ideal for various seating postures.
Additionally, it comes with a big and fully adjustable headrest that helps hold your head in position. It has a plushy headrest for your comfortable placement. The soft memory foam wide seat cushion also relieves pressure on your thighs.
The instructions are very straightforward, enabling one to assemble it in just under ten minutes using one tool only. The chair is guaranteed to be durable and stable as it is BIFMA-certified.
8. SUNNOW Mesh Office Chair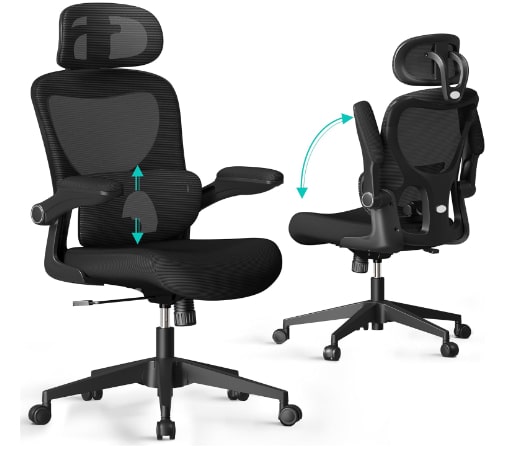 Some key points:
Available in black
26″D x 26″W x 45″H
Adjustable 3D flip-up armrest
Tilt function
Adjustable height
PU mute wheels
Easy to put together
Reasons to buy:
+ Ergonomic design.
+ Breathable mesh material prevents sweating and regulates body temperature.
+ Features lumbar support, adjustable height, and smooth-spinning wheels.
+ Easy assembly for quick setup and improved office comfort.
Reasons to avoid:
— The headrest has relatively abrupt edges.
Review:
Imagine this: You're sitting in your chair, hands on the keyboard. Then you feel that your back hurts; your shoulders are tense and low on energy. That's when a miracle comes into play- the ergonomic office chair!
Ergonomic furniture like the Sunnow Office Chair is designed with care for you. Your body basks in the comfort this chair provides, almost like it were being cradled. To keep you from getting sweaty, there's a mesh that allows air to reach you.
It also helps with letting heat out to prevent your body temperature from spiking. There's even a bunch of options to choose from regarding sizes and fittings, so you can find a way to sit in here that feels perfect for you.
Despite its size (26"D x 26"W x 45"H), it's very spacious and comfortable.
It's made so that no matter what mood you're in, whether you want to work or just lay down, it can support and comfort you. This chair could be what saves you during long office hours where all hope feels lost.
You have lumbar support, which is great for saving your spine, adjustable height so even tall folks can get comfy, and wheels that spin smoothly.
A sleek black color coats this chair. It adds a touch of sophistication without going too crazy with design choices.
One feature that makes this model stand out is its 3D flip-up armrests. They're adjustable, so they can meet your needs.
The PU mute wheels are perfect for eliminating squeaks and screeches from the floor. You won't even notice your movement with them.
Putting this chair together is so easy that you'll be done before you know it. And once you do, say goodbye to those uncomfortable hours in the office.
9. GABRYLLY Ergonomic Mesh Office Chair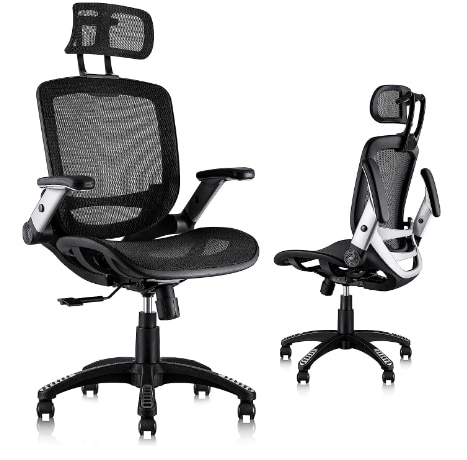 Some key points:
Available in black
22D x 25.2W x 45.3H in
Soft flip-up Armrest
It weighs 41 pounds
Easy folding and space-saving
Tilt function up to 120°
Reasons to buy:
+ Adjustable features, including seating, armrests, and lumbar support.
+ Made of supportive mesh material that regulates body temperature and keeps you cool.
+ Allows you to lean back for breaks and relaxation.
+ Fits entirely under the desk.
+ PU mute wheels to eliminate floor scratches and annoying noises.
+ Adjustable armrests and full-length backrest for maximum comfort and productivity.
Reasons to avoid:
— Not perfect for tall people.
Review:
GABRYLLY makes an awesome ergonomic mesh office chair. This can make a huge difference in your posture at work.
It's a fact that you can feel comfortable sitting in this office chair. It's no mistake that they've packed it with adjustable seating, armrests, and even lumbar support. They also made the chair using mesh material, making it supportive for your whole body and regulating your temperature to keep you cool.
Taking breaks is important, but what if you could do that while still sitting? Now you can lean back in this chair every time you need a break or stretch. Being able to relax like this is essential for keeping your muscles from cramping and promoting good posture while sitting.
Nowadays, people have started using standing desks to make more room for activities. But what about those who want the option to sit? The GABRYLLY office chair solves that problem by fitting entirely under the desk.
It's not uncommon for chairs to come without arms or with too many. While both options have their uses, this office chair finds a way to put them all together. The GABRYLLY will exceed your expectations, giving you the best of both worlds.
It's dimensions measure 22D x 25.2W x 45.3H and provide a comfortable seating area.
For those long workdays, you need all the comfort you can get, and the soft flip-up armrest does just that without sacrificing any flexibility. Weighing in at 41 pounds, it's sturdy and maneuverable.
The worst sound someone can hear is an annoying scratch on the floor, but with PU mute wheels, it has made sure to eliminate both noises and scratches.
You can adjust the armrests to target your brainwaves and maximize productivity. Trustworthy for your body, the GABRYLLY chair gives you a full-length backrest. That's not all, though, because there's also a headrest that hugs your spine all the way through, relieving pressure and other sorts of pain.
It's as flexible as you want it to be. You can move the entire chair and tilt it all the way back or sit upright.
After a long day of work, who wouldn't want to lean all the way back in their chair? Well, now you can with this one! By Leaning back up to 120°.
10. ELABEST Mesh Office Chair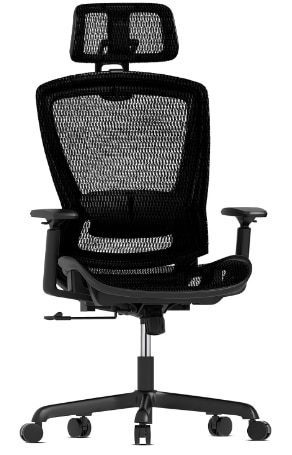 Some key points:
Available in Black
26.4″D x 28.5″W x 45.3″H
It weighs 36 pounds.
Adjustable lumber support and armrest: Can slide up and down.
Large curved 3D head restraint.
Comfortable wide seat with waterfall cushion design.
Can hold up to 280 pounds.
Suitable for home and office settings.
Reasons to buy:
+ Made with mesh material to keep you cool during long hours of sitting.
+ Offers ample space without feeling cramped and is lightweight for easy office mobility.
+ Wide seat with a waterfall cushion design reduces pressure on the legs.
Reasons to avoid:
— Not a high-end product.
Review:
If you are new to ergonomic chairs, then the Elabest mesh office chair is one of the great options. With its adjustable height, lumbar support, armrests, and recline tension, it is made with mesh material that keeps you cool during long hours of sitting.
This chair is perfect. It has a sleek black look with dimensions of 26.4″D x 28.5″ W x 45.3″H, only weighs 36 pounds, and provides a comfortable fit for anyone who sits on it.
There is no need to worry about space because there is more than enough of it to sit without feeling like you are being squeezed into a can. And it is lightweight, so you can move it around your office without too much trouble.
But that's not the best part about this chair. Adjustable lumbar support and armrests allow you to find the perfect position for your back and arms.
If you've had an office job before, then you know the struggle of trying to get comfortable in your chair. You twist your back into knots, and there still seems to be no rest for your arms. But now imagine being able to adjust your chair so that every curve in your back finds a cozy spot and your arms feel at ease.
By adjusting the lumbar support and armrests, you can customize how comfy the chair feels to meet all your needs—within limits, of course.
Up until now, I have been focusing on ways this chair will support and help relax the upper half of your body, but what about your legs?
Don't worry, I didn't forget about them! This seat was made to cradle every inch of your body in comfort. A wide seat with a waterfall cushion design will make sure pressure on your legs is also reduced.
Just when things couldn't get any better, it turns out this bad boy can handle up to 280 pounds of weight! There's hardly any chance of it breaking.
One downside to this chair, though, is that it's designed for people who are 5'7" and 6'0". If you're shorter than that, you'll have to find something to rest your feet on so you can sit at a 90-degree angle. Assembly is also required.
In summary, the ELABEST Mesh Office Chair offers style, comfort, and functionality all in one sleek package. People looking for something solid and comfortable should seriously consider it.