Whether you need to buy a new business laptop or update your existing business gear, you must plan ahead to break a good deal on your purchase.
There are several factors to consider when shopping for a new business laptop, and perhaps one of the most important things to consider is WHEN to purchase.
If you just put in a little work and plan before delving into a buying spree, you can save thousands of precious bucks, which can be well spent on other demanding business elements.
Now comes the critical question: Are certain times of the year better for buying a new laptop?
Most laptop prices drop at one point or the other, and newer models are always in line. The answer depends a great deal on your business dynamic.
Your purchase price will differ if you buy a single piece to replace broken laptops or are in for a bulk buy for your whole entourage.
If you need a powerful machine for your business, here are some of the best-reviewed computers by a business owner.
We have compiled a sort of buying guide for your business computers to lessen your worry so you can make the perfect purchase to boost your business with a lot of savings in your account.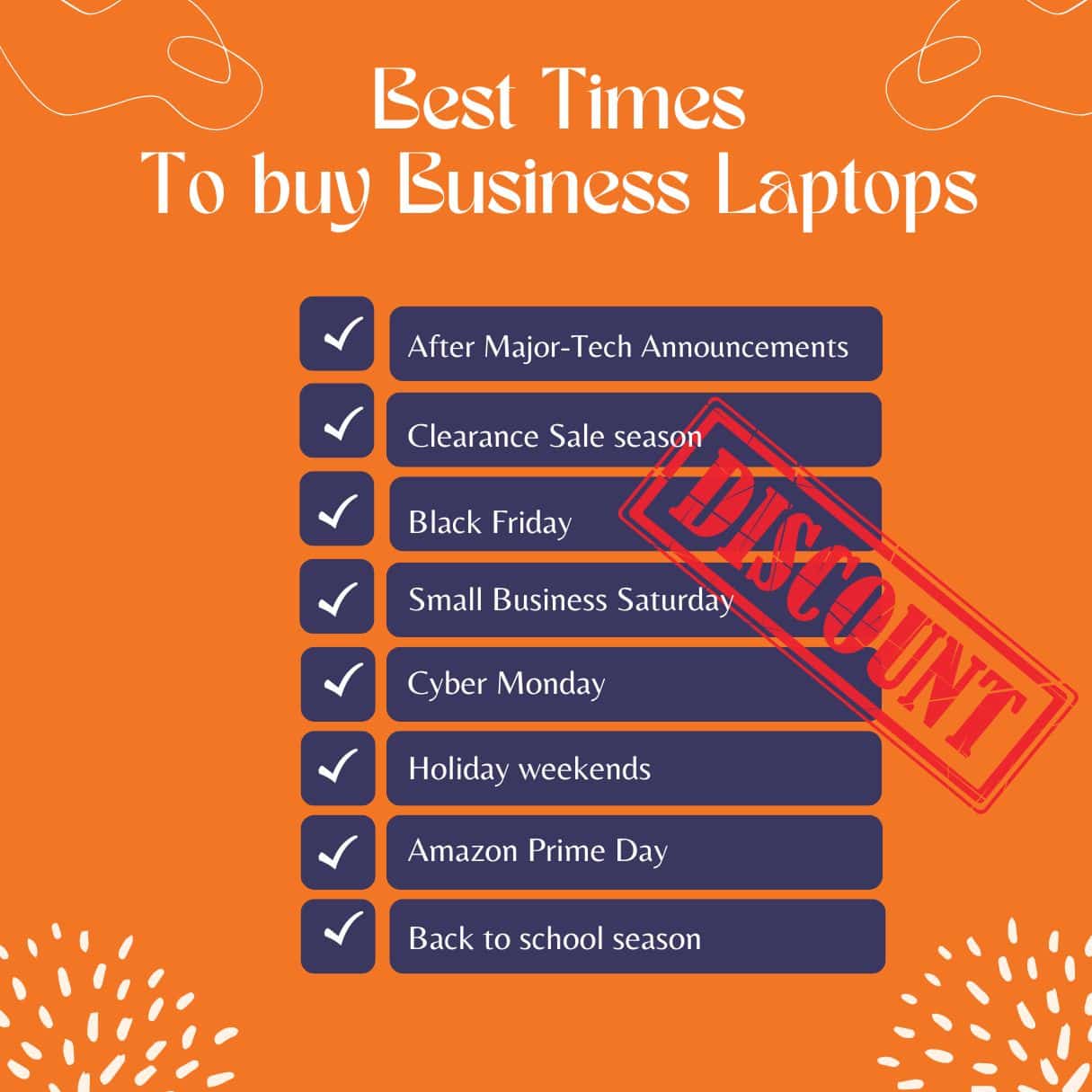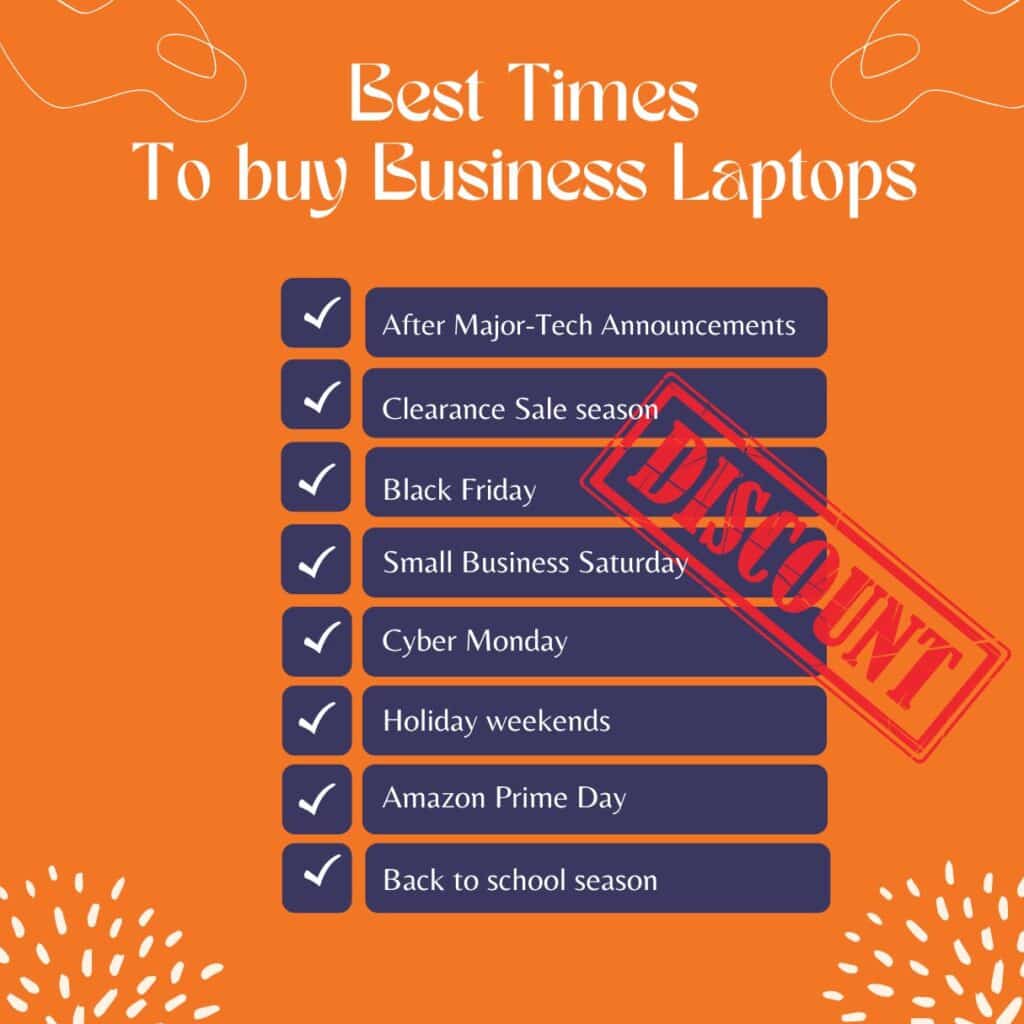 After Major-Tech Announcements
Here's a tip that will require keeping a closer eye on the tech industry before purchasing. After releasing new models, manufacturers typically begin marking down perfectly good laptops to make way for new inventory. So ideally, the time around new releases is a good time to invest in new business laptops.
When Intel or AMD upgrades their gadget line, we usually see price reductions on older models with the last generation of processors, creating a way for sales.
As for Apple, the company sometimes discounts its older laptops when launching a newer model. If you have decided that a certain Mac meets your business requirements, watch Apple's yearly top announcements for an idea of when prices are up for a change.
Clearance Sale season
If you are looking for a solid deal on your business laptops, then clearance sales are the best time to hoard everything your business requires, especially high-priced items like a laptop. Vendors usually give hefty discounts on laptops about to be discontinued or on laptops that could have made better sales through the last season. Be on the look for the stores that put their computers on clearance; you can find amazing deals on laptops, so don't miss out – check out the different clearance sales lists and start saving today.
Black Friday
Even businesses buying in bulk can benefit highly from Black Friday sales. Most retailers are closed on Thanksgiving, which makes Black Friday a more major shopping holiday.
So what will you find if you brave the crowds and explore a store for laptop deals?
Buying trends show that discounts on desktops and laptops have been one of the main aspects of attracting shoppers on Black Friday. If you want a business laptop – and a good deal on one – it's best to dig well ahead of Black Friday to understand what features you want and how much costs differ from standard buying times. This advanced research will save you a ton and help you decide if a laptop with a price cut of $400 is a winning deal or a piece of scrap.
Small Business Saturday
Small Business Saturday is the day after Black Friday, and it's regarded as a good day to shop for laptops at independent stores. This will be a good day to check out the sales if an independent laptop business is in your area.
Cyber Monday
Cyber Monday is the Monday after Thanksgiving, and typically, it's the day when online retailers provide steep discounts, so you should be prepared for that big or small business laptop purchase. You'll probably find laptops at a discounted price all around the holiday season.
Holiday weekends
Holiday weekends are another great time to snag a bargain throughout the year. Public holidays like Presidents Day, Memorial Day, and Labor Day are spread across the year, so you can get a decent deal even if you need an immediate replacement for your business laptop.
January can be a prime time to score a bargain. You'll find laptops in January at prices 10% lower than on the same models sold in December.
If you are flexible in your requirements, the best overall prices are in January, during post-holiday shopping efforts to clear inventory. Especially if you are buying a lot of computers – you will get the best prices for them. Planning your laptop purchase around these holiday sales ensures you get the best investment returns when laptops are purchased.
Amazon Prime Day
Amazon Prime Day, primarily held in the summer, is the best time to ensure huge discounts on laptops and computers. To be exact, laptops and computers have been one of the top-selling products on Prime Day in the past years.
According to Amazon Prime Day Statistics, people save over $1.7 billion on prime days. That's a huge discount!
Back to school season
Many college students are in the market for laptops around July and August at this time of the year. That doesn't mean any small business or entrepreneurial venture cannot benefit from these deals.
If your business model is a startup, you are in for a good deal as laptop options are endless, with as many laptop brands available as you wish. If your state has a tax-free sales weekend in the summer to encourage shoppers to open their wallets, that is another chance for you to crack the deal on your business laptop purchase.
Making Sure You Are Getting A Good Deal
When you are out to buy a business laptop, you might need clarification on the choices of different deals and your laptop pick as to whether you are getting what you are paying for or if all these shiny deals are fooling you. It can be hard to tell if you're getting a great price or a slight discount if you know what the product usually sells for. There are a few ways to determine this:
Use a price-history tool: A couple of sites track price changes over time to see if today's price is the lowest it has ever been at one particular retailer. There are different price history tools that you can put to good use to gauge price history.
Year-round sales: Particular stores and manufacturers may have laptop sales during the year. Experts suggest that the spring season, the end of summer, and the holidays are usually the time to buy a laptop. It depends on what you want. You might need to wait for the new models to release to buy a laptop with a distinct feature. And even if you want a low-cost laptop for your business, one of the older models may not fit you.
Visit deal aggregators: Deal news sites focus on pricing and call attention to the best deals in their posts. So gear up your research and go through different sites to rule out what offer suits you best.
Filter out fake reviews: User reviews can be beneficial when making a big purchase, but plenty of fake reviews can jeopardize your business laptop selection. Amazon shoppers can use the website Fakespot to filter out fake reviews from legit ones. The site uses an algorithm to spot suspicious reviews and determines every product's user reviews based on its data.
There is debate on the best time to buy a business laptop, but as is predicted by the deal season, spring, late summer, and the holidays are usually the best times to buy a laptop.
This is topped up by the different stores and manufacturers putting out special sales throughout the year, so you will surely find one deal or the other to your benefit; you just have to look carefully.
Undoubtedly, there is more than one factor involved in any purchase you make; still, when purchasing for your business needs, you have a lot at stake, so be a conscious shopper and plan your business laptop purchases around these discount times to fully benefit from your investments.