There are dozens of laptop brands in the market, but you can't rely on all of them, especially for business tasks.
Your work and business data require a secure and dependable laptop, which you can only find in branded business laptops.
For example, as we have discussed in a previous article regarding business laptop processors, these processors are designed with security in mind.
You don't replace your business machines frequently; you keep them for years. Therefore, when purchasing a laptop, you should consider buying a laptop that will last for several years, if not a decade.
That's why it's important to conduct thorough research and identify the best business laptop brands to choose from.
Another significant reason to stick with reputable brands is that they allocate substantial budgets for constant laptop innovation, improving their design, performance, and overall quality.
Among all the business laptop brands, here are the top six where you can confidently purchase your business laptop.
We have also discussed why some brands are an excellent choice for specific businesses and work types.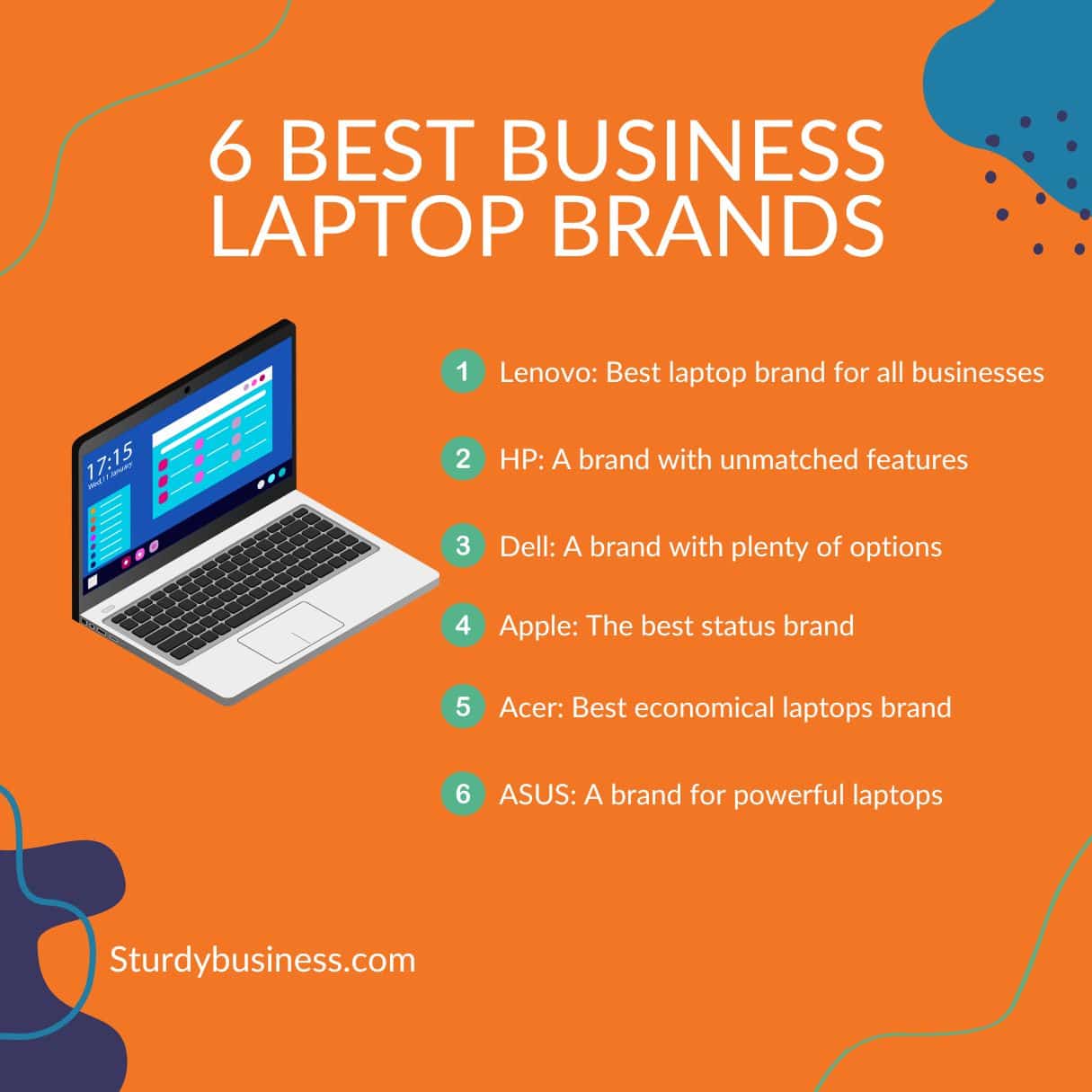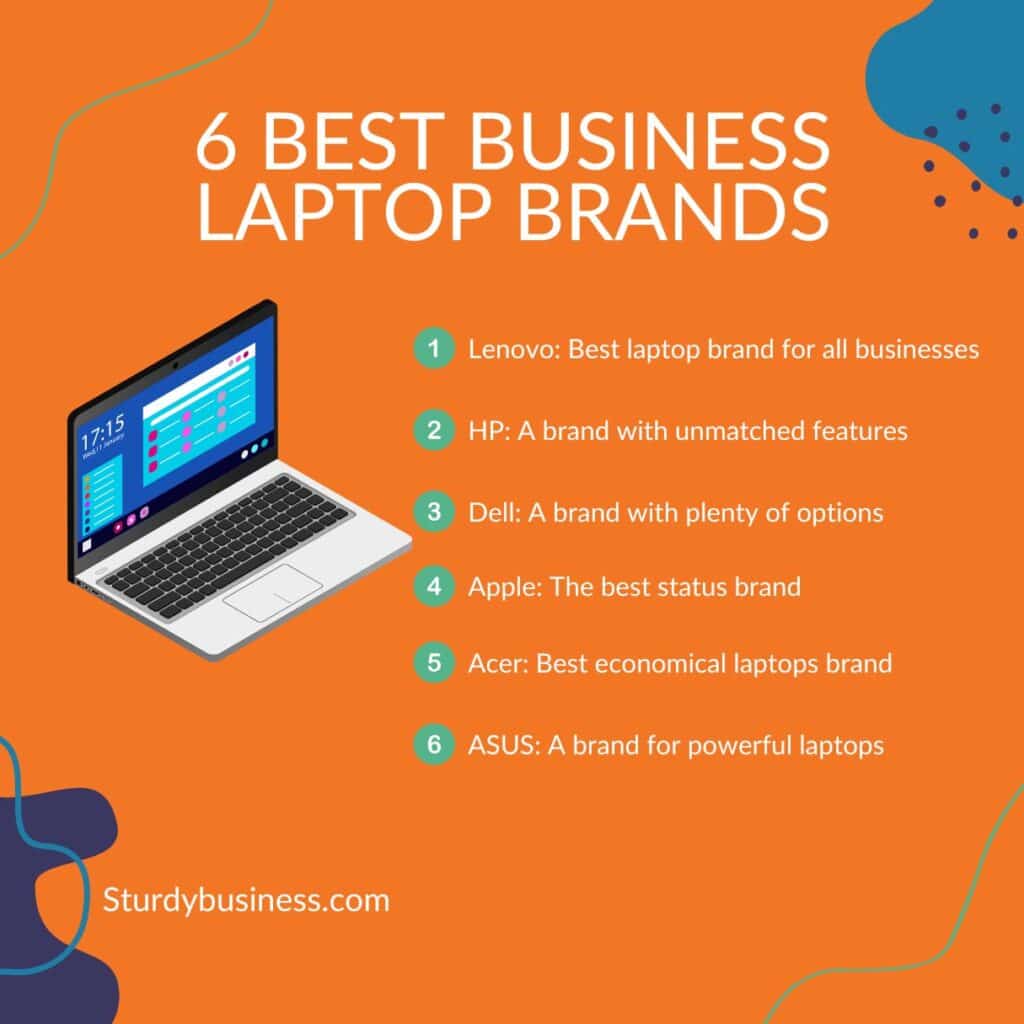 Before we get started, here is an important thing!
All of the following six laptop brands are suitable for all businesses. As discussed in the computer buying guide, what matters is the power of the machine you purchase. We have reviewed the best business laptops in various price ranges.
For example, if you are a small business owner or run a small business, here are the best small business laptops for you.
And if you are looking for a desktop, here are the best computers for small business owners.
Additionally, you can also check the best business laptops under $1000 and small business laptops under $500.
Now let's delve into the first best business laptop brand that holds a significant market share for commercial use.
Lenovo: Best laptop brand for all businesses
Lenovo is one of the leading business laptop brands around the globe, and it's not without reason.
Lenovo ThinkPad laptops are a hallmark of durability, accuracy, and security features, making them popular among business professionals and other users who need laptops that can handle business use and travel.
Unique Features of Lenovo Laptops For Business Use
Compact: The best features of Lenovo ThinkBook include its Intel Integrated UHD with four cores. It is a handy, slim, compact laptop with a 10th Gen Intel Core i3 Processor with a RAM of 4GB and an Intel Chipset with an Anti-Glare HD display, without an Optical Disk Drive.
Affordability: Lenovo ThinkPads are a solid choice for large tech companies because they're inexpensive compared to laptops from other brands with similar specs. They're ideal for a large organization that needs decently specs in a laptop for its software engineers while controlling costs.
Keyboards: Lenovo laptops are equipped with one of the finest keyboard brands offers. Firstly, the keyboards have a higher travel distance. This makes typing much easier than the shallow keyboards on many laptops. Also, shallower keyboards fail more often than thicker ThinkPad keyboards.
Performance: Lenovo's 9th Gen version of its business laptop executes fast performance from 11th Gen Intel CPUs; you get a strong battery life (15 hours), dynamic quad speakers, a new 14-inch display with a 16:10 aspect ratio, and a lot of ports, all in an unthinkable lightweight chassis (2.5 pounds).
Different Lenovo Laptops for Different Business Needs
Here are some Lenovo laptops that you might be interested in for your role.
Lenovo Laptop Model Suitable for Routine Office Work:
The best Lenovo laptop for routine office work is the Lenovo ThinkPad P1 Gen 4, a Windows mobile workstation. It packs enough power to handle complex tasks and promises a great long-term user experience.
Lenovo Laptop Model Suitable for Video Editing:
For video editors, the Lenovo ThinkPad P16 Gen 1 offers a beautiful 16-inch, 4K display, a convenient keyboard, excellent speakers, and a mighty Core i9-12950HX vPro processor and Nvidia RTX A5500 GPU. One point is that it is a little on the pricier side.
Lenovo Laptop Model Suitable for Graphic Design:
Lenovo's updated ThinkPad P15 Gen 2 is lighter than earlier models in the range, but it offers an affordable mobile workstation for business and professional users in graphic design and CAD.
Lenovo Laptop Model Suitable for Autocad:
This Thinkpad is a more massive work machine than the Lenovo Ideapad. Therefore it's a thorough choice for professionals working with AutoCAD and 3D modeling.
Lenovo Laptop Model Suitable for Programming and Coding:
Lenovo ThinkPad 595 looks attractive with a sleek design and a 15.6-inch Full HD display. The colors are rich and intense with 1920 x 1080 resolution making it the choice for programmers and coders.
Lenovo Laptop Model Suitable for Data Science and Machine Learning:
Engineered not just to meet but exceed the rigorous performance requirements of demanding AI, machine learning, and deep learning tasks. Lenovo P Series Workstations are equipped to fulfill your growing Artificial Intelligence needs.
Drawbacks of Lenovo laptops
Weight: Some Lenovo laptops can be heavy, hindering professionals who need to take their laptops when traveling. Make sure to double-check the weight.
Limited Upgradability: Some Lenovo laptops are not easily upgradable, meaning that users may need help to upgrade the RAM or other components of the laptop.
HP: A brand with unmatched features
One of the leading business laptop brands is HP. Many companies with large employee sizes often use HP laptops.
In fact, HP is one of the best laptop brands, and it's not without reason. The top features that make HP laptops stand out are excellent portability, efficiency, compact and lightweight designs, matchless battery life, and connectivity options.
Especially if you are a small business owner or looking for a laptop for a small business, HP laptops have a huge attraction for you.
Among many other reasons, the top attraction is the build and performance of HP laptops. They are sturdy enough to last as long as required.
And if you adopt best practices, you can make your business laptop last longer even up to a decade!
Apart from stunning build quality, HP laptops come with top-of-the-line CPUs, durable batteries, and well-built interiors, which are basic business requirements.
Some stunning features that are a hallmark of HP laptops include a creative toolbox, HP Palette, and the ability to connect and create.
HP laptops are also superb for hybrid work-life.
Different HP Laptops for Different Business Needs
You might be wondering if HP laptops are suitable for your specific needs or not.
We have already discussed it extensively in business; it's the features that matter the most.
If you have features that are compatible with your business needs, it's a no-brainer that HP laptops would work perfectly fine for all your routine office work and technical jobs.
For instance, HP has different series and models that are specially designed for different kinds of businesses or business tasks.
For example, the HP ZBook models with Intel 11th Gen CPU and NVIDIA discrete GPU are good enough to handle light to moderately intensive workloads such as photo and video editing, programming, and AutoCAD.
Another excellent HP business laptop model is the HP Pavilion series, which is equally good for all routine office work and demanding tasks.
Drawbacks of HP laptops
While HP provides a lot of value for its customers, there are a few aspects that some users have experienced issues with when using HP products.
Updates: Like any other laptop with an operating system, HP laptops will require periodic updates.
Sensitivity: HP laptops tend to have a sensitive body that may not withstand falls or breakage well.
Dell: A brand with plenty of options
Dell is another best business laptop brand that's often used by corporates and SMBs. In fact, Dell is among the top three PC vendors globally!
The top reasons that make Dell laptops stand out are solid design, quality components, outstanding warranty, and reliability.
Among many other qualities, another reason businesses prefer Dell because of their customer service.
As most of the time, businesses purchase PCs in bulk to save money, so it's a no-brainer that some machines, components, or features might cause trouble. You need quick and reliable support to fix the issue or replace the component.
Like all other best brands, Dell won't disappoint you.
Along with corporates, Dell is serving small and medium-sized businesses with its affordable business laptops.
Unique Features of Dell Business Laptops
Here are the unique features that made Dell the best brand for business use.
Extensive Warranty: Dell business laptops offer a more extensive warranty than Dell home laptops. The business laptop normally has a minimum of 1 year with up to 3 years of warranty.
Plenty of Options: Dell has many work laptops designed for every industry and application. Their laptops' stylish build and long battery life make them great for mobility and productivity.
Excellent Service: Dell's extensive sales, service, support network, superior supply chain, and manufacturing process flow are critical factors in its success in a low-profit industry.
Tools: Features like robust processors, video cards, and preloaded utilities make Dell business laptops worth buying.
Different Dell Laptops for Your Different Business Needs
Dell's Inspiron lineup comprises affordable office work laptops, complementing the high-end XPS line.
Similarly, Dell's Vostro PCs are affordable business laptops, while its premium Latitude series caters to a different market.
The Dell Inspiron and Vostro ranges are very similar, but one is aimed at the small business market and the other at the casual user.
It's not entirely straightforward, but it only takes a little examination of the respective products to see common themes in hardware and price.
While discussing the different models of Dell for different use cases, two Dell series cover the majority of the market.
Dell business laptops are good for routine office work and technical jobs like photo and video editing, graphics designing, coding, and programming. Some machines like the Dell XPS 15 9560 are designed for demanding tasks like data science and machine learning.
Drawbacks of Dell laptops
Durability. The only issue buyers might have is with the budget models, which must be handled carefully as they are prone to breakage easily, leading to expensive repairs and replacements. The premium models of Dell laptops have superb build quality, but the bulkier ones with plastic builds can crack very easily.
Apple: The best status brand
Apple is another leading business laptop brand that has become a status symbol in all industries.
If you use an expensive, many people will consider you an established business.
But that's not the only reason to buy Apple laptops (Macbooks) and that's not the right way to choose laptops for your business.
Let's discuss both!
Apple laptops are quickly gaining popularity with business owners. The reason for this is evident – they're simple to use than PCs and offer an effortless, more steady experience.
Mac users are also less likely to nudge into viruses and spyware, so they worry less about tech when doing their business.
Overall, businesses like Apple brand because of its convenience, longevity, and security.
If you are a small business owner and curious to know whether it's specifically good for your small business, then here is the answer.
Mac devices are a much better choice for small businesses. Mac computers have become a symbol of productivity and innovation thanks to portability, sleek design, elevated user-friendly network, refined security features, and much more.
But all this doesn't mean you should choose Macbook. Other well-reputed bands have a big market share.
Businesses choose laptops on their needs not based on other opinions.
So, you should rather consider the goals you have with your machine to choose the best laptop brand for your business.
Unique Features of Apple Laptops for Business Use
The Apple Wow Factor: Apple products are known for their sleek design, all thanks to a good design team. Apple worked diligently on the visual aspect of its products, and MacBooks are no exception.
Reliability: Macs are known to be more reliable than Windows PCs (Read Mac vs. Windows PC comparisons). As a rule, fewer viruses are written for Apple and targeted less by hackers and cybercriminals. Macs are enabled with a sturdy macOS operating system offering sound protection against most attacks, and cyber security should be at the top of any business's list of priorities.
Effortless to Use: Macs are more effortless to use than PCs. Macs work well with other Apple devices and Microsoft)
Portability: Macs are easily manageable and portable.
Build Quality: Macs have excellent build quality.
What Business Is Apple Laptop Suitable For?
MacBooks are designed for luxury and efficiency, making them ideal for IT industries and technical jobs like Graphics designing, photo and video editing, and AutoCAD because of their powerful GPU and CPU.
So overall, it's a great pic for all businesses, work-from-home jobs, and routine office work.
Additionally, Apple MacBook Pro fits business analytics and data science because it has a strong CPU and storage capacity. Moreover, it is portable and light, making it a reliable choice for data scientists who are mostly on the go.
Here are some of the best Macbooks for professionals.
As you know, Macbooks are expensive, but if you are looking for a cheaper solution, here are the best Macbooks under $500 with great specs.
Drawbacks of Apple laptops
File sharing: With so much to offer and people opting for Apple laptops, the only thing holding businesses back is that Apple devices are not the choice if your work requires a lot of file sharing. Frequent file sharing can be a sore thumb, especially if your business runs on a split environment with both Mac and Windows.
Acer: Best economical business laptops brand
Acer has become one of the top contenders for laptop manufacturers worldwide, making it a reliable choice for business owners.
Acer laptops are created to be durable and long-lasting; they offer higher proficiency and value for the price you pay.
Acer Aspire is targeted primarily at small businesses. These laptops enable users to run programs and video chat. Features include Windows 10 processor Quad-core 2.80 GHz, 15.6 Full HD.
Unique Features of Acer Laptops For Business Use
Economical: Being economical remains the most enticing feature of laptops designed by Acer.
Quality: Apart from having a reasonable price, they maintain quality, performance, and dependability. Acer laptops run on both Windows and Chrome OS making them more accessible.
Customer support, variety, and warranty
Different Acer Laptops for Different Business Needs
Acer has some great series for different business tasks.
Here are different Acer series focusing on different jobs with relevant features.
The Acer Aspire series is an excellent choice for everyday use and routine office work. If you don't deal with demanding tasks, it is worth the money.
It brings reliable performance and enough power for running applications and multitasking.
The other best series for graphics designing, photo, and video editing is Acer Predator Helios.
It can rival some of the best laptops around, and thanks to ample storage – up to a 1TB SSD or an SSD and hard drive, it's a perfect option for photo and video editors and graphics designers with tons of footage to store.
And, if your interest is 3D modeling, the Acer Concept D 7 is recommended. With a six-core Intel i7 processor capable of 4.5GHz, combined with a sizable 32GB RAM, it can easily handle even the most challenging 3D software.
And, the Acer Swift 3 is an incredible data science and machine learning option because it boosts colossal storage space and a robust graphics processing engine.
Drawbacks of Acer laptops
Dull: Acer's gaming rigs come with dull designs.
Durability: Acer's overall laptops are slim and easily breakable as well.
ASUS: A brand for powerful business laptops
ASUS is an excellent choice for a low-cost laptop and offers a good price-to-performance ratio.
These machines are very durable, have very powerful GPUs, and last very long.
ASUS is so sure about durability that they offer two years warranty!
Unique Features for ASUS Business Laptops
Performance: ASUS Creator laptops use top-grade components for the best performance and balance. With up to Intel multi-core processors, they have fast performance for multitasking with demanding apps.
Warranty: Solid business warranty & service
Processing power
Different Asus Laptops for Different Business Needs
ASUS has different series to match the work requirements.
For instance, ASUS Zenbook is premium, ultrathin, and light, and it is the best laptop with excellent performance and the best technology for ultimate productivity and headache-free multitasking.
Zenbooks are equally good for routine office work and technical jobs like photo and video editing, and graphic designing.
ASUS's TUF series is famous for gaming laptops but some of its models are the top pick for 3D modeling and AutoCAD users.
For its price, it has solid staying power, excellent cooling technology, GPU performance, and ample storage.
ASUS Vivobooks packs a lot of punch for programmers and coders and similar technical jobs being a lightweight laptop enabled with fingerprint technology.
Lastly, ASUS ROG Zephyrus is good enough for both machine and deep learning. It has 8th Gen Intel core and NVIDIA RTX 2070 to accomplish multiple tasks simultaneously.
Drawbacks of ASUS laptops
Low battery life
Heavy
Requires quick updates
Which laptop brand is best for business?
The best business laptop brand is the Apple MacBook Pro. Apple has something to offer to all different sorts of business needs. Its M1 SoC can grapple with any daunting task you throw at it, even crucial tasks like video editing, and the batteries are enough to last a typical workday.
Secondly, the Lenovo ThinkPad X1 Carbon has always been a target build for business professionals, and its portability is a winning factor.
Which company laptop is best for employees?
All six laptop brands discussed are almost equally reliable for all professionals and employees, as their estimated breakage rate by the end of the 2nd year of ownership is about 20-22%.
Dell and Lenovo laptops seem slightly more durable.
Apple is at the top regarding reliability and portability and is loaded with tons of inbuilt features that meet any business need, whether a small entrepreneurial venture or a large company.