Frankly speaking, the following business laptops are the most suitable computers for business owners to streamline their work processes.
The following laptops are compatible with emailing, spreadsheets, conferencing, etc., and with all the SaaS products like Salesforce, HubSpot, Microsoft Office 365, AWS Elastic Beanstalk, Vend, etc., and technical jobs.
Top Pick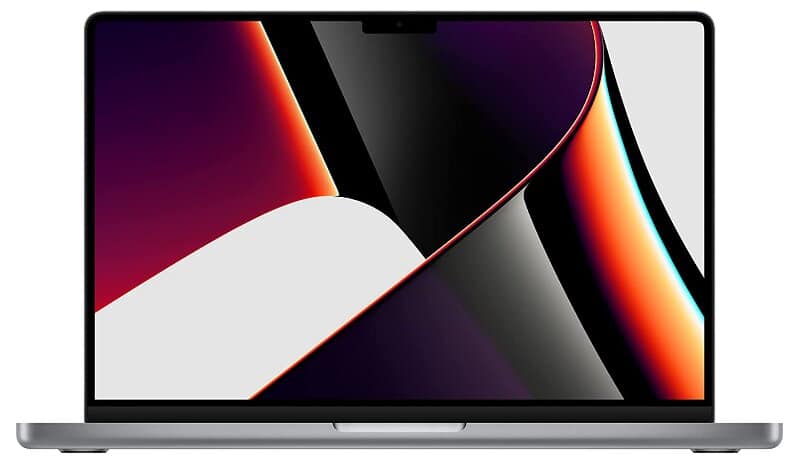 2021 Apple MacBook M1 Pro
Small business owners' choice
This laptop perfectly combines performance, portability, and aesthetic appeal.

The first thing you'll notice about this laptop is its stunning design. It's not flashy or gaudy like some other laptops on the market—it's just plain elegant!

It's great for traveling because it's lightweight and compact enough to fit into your bag or backpack without taking up too much space.

Being the best laptop for small business owners, it secures a 10/10 rating.
These business laptops may cost you around $1000 or higher. But it will be worth the money.
Here are the best cheap alternatives if you need even cheaper in range.
Before we get started, here is a critical thing.
If you are not cognizant of what type of laptop is good for a small business, here are the key features of a small business laptop. If you want to drill down, we have debated it in-depth at the end of this page.
Keeping the specs mentioned above in mind, you can better choose a laptop for your business.
If you don't want to boil the ocean, I have picked the best three business laptops for small business owners, entrepreneurs, and their teams.
Image
Product
Detail
Price

HP EliteBook x360

Intel Core i5 1.60GHz Processor
14.0″ Full HD Display
256GB PCIe SSD

Price

ASUS Expertbook B9

4.7 GHz core_i7

processor
16GB RAM and 1TB SSD storage

24 hours battery li

fe

Price

Newest Dell Inspiron 7415

16 GB SDRAM
1 TB SSD storage
Touch display

Price
If you are looking for a desktop, here are the best desktop computers for small business owners.
Now, let's discuss the complete list of the best laptops for small business owners.
Apple MacBook Pro (M1 chip) (business owner's choice)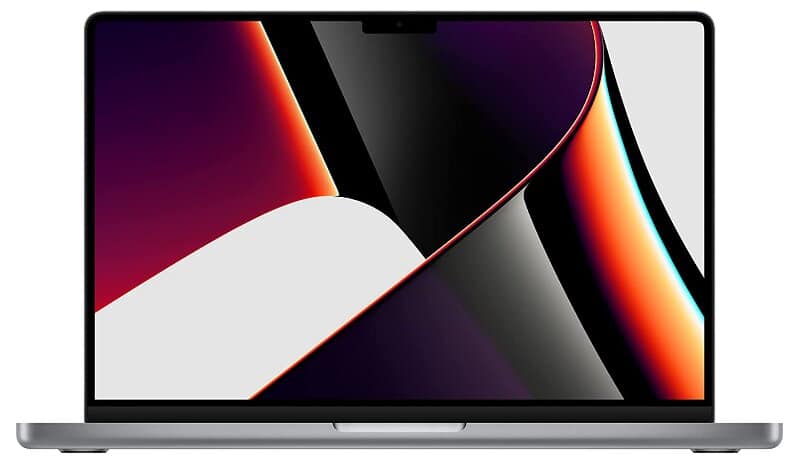 Salient Features:
We like
Smart & Slim shape
1080p FaceTime HD camera
64GB of unified memory
Six-speaker sound system
We didn't like
14-inches isn't enough for many business tasks
Review
Among top-rated business laptops, the 2021 Apple MacBook M1 Pro secures a good position. It's best for SMBs, startups, and all small business owners.
There are dozens of reasons for buying this machine.
Let's discuss when it can be an excellent pick for your business. And when it might not be a great choice for your business use.
Outstanding performance due to the M1 chip
With an Apple M1 Pro chip running at 10‑core speed and a 16‑core GPU, you'll easily handle anything from basic web browsing to complex video editing tasks.
This Apple MacBook Pro is the best laptop for small business owners and creative professionals alike. This smart notebook is built according to the demands of professionals and small business owners.
The M1 Pro chip has 10 cores and 16 processing units, which means it can handle anything you throw at it. It also makes it the best business laptop for AutoCAD.
If you're a business owner working on ERPs like SAP, Sage 300, iScala, Oracle Netsuite, Microsoft Dynamics 365, iScala, etc., you'll appreciate how flexible this MacBook Pro is. This MacBook Pro will never disappoint you, from online data incorporation to generating crystal reports.
Up to 32GB SDRAM
This laptop also comes with 16 GB of RAM, so you don't have to worry about running out of memory when working on large projects or multiple applications.
16GB RAM is enough to run dozens of tabs and apps simultaneously. The higher the RAM, the higher you do multitask. The other great thing is that it won't slow down due to its powerful processor.
Up to 1Tb SSD storage
The other best part of the laptop is its vast storage. Usually, you don't get much storage on Apple machines, or it will be expensive.
But this isn't the case here.
If you choose 512GB storage, you will get this machine at around 1800 dollars; if you select a superfast 1Tb storage, you get this machine for under $2200.
1TB storage is more than enough for general business use. But graphics are related when it comes to video editing and other tasks here. It won't be enough, and you will use cloud hosting.
Graphics jobs take more storage, which is why saving them in any external resources is way better.
Long battery life
The battery life on this laptop is excellent too! It's lasted me all day (around 17-18 hours) without needing a recharge which is fantastic considering how much time I spend using my laptop daily at work.
Regarding recharging the battery, you can recharge it for an hour. It means it won't take much to charge the laptop, but it will last a long.
Extra ports
This MacBook is excellent for many Pro who need ports like SDXC, HDMI, and thunderbolt 4. So you can use extra monitors, put in your camera cards, and much more.
Some drawbacks
The only drawback to consider is its screen size. Its screen size is not good in some cases. This might not be your machine if you are in coding or other technical jobs where you need big screens.
Although it has a 16 inches screen size variant, that's suitable in all cases. If you can spend $900 more, you can get an excellent machine for any technical job. That variant has a 32-core powerful GPU and a 16-inches display. You can use it for any purpose and task by paying more for it.
Secondly, now you can attach up to 4 monitors instead of 2 monitors.
Our final verdict
The 2021 Macbook M1 pro is the best laptop for small business owners. It has the fastest 10-core CPU and 16-core GPU, along with an incredible M1 chip.
All this makes it the best choice for all small business owners, especially travelers and those needing a fast decent business machine.
I recommend this product to anyone looking for a new laptop for business purposes. It's the highest-rated business laptop on our list.
HP Pavilion 15 Small Business Laptop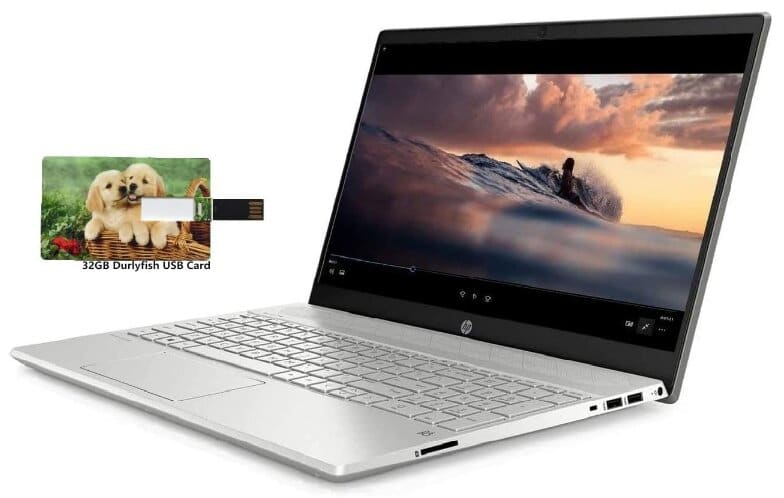 Salient Features:
We like
Slim and portable design
Low operating temperatures
Speakers (relatively loud)
Low operating temperatures
Review
The HP Pavilion 15 Business Laptop Computer with 10th Gen Intel Core i5-1035G1, 15.6″ HD IPS Touchscreen, is an excellent laptop for business use.
I've had it for over a month now and have had no issues with it.
Overall performance
It has all the features you need in a business computer: a long battery life, a sturdy build quality, and an easy-to-use interface.
This laptop is fantastic! And it's one of the best laptops for small business owners. It's fast, it looks great, and it has enough memory to do heavy multitasking. I love the touchscreen feature. The screen is super responsive and makes navigating different programs and files easy.
Design
The design of this laptop is sleek and stylish, which makes it stand out from other laptops. The keyboard is comfortable to type on, and the buttons are easy to press. The trackpad is large enough for me to use comfortably when working on Excel spreadsheets or browsing the internet.
Storage
The laptop has much storage space (512 GB -1 TB), so you won't run out anytime soon. It also comes with an SD card slot if you want to add more memory cards or use them as external hard drives with this laptop!
Speakers
The speakers are loud enough to fill a room with sound without distortion; however, they can sometimes sound tinny depending on what kind of music you're listening to.
System software
It comes pre-installed with Windows 10 Pro, which has some nice features like Cortana (the voice assistant), Security Center (which allows you to see if there are any viruses or malware installed), and an app store where you can download new apps like Evernote or Google Chrome (which both work well on this machine). The laptop is lightweight and portable, weighing just over 5 pounds.
Overall this is a great laptop for anyone who needs something portable but powerful enough for most business-related tasks at a reasonable price.
Final words
This laptop is compatible with all business tasks. You can use it for any of your small businesses. But if you work from home and are curious about which laptop is best for home office use, HP Pavilion 15 Business Laptop is the most suitable machine for you.
HP EliteBook 840 G7 (affordable for any business)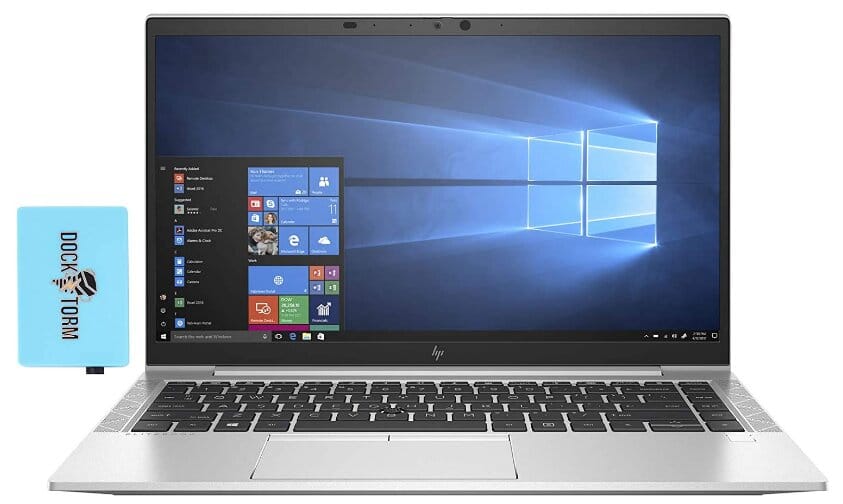 Salient Features:
We like
Silver color body
720p HD Webcam
Built-in Windows 10 Pro
1920 x 1080 Display Resolution
Review
More than just a laptop, the HP EliteBook 840 G7 is an essential business tool. The HP EliteBook 840 G7 14″ FHD IPS Business Laptop is an excellent laptop for business and office use.
It has a sleek, professional design that will look great in your office or on your desk at home. It has a full HD display offers plenty of space to work on multiple documents, spreadsheets, and presentations without having to scroll around or zoom in and out.
The laptop has an Intel Core i5-10210U 4-Core processor and 16GB of RAM. This will allow you to run multiple programs at once without any lag time or freezing issues. You'll also be able to efficiently multitask between different applications, thanks to this device's reasonable storage space (256GB).
What sets this laptop apart is how long it lasts between charges—even when using heavy applications like Photoshop or Autodesk Inventor!
You won't have to worry about being tied down by cords when using this laptop because it's wireless compatible, so there won't be any wires running across your desk or down your leg (which can often get tangled up in chairs).
This laptop also comes with Windows 10 Pro pre-installed, so you'll be able to connect to wireless networks in your office easily or while on the go (though there's no mobile data option).
The keyboard is comfortable to type on even when you have to write long documents such as an essay or dissertation due to its wide keys, which make it easy to type without making any mistakes when typing quickly.
In a nutshell, the HP EliteBook 840 G7 is a solid computer at a great price.
Lenovo ThinkPad T15 (a portable business machine)
Salient Features:
We like
Built-in Windows 10 Pro 64
32 GB Flash Memory
Optional Business Features
Professional design
We didn't like
Slightly to non-upgradable
Review
This is an excellent machine for people looking for a lightweight device to handle business tasks and more complex projects. It's a top-class laptop among the fastest business laptops.
Additionally, it's among the best business laptops with a numeric keypad.
It comes with Windows 10 Pro pre-installed, so you don't have to worry about setting up your operating system or downloading software updates—it's all included right out of the box!
The display has an anti-glare coating that helps ensure you can see your screen even when there's plenty of light around, which is excellent for outdoor and indoor use after dark.
The keyboard uses island keys for easy typing—even if you're wearing gloves—and each key provides tactile feedback so that you always know what you are pressing.
Performance-wise? This laptop is a monster!
It handles everything I throw at it with ease. And since it's an i7 chip with 32GB of RAM (and 512GB SSD), there's plenty of space left over for other programs or games if you need them too!
Battery life is excellent, too—you can get about 7-8 hours out of it if you are not doing anything intensive.
As it's a 10-key business laptop, it's the best choice for business analytics, accounting, spreadsheets, or accounting-related jobs and running other financial programs.
The only downside is there isn't much room for expansion inside this laptop (meaning you can't add more RAM or storage space without upgrading parts yourself).
Overall, I recommend this laptop to anyone who wants something powerful but portable. It's perfect for business travelers who need something that won't weigh them down when they're on the go!
Newest Dell Inspiron 7415 2-in-1 Touchscreen Business Laptop in 2023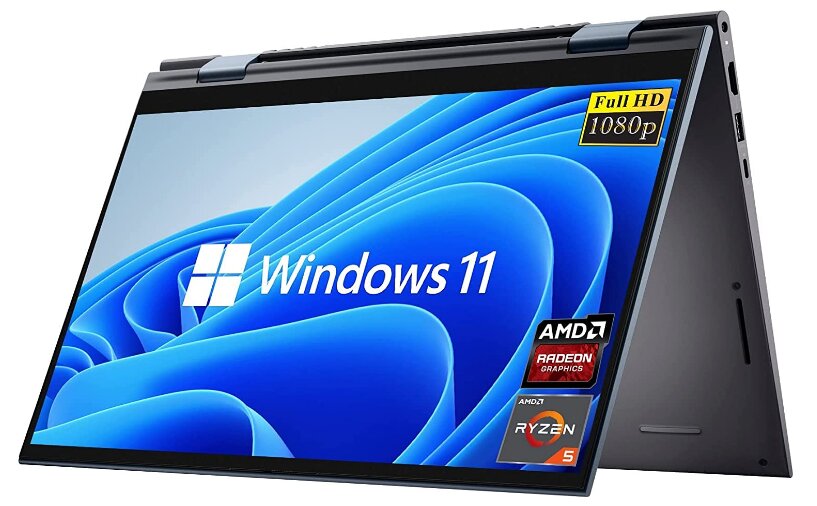 Salient Features:
We like
Built-in Windows 11 64 bit
Touch display
1TB PCIe SSD storage
Blue color
Review
If you're looking for a laptop that can handle the demands of your small business, look no further. The [Windows 11 Home] 2023 Newest Dell Inspiron 7415 2-in-1 Touchscreen Laptop is the best choice for you! This laptop has everything you need to stay productive and organized while still looking good.
This laptop is powerful enough to run all your applications at once without slowing down or crashing. With the Dell Inspiron 7415 2-in-1 Touchscreen Laptop, you can take your work wherever you go.
This laptop has a 14″ full HD touchscreen display, so you can use it as a tablet or flip it around as a regular laptop.
There's also an AMD Ryzen 5 5500U (6-core) processor and 16GB RAM, which means this device will have no problem handling your workload. And with 1TB PCIe SSD storage space, you'll have plenty of room for all your data—and for them to load quickly when you need them!
With all this power under the hood and a sleek design that's sure to turn heads, this laptop will be a great addition to any office or home office.
And when it comes time to travel with your laptop—which is often the business demand—it's lightweight enough that you won't feel a burden!
This laptop also features an integrated webcam. You can do online business meetings and chat with office colleagues, friends, and family over Skype or Facetime without using an external webcam or microphone attachment like some older laptops require.
The built-in fingerprint reader allows you to log in using just your fingerprint instead of typing in passwords every time and also provide security for your confidential and personal data. It also comes with a built-in registered MS Windows 11 64-bit. To summarize, this Dell machine is a comprehensive solution for your small business and personal use for under $1000.
ASUS ExpertBook B9 (Thin and Light Business Laptop)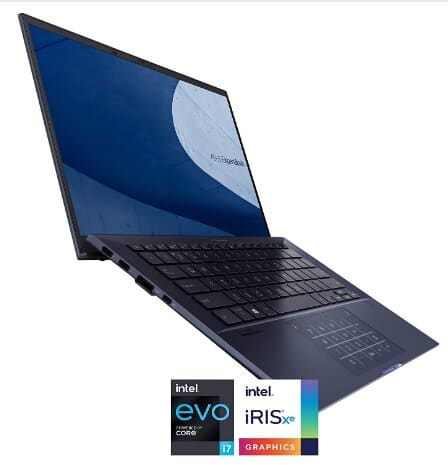 Salient Features:
We like
14″ Full HD Anti-Glare Display
Up to 17-18 hrs battery
1TB Solid State Drive (SSD)
Lightweight
We didn't like
Touchpad and keyboard quirks
Review
Businesses are looking for new ways to keep their employees productive and happy. At the same time, they're also looking for new ways to reduce costs and increase efficiency.
The ASUS ExpertBook B9 Thin and Light Business Laptop is a notebook that can help you do both. It's thin, lightweight, and durable—so you can easily take it with you on business trips or meetings without worrying about damage from bumps or drops.
With a long battery life of up to 17 hours per charge, you don't have to worry about running out of juice when you need it most.
It has a 14″ Full HD display with an anti-glare coating that provides clear visuals even in bright conditions.
With an Intel Core i7-1165G7 CPU and a 1TB SSD hard drive, the ASUS ExpertBook B9 Thin and Light Business Laptop are ready for anything your business throws at it. The Intel Core i7-1165G7 CPU and 1TB SSD work together to simplify multitasking, while the 16GB of LPDDR2 memory ensures speedy performance.
The laptop comes with 16GB DDR4 RAM, so you or your employees can run multiple applications simultaneously without slowing down their workflow or productivity levels. And you can run even the most prominent applications without a hitch—plus, it's expandable if you ever need more space!
Plus, this device comes with Windows 10 Pro pre-installed, so you don't have to worry about compatibility issues between applications or switching operating systems down the road if something goes wrong during installation on your end! To conclude, this laptop is the perfect combination of power and portability.
HP ZBook Studio G8 Mobile Workstation for small business owners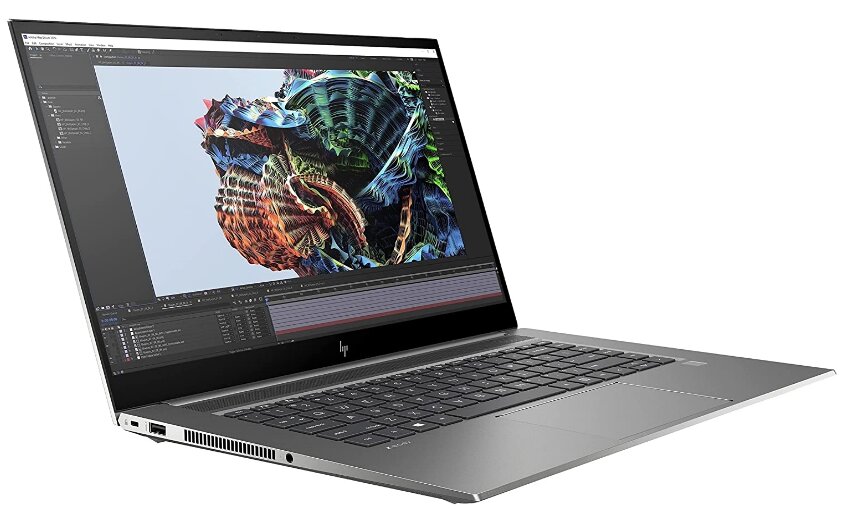 Salient Features:
We like
Excellent design
1920 x 1080 Screen Resolution & stunning display
1 TB of storage
Intel Core i7 processor
Review
This is an incredible computer for any professional needing a reliable, powerful machine to complete their work.
It's easy to use and comes with all the bells and whistles you want in a workstation: an impressive 32 gigabytes of RAM, one terabyte of storage space, and a speedy processor.
But what makes this computer stand out is its design: it's got a sleek chassis made from aluminium and carbon fiber, so it looks like a luxury car but performs like one too!
The Intel Core i7 processor combined with 32 GB of RAM ensures fast multitasking performance even when working on multiple tasks simultaneously. At the same time, the large 1 TB SSD provides enough storage space for all your files and documents.
Adding an external hard drive via a USB Type-C port or SD card reader can also expand its storage capacity.
The HP ZBook Studio G8 is a powerful, versatile laptop designed for professionals who need a high-performance mobile workstation. Secondly, this laptop is among the most affordable business workstation laptops.
The 15.6″ Full HD 1920 x 1080 display gives you crisp images and videos while being able to multitask like a pro.
With its15-hour battery life, you can stay productive all day long without worrying about plugging in during lunch or breaks! It is also great for travel because it weighs only 4 pounds.
So overall, it's a laptop that deals with all or nearly all elements that a small business laptop requires.
Microsoft Surface Pro 8-13″ Touchscreen (budget business laptop)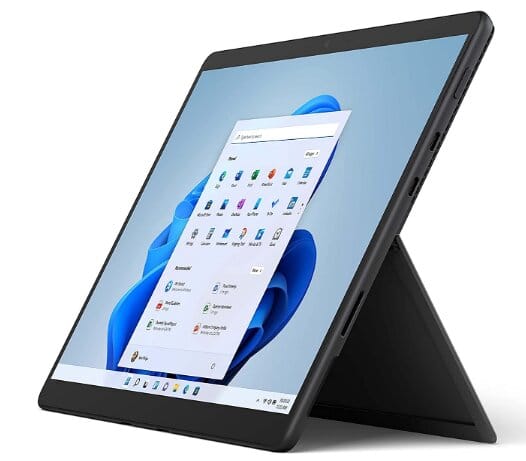 Salient Features:
We like
Large, vibrant display
Best for Windows 11
Excellent webcam
We didn't like
The signature keyboard and Slim Pen are sold separately
Review
The Surface Pro 8-13″ Touchscreen is the latest version of Microsoft's flagship tablet. This tablet was introduced on December 5, 2017, and includes many new features that set it apart from its predecessors.
An updated processor is the most notable addition to this latest version of the Surface Pro.
This business laptop (Latest Model) comes with an Intel® Core™ i5 8th Gen processor, which significantly improves performance over previous models that used a 7th Gen processor. This increased performance means you can expect faster boot times and more responsive applications.
It also has better graphics performance than previous versions of the device, so you'll be able to run more demanding applications without sacrificing battery life.
Another new feature that distinguishes this tablet from its predecessors is compatibility with the Surface Dial accessory.
This device allows users to control various functions within their software by simply touching it with their hands while working on their computers.
This tablet also has 512 GB of storage space, so you'll never have to worry about running out of room on your device again—even if you use it as much as possible every day.
It has a sleek design that is lightweight and easy to carry around while still packing plenty of power to ensure you're never stuck waiting for it to load.
It comes in multiple colors, so there is one for everyone! With its 13-inch touchscreen display and pen support, you'll be able to use this laptop for all kinds of tasks—from writing up documents to sketching out ideas in Photoshop.
Lenovo ThinkPad X1 Yoga Gen 6 2-in-1 Notebook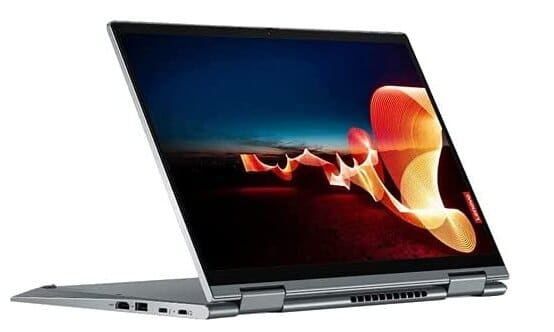 Salient Features:
We like
Sleek metallic design
12 hours of battery life
360 degrees rotation
We didn't like
A little bit on the pricey side
Review
This is a tailor-made laptop available for small business owners, professionals, students, and anyone looking for a high-quality laptop at a reasonable price.
This laptop has a large 14″ touchscreen display that can be rotated 360 degrees and folded into a tablet.
It has an Intel Core i7 processor and 8 GB of RAM, making it perfect for multitasking and gaming.
The reasonably okay 256 GB solid-state hard drive provides fast performance and security so that you can store your files securely on this device.
Its touchscreen display offers an intuitive user experience with Windows 10 Home operating system and fast performance from the latest Intel Core i7 processor.
When it comes to performance, this notebook does not disappoint. It features an Intel Core i7 processor and 8 GB of RAM, allowing for smooth operation no matter how much you throw at it.
The Lenovo ThinkPad X1 Yoga comes in a sleek, metallic design with a microSD card reader, so you can store photos or videos directly on your device without having to connect via a USB cable whenever you want something stored on it.
You'll also get up to 12 hours of battery life per charge, so you can use your device on full power all day long without worrying about running out of power.
Finally, if you're looking for a laptop with a great design and awesome features and at same time, it meets all your business requirements, then this could be the one for you.
HP EliteBook x360 1040 G7 2-in-1 Notebook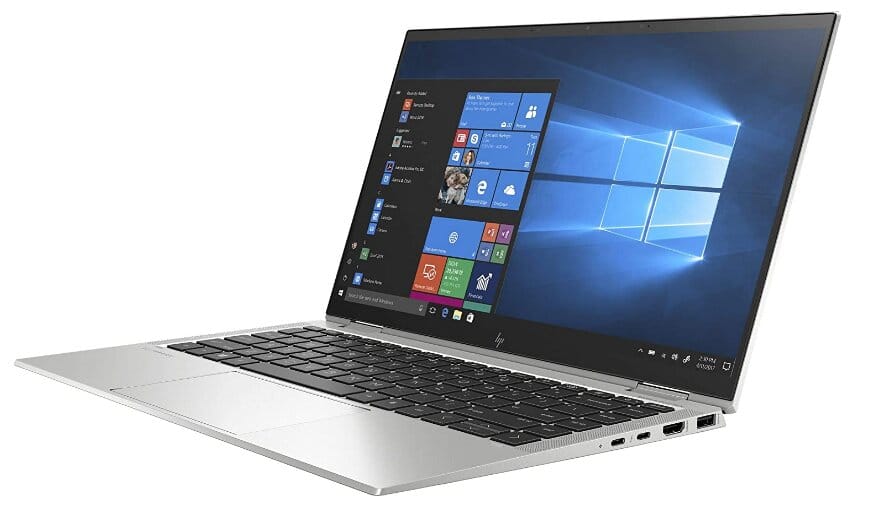 Salient Features:
We like
Robust processor
360 degrees rotation
Excellent display quality
Elegant chassis with USB-A and HDMI ports
Impressive touchpad
We didn't like
Expensive
Fan little noisy
Review
The HP EliteBook x360 Touchscreen 2-in-1 Notebook is the perfect choice for business professionals who want a powerful, versatile machine that can keep up with their busy lives.
With its sleek design, the EliteBook x360 looks excellent on your desk. Still, it's more than just an aesthetic upgrade: The notebook's powerful Intel Core i7 (10th Gen) i7-10810U Hexa-core (6 Core) 1.10 GHz processor and 16 GB RAM ensures that you'll never have trouble running multiple applications at once.
Due to its robust processor, this notebook has plenty of power to run your applications smoothly.
The 14-inch touchscreen display makes this notebook feel like a tablet or phone because you can rotate the screen 360 degrees for easy use in any position. This feature also makes it easier to share your screen with others via video chat if they are not sitting next to you at a desk or table where they can see what's happening on your screen while talking with someone else who might need assistance working through some issues related to their computer systems or hardware issues.
Some business owners prefer a business laptop with a backlit keyboard, and here is the solution. The keyboard is spill-resistant and has backlighting options, so you can work in low-light conditions without straining your eyes.
The trackpad supports gestures like pinch-zoom and two-finger scrolling, so it's easy to navigate your documents quickly, no matter where you are or what type of surface you're working on (tablet mode).
It also comes pre-loaded with Windows 10 Pro software, so there's no need for additional installations or downloads! The battery life on this machine is excellent, too, with up to 10 hours of use per charge.
So, if you are looking for the best business laptop, this notebook is the perfect hybrid for your business.
Although, we have tried to add the best laptops for all small business owners – in all price ranges. Still, if you think you can't afford these laptops, then you can choose any of the best following cheap laptops.
We also have reviewed the best gadgets for businesses, like monitors, money counters, office file cabinets, etc.
Laptop buying guide for small business owners
If you want to know how to choose a laptop for your business, here is the laptop buying guide for business owners.
As the guide mainly focuses on business owners, we will share how laptop features affect your business tasks.
Let's get started.
Display size, resolution, and GPU
The display has a direct relation with performance. There are two cases where display plays its role:
There are many technical jobs when screen resolution and image quality have great significance. In that case, you should prefer a high-resolution laptop.
The size of the screen indirectly affects your performance. If you are uncomfortable with the display size, the discomfort will result in less productivity.
But the problem is that focusing on display size, resolution, and graphics will cost you much more than standard business laptops.
If you don't have technical jobs, you can choose to integrate graphics; it will cost you less money. But choosing a laptop with a dedicated graphics card is way better if you have heavy business jobs.
Processor
The processor processes the input and gives you the output.
Thus when it comes to business machines, it's not a compromisable thing.
Luckily, you can get many business machines with powerful processors in affordable ranges.
RAM/ROM
ROM has some information that doesn't change. So it's not as considerable as RAM. RAM plays a critical role in business tasks.
Let's try to understand what RAM (random access memory) does and which ones should you prefer.
RAM helps computers multitask.
If you have 2GB RAM, you can run six tabs at a time, and if you have 32GB or 64GB RAM, you can run hundreds of tabs on different browsers, run your commercial software and make video calls, all at a time.
So it depends on how frequently you multitask and how many apps you want to run along with browsing, streaming, and zooming.
Now the next thing to understand is its types.
There are two types of RAMs: traditional (slow) RAM and advanced fast DDR3, DDR4…, and DDR8 RAM.
The more advanced technology you use, the fast your machine will be.
The last question is, which one should you prefer for your small business?
The average RAM for a small business owner is 16GB DDR4 RAM. But some business owners with extensive jobs use up to 64GB of RAM.
If you have some technical jobs, the best will be 32GB RAM for you.
Storage (HDD/SSD)
We use storage to run the operating systems and apps and save data.
If you have tons of data, you should at least use 1TB SSD storage.
HDD is a traditional storage type, and SSD is an advanced storage type. SSD storage helps computer access data even more quickly. Thus, you should prefer SSD for business machines.
Ports and adapters
Ports play their role in business tasks.
It depends on what you want to do with your machine. If your business might require you to connect your laptop to external devices, you should prefer more ports, especially with ethernet, thunderbolt 3, and HDMI.
Keyboard and touchpad
Apparently, the keyboard and touchpad don't influence your work. But they may play their role if the keyboard spacing and touchpad size don't suit your hands; at least in the early days, it can affect your efficiency.
Battery life
Battery life is essential for those business owners who keep their laptops while traveling. The battery life should not be less than 12 hours if you travel a lot.
Webcam and audio
This could be a considerable thing for those who work remotely or frequently attend online meetings.
It would be best if you chose a business laptop with a good camera and loud quality sound.
What are business laptops?
Business laptops are the ones that help people stay productive. Business computers are always secure, durable, fast, and compatible with all business apps and software.
We have picked top business laptops in an affordable range if you need a business machine. The business-grade laptops above can be used for any business but are pretty good for SMBs.
That's the major difference between home and business laptops.
Are business laptops good for programming?
Not every business machine is designed for all business tasks. Programmers need high-end business laptops.
But the above-given top-rated laptops for business owners can be used for any job like programming, designing, web development, and AutoCAD.
What laptop do most businesses use?
Most businesses in the world use Macbobooks. Research shows that MacBooks get higher ROI (return on investments) to companies.