No matter how big or small your tech company is, marketing is an essential pillar of business success.
Marketing is the fuel behind traffic, customers, and subscribers. With it, you can place your company at the forefront of a user's mind.
A glaring absence of internet marketing can easily lead to your potential customers not seeing your company. Even when they're looking for products or services that you directly offer.
Using effective tech marketing, you can gain more leads and educate them about the benefits of using your service. Eventually turning them into long-term customers that generate revenue.
For any company, there is always one challenge: determining which strategy gets the best results.
Here are some key strategies for tech companies to consider when they're trying to turn around their marketing:
Research your audience:
If you try to market your tech company anywhere, you won't succeed. Market size, buying power, competition, and value propositions should be taken into consideration when searching for your audience.
First, find out the answers to the following questions:
How many people are in your market? Can they afford what you offer? Who are your competitors? Why would they choose your product over others?
It sounds difficult to start but it's not. Research is a lot easier than you think.
What you need to do is put effort into quickly understanding the basics of your marketing and audience. With this, you can make a plan in weeks rather than months. A big mistake is overcomplicating things. Especially with business-to-business (B2B) strategies.
Remember, you aren't just out for some quick sales. You're building relationships with tech customers. Think to yourself, what would they want? Are you trying to satisfy them?
Brand awareness and customer interest in your product are just as important as purchases and conversion rates.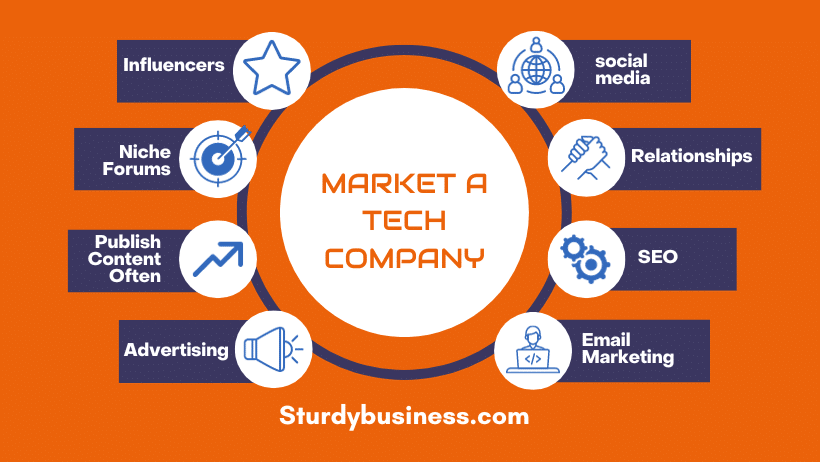 Publish content frequently:
You've probably heard it a million times, but it's true—content is king.
Business technology buyers want to make sure they know enough before making a purchase.
This is where B2B marketing content comes in.
Create different types of content that answer the questions of buyers at different stages of the sales funnel.
Then, use any method possible, like multi-channel campaigns and PR efforts, to get your content in front of your target audience.
You can focus on social media, blog posts, video platforms, podcasts niche forums, and niche communities like subreddits, etc. Simply, don't leave any stone unturned.
If you are focusing on SEO, here is a pro tip: Google loves originality and quality above everything else. The more unique you are, the higher your rank. That means more traffic and more leads.
Leverage social media:
Social media is a marketer's dream. If you play your cards right, it costs you nothing to reach billions of people. By 2025, this could be up to 4.41 billion users; who knows?
And although it's a marketing tool, it's not all back-of-the-taxi ads. It's also a place where you can build an audience and create relationships with potential clients. You'll also have room to flex content from other platforms, like your website.
Just make sure that everything isn't in the same format. No one likes seeing blocks of text all the time.
One aspect of social media that a lot of people forget about is sharing. At the end of the day, these are still meant for people to share things they like or find interesting. So if you make something that informs them or gives them an opportunity to drop their productivity levels and entertain themselves, they're more likely to spread it around.
With social media marketing, our first recommendation is to put the user first. Sticking to the 80/20 rule will ensure that you do so. When making posts, 80% of your content should be dedicated to education, entertainment, or problem-solving. The other 20% is for promoting your business and solutions.
Remember that organic social media requires consistency and patience before seeing meaningful results. It may not reach as many people as it once did, but there's still a lot of potential when combined with paid social activity.
Go for email marketing:
While email isn't the newest tool for marketing strategies, it's still just as valuable. It gives companies a consistent way to connect with their audience directly and nurture leads.
About 85% of B2B marketers say they use email frequently.
Reaching out to your audience consistently is a big part of email marketing. With new technologies, you can create automated campaigns that'll automatically welcome new customers into your community, introduce your top products, and promote your content.
Most email automation tools will come with reporting and analytical features so you can track how each strategy is doing, If you need more, there's also the option to send different emails based on what certain people are interested in.
Advertise your tech company:
You don't have to wait around for leads with pay-per-click (PPC) advertising. Unlike other marketing tactics like content, email, and social media, PPC lets you generate leads right away.
So use it while you're working on those long-term strategies.
Instead of casting a wide net, pick only a few keywords that relate the most to your tech product.
That way, your ads go to people who are interested in what you have to offer. The best part is that you can gauge your return on investment (ROI) as well.
Once you see which keywords are producing results for your growth stage startup, figure out your bidding strategy.
It's normal for some keywords to underperform, so don't worry about that; just get rid of them and put money towards ones that do work.
In order to stay updated on the data and what's going on in the world of search behaviors and other tech startups, track and monitor the results of your PPC campaign daily. On top of search behavior changing, new competitors could come up and shake things up. So be prepared for anything.
There's always someone out there trying to find a way to do something different from everyone else. And honestly, there's nothing wrong with being different in business if it works.
Make the most of tech industry influencers:
Before you roll your eyes at me, it's important that we all get on the same page here.
Influencers in B2B aren't like what your child or younger sibling follows on Instagram.
The ones who are influencers in IT marketing are speakers at events and sources for influential publications.
And these are the people you need to make sure to rub elbows with whenever you have the opportunity.
Having these people mention your tech company's name can be a huge help. It will expand your brand and drive leads and new clients.
Their approval is worth a lot.
In technology, they hold the power. In this space, buyers rely on experts to make any decisions regarding making a purchase.
Search Engine Optimization (SEO)
Think SEO is dead?
Here's a statistic that might change your mind: Around 82% of B2B buyers begin their purchasing journey with search engines like Google. Even in the world of business, search engine optimization (SEO) is alive and well.
This field is one of the top ways you can promote other businesses in tech.
For instance, you're able to capture your targets' attention through organic search, which saves you money from having to pay for ads using PPC networks. Also, being at the top of Google for certain keywords allows you to claim most—if not all—of your audience.
But that's not all…
You'll also be aware of what people like searching for whenever they're on the hunt for whatever it is that you sell.
You have two options. You can do it in-house with your own marketing team or outsource it to an agency. Doing it yourself gives you more control but costs more and requires expertise.
Build relationships:
Above all, the most underrated marketing strategy that any business must leverage is working on building relationships and expanding networks.
So when you are promoting your tech company, you can't forget this opportunity.
When you join a podcast, attend a webinar, engage in a community, or use any means, your first and topmost priority should be to build relationships with like-minded people and your prospects.
If you can manage to build your network, you are more likely to succeed in marketing your tech company much faster than your competitors.
The reason is that networking plays a significant role in success. You might have heard that 85% of jobs are filled through networking, but that's not the case. In business, your networking plays the same crucial role.
Even when businesses need help, they ask their friends for recommendations, and if you are in the loop, you are getting recommended again and again.
The great part is that it doesn't cost money; you just need to behave well and truly try to help people solve their problems and succeed. That's it.
We are here to assist!
Now that you know the ways to market your tech company and improve your marketing plan, all you need is time and resources to put them into action.
If you'd like help, Sturdy Business can come to the rescue! We'll craft a strategy that's unique to you. Based on methods just like these, we'll pump up your SEO, create content, and make you a local sensation. If you want to learn more about it, you can email us at [email protected].