It's a no-brainer – Search Engine Optimization (SEO) is one of the most important digital marketing strategies.
Studies have shown that it's one of the best sources for generating organic traffic. None of the other sources, such as organic social or word of mouth, can bring you as much organic traffic.
Another crucial aspect is that it's not as costly as paid ads or other digital marketing strategies. Furthermore, its return on investment (ROI) continues to increase, making it even more cost-effective in the long run.
However, this increase in ROI doesn't happen on its own; there is a reason behind it that we will discuss here in the article.
So, if you are a business owner or a decision-maker of a business and you want to understand why you need SEO services, this article will answer all the questions that may come to your mind.
To understand why your business should leverage SEO services, let's briefly discuss the main pillars of SEO, and then we will see how those pillars influence any business.
There are five key pillars of SEO:
Technical SEO
Prospect Research
Content Creation
On-page SEO
Off-page SEO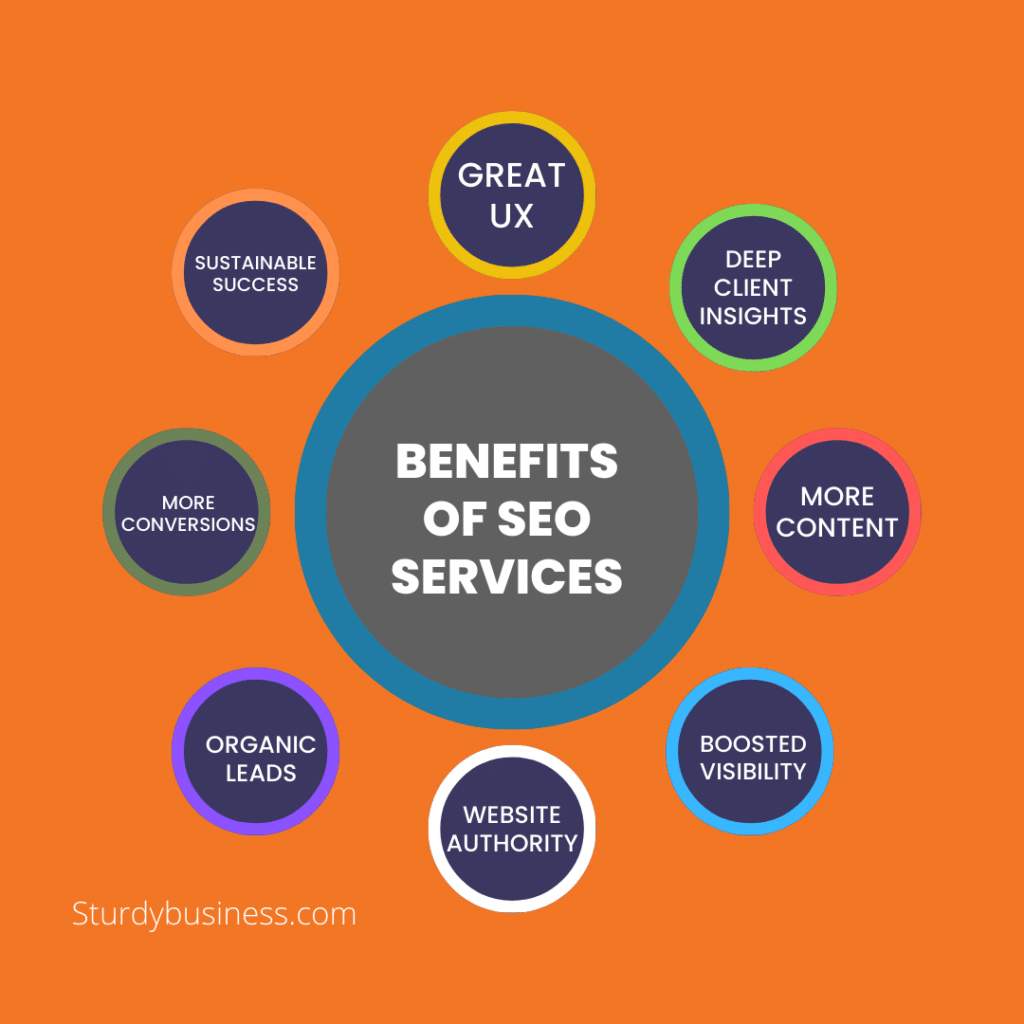 Technical SEO: How does this impact your UX?
If you are an established business or company (i.e., a SaaS or a tech company) and you have a website, people are already visiting your website. They must be searching for you on Google, Bing, Yahoo, or directly visiting your website.
Once they arrive on your website, your primary job is to provide them with a great user experience (UX) and create an impression of being an authoritative business.
Unfortunately, this doesn't happen in most cases.
Many small businesses create their 1-page websites just for presentation; they don't consider it a valuable asset and never think of investing time and money in it.
However, the reality is different.
When a prospect hears about your business, they want to know more about your business. So, they find your website and try to understand how you are presenting your business.
If they have an incredible UX, and you can build trust, they are more likely to convert.
This is where Technical SEO comes into play. When you leverage SEO services, we typically begin with technical SEO because it's one of the most critical parts of SEO. It helps you improve UX.
Without being technically optimized, a website is less likely to rank for competitive search terms.
Additionally, at 'Sturdy Business,' we understand what persuades people, so we prioritize your website with relevant content.
For example, even after you've built trust, people often require reassurance, especially when they have to invest hundreds or thousands of dollars.
We assist you in listing your business on platforms where people can post independent reviews. We also encourage your clients to leave reviews and then link those reviews back to your website.
But that's not all; we go above and beyond.
Prospect research: It helps you gain a deeper understanding of your clients.
Prospect research is one of the critical pillars of SEO.
This is often overlooked by many SEO agencies, and most freelancers who have never run their own businesses may not fully understand its importance.
Even I didn't realize its significance until I began running my own business. I targeted a broad audience, and once I managed to generate traffic, I had to delete dozens of articles because they were not contributing to my goals.
So, failing to conduct appropriate prospect research can make your SEO efforts costly and decrease your return on investment (ROI).
Here's how it impacts your business:
With prospect research, the SEO team first builds an Ideal Customer Profile (ICP) and strives to understand the primary goals of your business. Once they are aware of both, they identify the pain points of your ICP that could lead to conversions.
Now, consider this scenario: You are a business owner, and you tell your SEO agency that your primary goal is to get organic traffic.
They target some high search volume keywords, and they succeed in driving traffic.
However, you see no increase in conversions.
Now you are burdened with traffic that doesn't convert, and you have to allocate more money and resources to engage these uninterested visitors.
On the other hand, if you and your agency were aligned with the primary goal of conversions, you could generate more revenue with fewer visitors who convert effectively.
This is what you can expect when working with dedicated and passionate teams like Sturdy Business.
Content Creation: Here is how this is a goldmine.
In research, it has been found that over 80% of buyers conduct online research before making a purchase. For instance, if you are in need of SEO services, you most likely conduct online research from various perspectives. You will ask questions like what is SEO in digital marketing, how SEO works, how much it costs, etc.
Your potential clients do the same.
When your SEO agency conducts thorough keyword research, they discover what your potential clients are searching for and what type of content can help you convert these potential clients.
By creating appropriate and converting content, you can target your potential clients at every stage of the sales funnel. This approach allows you to engage with potential clients throughout their shopping experience, establishing a connection.
In this manner, your business gains recognition, and through high-quality content, you also build trust. So overall, if you do it appropriately, it becomes a goldmine for your business.
On-page SEO: This improves your visibility on search engines.
On-page SEO involves optimizing your webpages to achieve high rankings on search engines.
For example, if you have published content on your website, it should be well-optimized to ensure it can easily rank on search engines. This optimization enhances your visibility in search engine results.
Now, you may have realized that SEO isn't limited to optimizing your content for search engine rankings. Search engine optimization means optimizing every aspect of your website to provide the best experience for both users and search engine bots.
If you succeed in satisfying both, that's the only way to drive substantial organic traffic.
Off-page SEO: It makes your website authoritative.
In off-page SEO, we engage with other similar businesses and bloggers, requesting them to mention your website on their own sites.
For instance, many businesses and companies reach out to me to try their products and leave unbiased reviews.
This not only enhances businesses' visibility and recognition but also sends positive signals to search engines, establishing trust in the business.
As a result, you can drive organic traffic more quickly from Google and from other websites.
Once you've completed all of these steps, you can enjoy several key benefits that will help you understand why you need SEO services.
SEO helps you reach potential clients organically:
Now that we are aware of the SEO process and the importance of every pillar of SEO, it's a no-brainer to understand that SEO helps you target potential clients and drive traffic to your website.
It makes SEO the best digital marketing strategy.
SEO brings you more leads and conversions:
As we have observed, when we reach out to potential clients organically, we generate more leads and conversions.
For example, if someone was searching for terms like 'outsource it services' or 'real estate consultant Miami,' you organically acquired that audience and assisted them in understanding your services.
Once they have this knowledge, offering your services becomes a seamless process.
With your appropriate knowledge and problem-solving abilities, if your website is well-optimized for conversions, the process of converting these leads into actual conversions becomes straightforward.
Does this make sense?
SEO is a long-term strategy.
SEO stands apart from PPC and other digital marketing campaigns. In those campaigns, you must continuously run ads, email marketing campaigns, or engage in cold calling to target your audience.
Once you stop these campaigns, the results tend to diminish.
In contrast, with SEO, the efforts you put in continue to yield benefits over time. The traffic keeps increasing, and when you stop investing in it, the results don't vanish.
In fact, the impact of SEO can persist for years, even after you've ceased active optimization efforts.
SEO becomes cheap over time.
This is one of the magical aspects of SEO.
As you likely already know, SEO is an ongoing process that requires sustained effort. You invest months to years in building your online presence, and what you do in one month may not yield immediate results but will show its full potential in the following 6 to 12 months.
The beauty of SEO is that once you start getting results, even if you've moved on to new projects or pages, you will continue to receive traffic on those optimized pages.
As long as you keep working on search engine optimization of your website, you'll keep reaping the benefits for all the pages you've optimized or created in the past few months or years.
This long-lasting impact makes SEO a cost-effective strategy in the long run.
Outsource SEO or Build a team?
The last thing that might come to your mind is whether you should outsource your SEO or build an in-house team. Both options have their merits, and the choice depends on your specific situation.
For larger businesses with existing in-house marketing teams looking to incorporate SEO, it's often more cost-effective to hire additional employees and invest in building an internal team.
However, if you don't have the resources or cannot afford to hire new employees, outsourcing SEO is an excellent option. The advantage is that you can start leveraging SEO services for as little as $1500, and with an investment of $5000, you can expect substantial results.
Building your own in-house SEO team can be significantly more expensive than these outsourced options.