Most bloggers don't even know what exactly Rank Math Content AI is. How does it work and why should they use it?
Bloggers who use Yoast, and other SEO plugins believe that Rank Math is pretty similar to all other tools.
Yes, it's true that almost all SEO tools work pretty much the same.
Because the purpose of any SEO plugin is to give guidance about basic on-page SEO.
As there is no rocket science behind basic on-page SEO, so all of the plugins understand the basic on-page SEO. (Keep in mind that on-page is not as simple as following a tool, but it's basic level optimization).
Thus all the SEO tools help beginners apply basic on-page optimization rules.
That's okay for all WordPress SEO plugins.
But Rank Math is moving one step forward towards rankings. They help you fix Google indexing issues, and they are implementing artificial intelligence in content to rank higher.
In this way, Rank Math is better than Yoast and most other SEO plugins.
So if you are using Rank Math you get an edge to rank content faster and easier on Google.
Now let's start with how it works, and what are the best alternatives to this ranking tool.
Does the Content AI improve rankings?
The simple answer is yes. Here is the explanation:
Google understands any page with semantic segmentation. Many Content AI tools like Rank Math, LSIgraph, and a few other provides you with the most relevant words to help Google Algorithm understand the page.
Thus, if you use any Content AI tool it can you a rankings boost.
How does it work?
In another article, how does Google rank content, I explained that Google uses artificial intelligence to understand the intent of the query.
Google algorithm is after all a program, and you can understand how it works.
Google's main focus is to understand the user intent and provide the best relevant answer. If you could understand the intent, you can easily outrank any keyword.
But, it's not as simple as it sounds to be.
Even if you truly understand the intent, you have to meet Google E-E-A-T (Experience, Expertise, Authoritativeness, and Trustworthiness) requirements to secure some good positions.
So you need a deep understanding and the right tone.
If you don't understand it, you can at least use LSI keywords to prove your expertise.
Rank Math Content AI does it for you.
With this tool, you get "relevant queries, questions, and links" to add to the content to make Google realize that you have a firm grip on the query and that you will not disappoint the user.
Let me break it down for you.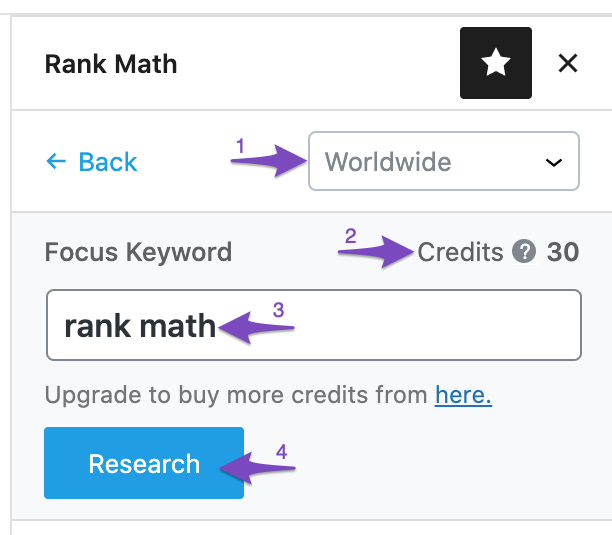 Here are the steps to use to Rank Math Content AI tool.
Install the Rank Math plugin
Open the page you want to optimize
Add focus keyword in the right menu
Click on "Content AI" (available above your focus keyword)
It will redirect you to another page, click "Research"
You will get atmost three types of suggestions
Keywords, Questions, Links
Add the best relevant suggestions in your content
You are done.
It will undoubtedly improve your rankings.
Unfortunately, it's not free. You can only use it free for 5 articles.
Don't worry, I have some crazy free alternatives to Rank Math Content AI.
LSIgraph (the best alternative)
The best free alternative to Rank Math Content AI is LSIgraph. It also has some premium features that will be worth your money. If you could afford to invest money, it's highly recommended to invest in LSIgraph.
Here is how to use it.
Open LsiGraph
Put your focus keyword
You get tens of suggestions
Pick the best ones, and add in your content
It will automatically boost your rankings.
Google (best free alternative)
It's true that there are tons of alternatives to finding Latent Semantic Indexing keywords.
You can use keyword research tools like Ahref, and keyword planner, and sometimes you can use Search Console for it.
All the tools make your efforts easier.
But Google is the best free alternative to all keyword research tools.
It has fresh data, and it has the best suggestions.
If you don't want to spend dollars on such tools, you can follow the technique I follow to find relevant keywords to improve rankings. (Though I also give most of the tools a try.)
Here is how to do it.
Open Google (open in the country wherever you want to rank)
Clear the history of your browser
Put the main keyword and hit search
Scroll down a little
There are some relevant questions
Scroll down
There are some relevant keywords after 10 search results
Pick the best questions and queries
Add those relevant questions and queries to your content, and your rankings will magically go higher.
Rank Math doesn't provide you with the best data (IMO). However, Google has a lot more data from where you can choose the most accurate keywords.
So overall, if you don't have time to research manually on Google, Rank Math Content AI is one of the best tools to optimize your webpage.