Printers are found in every office across the world. They allow us to print, scan, and copy files all with a few button presses.
Over time, these machines have evolved from a simple dot printer to a laser or inkjet one. But the improvements have been worth it. The quality has gotten better, they're faster, and they can handle more than before.
For businesses, their value range all comes down to how they use their equipment.
Even with that said, having a printer is crucial for any business. If you think about it, when was the last time you printed something? Maybe just a few minutes ago. Now imagine doing your job without that luxury.
The good news is that you can have one without breaking the bank, and you can even save money by printing smartly.
Our top picks:
HP Color LaserJet Enterprise Duplex Printer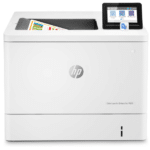 Special Feature: Auto-Duplex, Energy Star, Touch Screen
Monthly Duty Cycle: 80,000 pages
Printer Output: Color
Print Speed (Color): 40 ppm
Product For: Office, Home

Newest Model Brother All‐in‐One Printer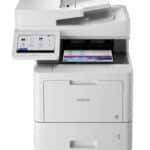 Special Feature: Auto-Duplex, Scan To E-Mail, Network-Ready, Energy Star, Epeat Qualified, Touch Screen, Auto Document Feeder
Maximum Print Speed (Color): 42 ppm
Product For: Office
Below are 10 top-notch business printers that will take your office game to another level!
1. Best HP Color LaserJet Enterprise M555dn Duplex Printer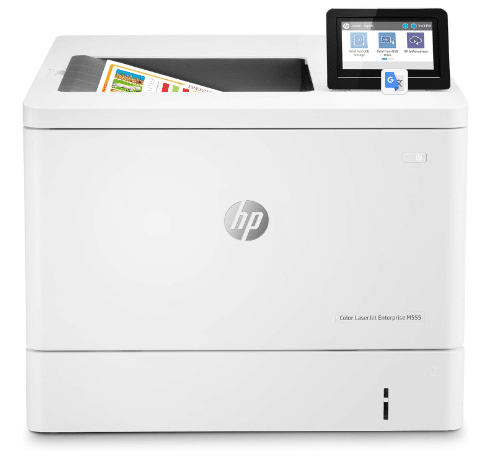 Some key points:
Available in white
Dimensions – 18W x 18.9D x 15H inches
Black and White Printer Body
Display Screen:4.3 inches color touchscreen; rotating (adjustable angle)
Printer Weight – 60.6 Ib
Print Speed: A4 up to 38 ppm; A5 up to 59ppm
Paper Capacity: 100-sheet multipurpose tray, 550-sheet input tray, and 250-sheet output tray
Monthly Duty Cycle – 80,000 pages
Recommended monthly page volume – 2,000 to 10,000 pages
Ethernet and Optional Wireless Connectivity
Review:
The HP Color LaserJet Enterprise M555dn is a professional laser printer that has excellent printing abilities and is super fast. It fuses top performance with design.
The security management system always makes printing secure. If you're thinking about buying one, this option is good for office use. This thing can complete more office work in less time and steps.
This HP printer creates the perfect design to optimize your office space. With measurements of 18 inches wide, 18.9 inches deep, and 15 inches high, it's compact enough to fit on your desk.
It's appearance is simple and refined thanks to the clean black and white color scheme. Perfectly aligning with any workspace. Both are pleasing and concise.
In addition, it also comes with a screen above it that you can adjust to whatever angle you want. That small screen measures 4.3 inches, which gives you easy access to print directly from the device.
Also, the printer weighs 60.6 pounds. So, you'll need two people to move it from one place to another. Considering its size and weight, moving this printer could be difficult. Make sure to take your time and be careful.
The HP Color LaserJet Enterprise M555dn excels at printing performance. But the thing that stands out the most is its speed. Printing quickly isn't a problem for this machine, no matter what paper size it is.
For A4-sized paper, it can print up to 38 pages per minute at top speed. And as for A5, its fastest speed reaches 59 pages per minute.
Four standard paper trays house themselves in the HP Color LaserJet Enterprise M555dn printer. One of them is an output tray with a limit of 250 sheets. The other three are input trays and can hold 550 sheets of paper each.
There's also a multifunctional tray that has a capacity of 100 sheets of paper. All together, the standard input tray alone can hold 650 sheets of paper.
Not only that, but the HP M555dn can have three additional optional 550 sheet input trays. The maximum capacity of the paper input can even reach up to 2,300 sheets of paper.
Furthermore, this thing is strong enough to handle a lot of stuff. It has the ability to print up to 80,000 pages per month.
In addition, it's recommended to use between 2K and 10K pages a month. If you're someone with high-demand printing needs in a small corporate office area, then this gadget should work great for you.
Security is also another thing that they are really focused on here. Hundreds of embedded features and third-party solutions are used, so it automatically boots for higher security.
Getting connected is extremely easy with this new addition as well. You'll be able to easily share your printing resources throughout the network. Not only can it use Ethernet connectivity through an HP Jetdirect Ethernet embedded print server (standard), but it also provides dual-frequency wireless networking functionality.
2. Best Ricoh Aficio MP Color Laser Multifunction Copier (renewed)
Some key points:
Available in white
Dimensions (H x W X D): 35.9″ x 23″ x 27″
Prints up to 35 ppm; copy, scan, fax
1200×1200 dpi max print resolution
Smart interface with touch
Paper capacity up to 4,700 pages
It comes with four paper trays
A4 and A3 document sizes
Print from USB flash memory
Ethernet Port for Network Sharing and Connectivity
Excellent color printing for, e.g., flyers, posters, and wedding programs.
Suitable for commercial and office use
Review:
The Ricoh Aficio MP C3503 is a printer that has everything you need. Whether it's for work or your personal life, it's perfect.
Some of the basic things that come with printing, scanning, faxing, and copying But what amazes me is that this beast can print up to 35 pages per minute! It's like lightning!
Not only is it quick, but it also doesn't shy away from big projects. You can print on paper as big as 12 by 18 inches. If you need something bigger than that, then I'm not sure a printer is right for you.
There's also some other cool features, such as auto duplex and 1,200 sheets of paper (standard). And if you want to go beyond that, then do so knowing that this thing can expand up to 4,700 sheets.
The Ricoh Aficio MP C3503 is no slouch. One of its most impressive features is an optional 10.1″ Wide Super VGA Smart Operation Panel that takes your user experience to the next level.
One of its more subtle features is how well you can use it. With touch functionality, you can dive into whatever you're doing and make navigation easier and faster while doing it. You can switch between different tasks with just a tap, saving you time and effort.
Favorite shortcuts are also available, so if there's something you constantly need to do, it's only a few taps away. And then there's customization for common jobs, letting you do things exactly how you want them done.
None of this would matter if it wasn't fast, though. At 35 pages per minute for both black and white prints as well as colored ones, it's pretty darn speedy. Not only that, but the high resolution of 1200 x 1200 dpi ensures clear and sharp prints.
It's suitable for both commercial and office use. In terms of size, it supports A4 and A3 documents. Meaning, if you need to print an A4 document, you can, but if you want to go even bigger and print an A3 document, you also have that option.
It has a USB flash memory printing feature. It may not be the most needed, but it offers an unnecessary amount of convenience. Instead of having to put files on your computer and then print them out, you can just stick a USB drive in and print from there.
It's equipped with an Ethernet port. This means that if multiple people in your office need to print something, they don't have to keep switching the cord around. Instead, everyone can just connect their device to the printer and get their prints.
But what makes this printer stand out is its color printing ability. It can produce vibrant, high-quality colors that are unmatched by others. This makes it great for creating ads or anything else that needs to grab someone's attention.
To make things better, it has four paper trays, which provide a ton of storage for different types of paper sizes. You'll never run out of paper again.
On top of all that, this printer never runs out of room or ink. Dual 550-sheet paper drawers give it plenty of space to handle all your printing needs and print up to 1,750,000 copies every month.
3. Brother MFC‐L9610CDN All‐in‐One Printer (Best Newest model)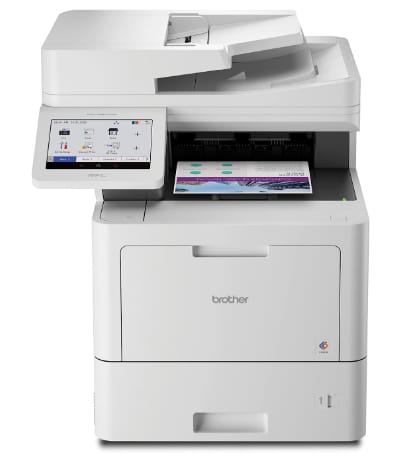 Some key points:
Available in white
Suitable for printing and scanning
Fast printing up to 42ppm in colored or black
Includes 6,500‐page black and 5,000‐page color toner cartridges
Intuitive 7-in touchscreen
21.3″D x 19.8″W x 23″H
79.7 pounds
Automatic Duplex Print – Up to 120,000 Pages Monthly
Multi-purpose paper trays
Review:
The Brother MFC-L9610CDN is a printer that has all the features you need. Fast printing, tons of room for paper, and let's not forget about its high tech security measures.
Dimensions are one thing that worries everyone. Luckily, this isn't too big, coming in at 21.3 inches deep, 19.8 inches wide, and 23 inches tall. It also weighs only about 80 pounds.
But there really is more! It comes in white too. So no matter how your office looks, this printer will fit in perfectly. You also don't have to worry about buying a separate scanner anymore since this all-in-one printer also allows you to scan.
It can print as fast as you can say, "I have to make copies!" Plus, with its big paper holder, you won't run out quickly and have to stop what you're doing.
It'll keep your sensitive documents locked up tight and safe. This feature alone makes it perfect for a business.
If you need to print something, it can do so at 42 pages per minute in both black and color. With little delay, you can have your documents on paper in no time.
Included are 6,500 black toner cartridges and 5,000 colored ones. You'll have more than enough to keep your printing going without constantly needing replacements.
The 7-inch touchscreen is easy to use and lets you navigate through the printer's functions with ease.
It's a lot more energy efficient, too. If you need to print double-sided documents, the printer will get it done for you. This way, not only will it save time but also paper. The last thing anyone needs is endless stacks of one-sided paper lying around.
Lastly, if you often print large quantities at once, then you don't have to worry about overworking the printer either. It can handle up to 120,000 pages per month without breaking a sweat.
Different types of paper require different trays, right? Well, all those are here too, so there's no restriction on what kind of paper you want to print on.
Things like automatic blank page skipping and the ability to change size from 25 percent to 400 percent have me recommending this machine for photocopying work.
This is a very powerful all-in-one printer and scanner with an impressive amount of features that cater to every need of yours.
4. Brother MFC-L5705DW (Newest budget printer)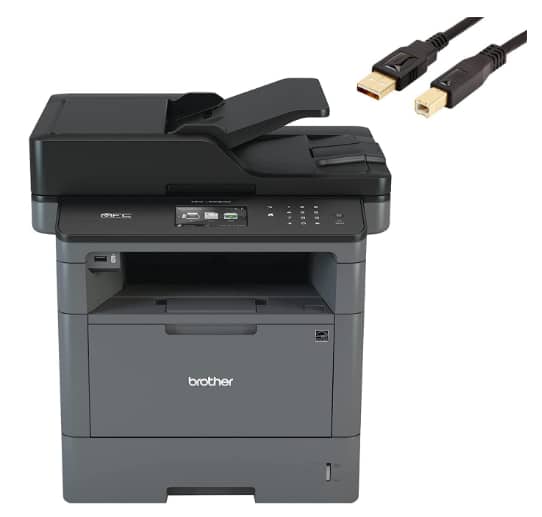 Some key points:
Available in Black
17.1″D x 19.1″W x 16.8″H
USB connectivity
3.7 color Touchscreen display for easy scanning
It can Print, Scan, Copy, and Fax
Black and white Print speed up to 42ppm
1200 x 1200 Print, 1200 x 1200 Scan, 1200 x 600 Copy Resolution
Paper refills with a 250-sheet capacity paper tray that adjusts for letter or legal paper
1,340-sheet total capacity with optional trays
Scans both sides of the page in a single pass for fast
Review:
Brother is a company that specifically makes printers for small businesses. It doesn't matter if you work at home or in an office; they have something for you. They aim to give you fast prints and make sure your report gets out the door quickly.
When looking at the Brother MFC-L5705DW monochrome laser all-in-one printer, there's no doubt that it would be useful in any office setting.
You will be able to do just about everything, like easy scanning and secure document handling, all while providing reliable output quality and cost efficient printing to keep your expense reports low.
This high-performance multifunction printer comes in a single box with everything you need to get started and 3000 pages of toner included. Increase productivity with fast printing up to 42 ppm and quick two-sided scanning. Equipped with advanced security features to help limit document and device access and protect against network intrusions.
It also includes a 3.7" color touchscreen display, allowing you to create up to 48 shortcuts to help streamline workflows.
It's also versatile in its connectivity options, with standard Ethernet or wireless networking capabilities. You'll find yourself printing things off your phone before even sitting down at your desk.
If you're worried about running out of paper, this printer has a solution for that too. With a capacity paper tray of 250 sheets that adjusts for letter or legal paper. And if somehow you do run out, don't worry because it has the potential to expand into a whopping 1340-sheet total capacity with optional trays.
A printer that can do it all and won't take up much room? Believe it or not, the MFC-L5705DW does just that. The size of this thing is 17.1″ D x 19.1″ W x 16.8″ H, making it perfect for small spaces. And even though it's compact, it still has a print, scan, and copy resolution of 1200 x 1200 pixels for high-quality detailed scans and prints.
There's plenty more to love about this printer, like its ability to scan both sides of a page in just one go.
Not only will this Brother printer withstand nearly anything you throw at it, but it'll also give you great results every time. You'll be able to print enormous stacks of paper without even giving this thing a second thought, knowing that the whole thing is sturdy to begin with.
This reliable all-in-one printer is a perfect companion for all your printing needs. From my research, I have found that this printer is known for being the most reliable one out there.
5. Brother Compact Monochrome Laser Printer (Cheapest One)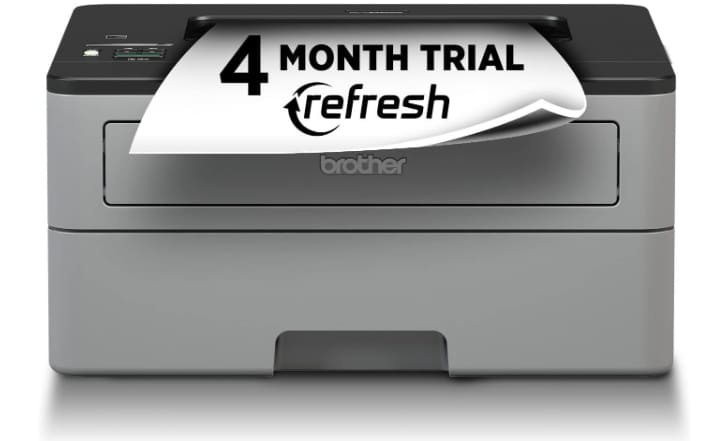 Some key points:
Available in Grey and black
32ppm printspeed
Print speeds of up to 32 pages per minute
250-sheet capacity handles letter or legal-sized paper
Wireless printing from your desktop, laptop, smartphone, and tablet
Build-in USB connectivity
The monthly duty cycle is 15,000 pages
Recommended print volume of up to 2,000 pages
14″D x 14.2″W x 7.2″H
Review:
If you're a black-and-white printer user, you might find the Brother HL-L2350DW quite interesting. It'll give you something to think about if you want reasonable text quality and printing speed, as well as good ink economy. Plus, all of these features are in a package with a small entry-level investment.
But it's not all good news. There are some downsides to this particular model, such as poor graphics quality and an incredibly tiny display. Troubleshooting WiFi connectivity could be quite a hassle on this machine since it's so small. However, if you only print documents on occasion and don't mind the lack of color or extra functions, then the HL-L2350DW would suit your needs just fine.
The Brother HL-L2350DW is perfect for anyone who is tight on cash but still needs a reliable printer. I personally found it to be the best choice for affordable models thanks to its blend of performance, text quality, upfront cost, and long-term cost.
At the bottom of the printer lies a paper tray that can hold up to 250 pieces of letter paper. It's easy to refill. All you have to do is pull it out and slide in new sheets.
A recommendation from me—someone who's had a few printers and does not like going through the process of setting them up… I adore this printer. It has a monthly duty cycle of 15,000 pages! You'll never have to worry about it being 'worn out' anytime soon And it'll keep your work consistent for as long as you need it
You get two shades to pick from. Grey and black This makes it easier for you to match your style. You won't have any issues printing with this one because it can do 32 pages a minute.
But the real reason why this printer is the best of the best is because of its wireless connectivity feature. You don't need to use cables to connect your devices anymore. And just in case, there's a USB port on it too.
And about affordability! This option could be considered cheap, but don't let that word fool you because this printer doesn't compromise on quality or performance. If your biggest concern is money, then this is worth considering.
6. HP Color LaserJet Pro (Most Sold HP Budget Printer)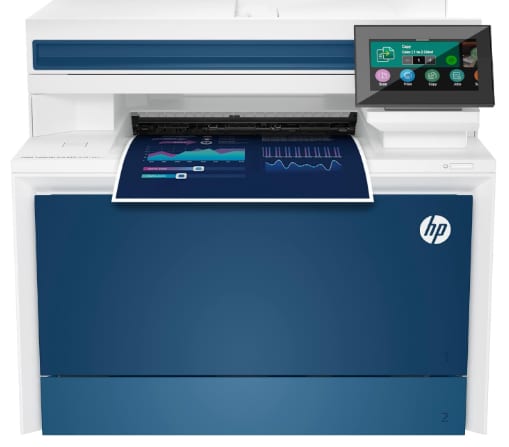 Some key points:
Available in white
16.6 x 17.1 x 15.1
Print up to 35 pages per minute
Ideal for 750-4000 pages per month
Mobile and Ethernet connections
Best for print, fax, scan and copy
Auto 2 sided printing and scanning
4.3' color touch screen
250 sheet paper tray
Review:
Printers are such a pain. All of them. However, the one that causes you the least stress is a laser printer: They don't just print sharp text and clear graphics; they also work better than inkjets and don't clog when they're not used for weeks.
I find the HP Color LaserJet Pro MFP 4301fdw very attractive because of its simplicity and modern design.
It has a 4.3-inch touch screen that's used for every input operation. A downside to using a touch screen is that it can slow you down, but this printer is so big that you can clearly see what you're doing and not have to worry about clicking the wrong thing.
The material used to make this printer dirt-proof was a great idea, unlike the glossy surface of other printers that makes smudges and fingerprints visible. Don't expect to clean this often at all.
Print speed on a laser printer is measured by how many pages it can print in one minute (PPM). Whether you're printing in color or black will affect it a lot. The PPM for color and black on this printer is up to 35 ppm. Say you have 350 documents you need to print right now; owning this printer means only having to wait ten minutes for high-quality prints.
Before picking up a new printer, you'll want to make sure it's able to connect to your devices. Options like Wi-Fi, Bluetooth, USB, etc. should all be considered. The HP Color LaserJet Pro 4301fdw comes with a wireless capability that supports mobile printing and integrates with the app. This feature only works with 2.4 GHz and 5.0 GHz operations, though.
It has two trays for paper storage. The upper one is used for smaller things like envelopes or specialty paper. It can hold about 50 sheets of 4×6 photo paper as well. The bottom tray, on the other hand, holds about 250 sheets of letter or legal size paper, which is great when you need to print a lot.
In terms of quality, using photo paper will give you the best results. That being said, this machine nearly matches the photo quality most inkjet printers offer with either matte or glossy paper. If you're really looking for maximum picture fidelity, then an inkjet printer is still going to be needed since there are some downsides like a limited resolution of 600 dpi and the inability to print without borders.
The HP Color LaserJet Pro 4301fdw comes at a price of $485. It's in between being a premium home office printer and a mid-range office printer. Regardless, it's initial cost is worth it, especially since other expenses are pretty low.
Both standard and high-capacity toner cartridges are available. With this, any black-and-white printing ranges from 2 to 5 cents per page, which keeps the overall cost affordable.
All-in-one printers don't get much more excellent than this one from HP. Anyone can enjoy using it. The only glaring downsides are how expensive it is when you first buy it and the relatively high cost of color printing.
Busy offices benefit greatly from this printer, but if you're thinking about getting it for personal use, then your money might be better spent elsewhere. You'll probably never need this much printer performance, especially in something like a small office.
Anyone who buys the HP Color LaserJet Pro 4301fdw will get a lot out of it. The quality is great, and if you do a lot of black-and-white printing, it's pretty cost-efficient. It's also durable and prints fast, perfect for a busy office.
7. Budget Xerox C315 Color Multifunction Printer for small businesses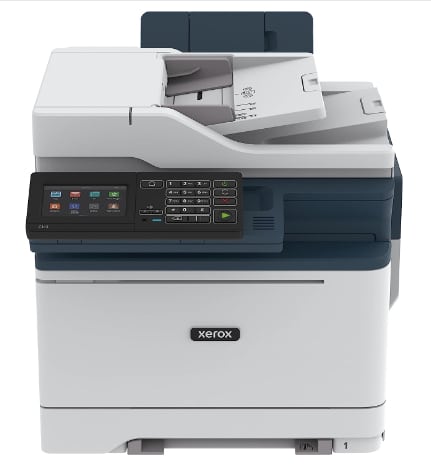 Some key points:
Available in white-blue
Print Speed: Up to 35 pages per minute (ppm)         
Monthly Duty Cycle: Up to 80,000 pages         
Recommended Monthly Print Volume: Up to 6,000 pages         
Print Resolution: 1200 x 1200 dpi (dots per inch), 4800 image quality         
First-Print-Out-Time: As fast as 7.9 seconds      
First-Copy-Out-Time: As fast as 8.2 seconds   
Base Model Dimensions: 22″D x 23.4″W x 22.4″H
Base Model Weight: 67.8 pounds
Review:
The Xerox C315 is a color multifunction printer that can print, copy, scan, and fax. If you're a small to medium business or have a home office setup, this thing could be perfect for you.
This device is built with Wi-Fi connectivity and applications that let you print and scan from mobile devices, laptops, tablets, Chromebooks, or desktops.
Some of the applications installed here are Apple AirPrint, Mopria Print Service, Mopria Scan, and Wi-Fi Direct. They'll find any way possible to connect to whatever it is you're using.
One of the biggest features of the Xerox C315 is its access to the Xerox Workflow Central platform. It's used for one reason: streamline how tasks are done.
With its small size and affordable price, it'll fit right into your office without causing too many problems. To give you an idea, it weighs about 67.8 pounds and measures 22″D x 23.4″ W x 22.4″H.
Printers can get a little expensive. If you're just looking for something that'll print and scan when you need it, then the Xerox C315 is perfect. It's an affordable and easy-to-use printer that's ideal for people who want the basics without having to pay an extra cost. 
Despite its small size, you can add more trays if you need more storage for paper.
It's perfect if you don't have too much paper to go through. Most people should follow the recommended monthly print volume of 6,000 pages. If you exceed this number, it may result in service issues and shorten its lifespan.
If you value speed and quality in your printer, then the Xerox C315 Color Multifunction Printer is a clear choice.
It can print up to 35 pages per minute (ppm). The images themselves have sharp details thanks to it's 1200 x 1200 dpi and 4800 quality. To further prove its speediness, the first-print-out-time is only 7.9 seconds; that way, you don't have to wait long for your documents. On top of that, the first-copy-out-time matches it at 8.2 seconds. All in all, this printer is simply a combo of fast and high-quality printing.
But be warned, don't use it if your workgroup prints over 6,000 pages or if you're someone who needs their own personal printer. You're going to want something else if all you need is a plain Jane printer—no copying, scanning, or faxing involved.
The Xerox C315 is built for businesses that are small or medium in size. Home offices would also benefit from this machine as well.
8. Brother Printer HL-L8360CDW (best inexpensive)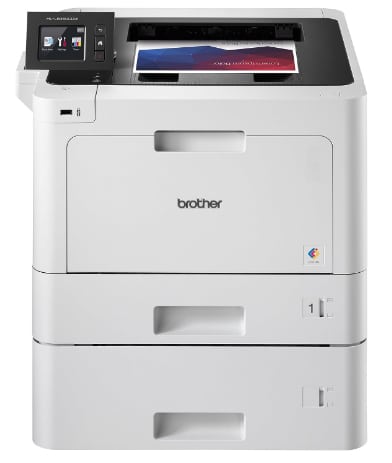 Some key points:
Available in white
Printing speeds up to 33 pages per minute
Dual paper trays with 250-sheet and 500-sheet capacity
Wireless, flexible connectivity
2.7' color touchscreen display
Fast print speeds
62.7 Pounds
17.4″D x 19.5″W x 17.5″H
Review:
With the power and weight that it brings to the table, the Brother HL-L8360CDW is able to meet the needs of an office space that has a heavy document load. You'll be able to connect any member of your team to it, so they can print with ease. As long as you don't need to copy or scan and are just printing out documents, this is a good printer.
At a glance, you'd think this printer was a heavy-duty one. And that's because it is. The Brother HL-L8360CDW was built for a medium-sized office, and its design shows that. Robust, intuitive, and sleek, with more features than you'll ever use.
It measures 17.4 inches deep, 19.5 inches wide, and 17.5 inches tall. So no, it won't fit on your desk next to your cup of coffee and notepad. You'll need to make some room for it on a table or pedestal somewhere up high, which is best because it's not designed to sit on the floor.
On the other hand, being able to print something from anywhere in the office without needing to physically move it sounds pretty convenient, if you ask me!
The Brother printer is famous for being fast, with the ability to print up to 33 pages in a minute. This is great for when you need something printed quickly and don't want to wait around.
There are two trays on it. One of them pulls out from the bottom and is able to hold 250 sheets of paper. It's probably one of the easiest parts about this printer—any office worker should be able to refill it without issue.
Another tray comes down when you pull open the hatch on the front panel. This one folds down, holds up to 50 sheets, and lets you add more paper while printing. It is useful if you want to take advantage of an ongoing print job.
There's something magical about simplicity. And this wireless printer has it. With a 2.7-inch color touch screen, there's an immediate connection.
You know how some machines have those menus that take you forever to finish? This isn't one of them. It's super easy to get through them, and you'll never lose your place. But the best part is that when you touch something, it does it right away.
At 62.7 pounds, this machine is not lightweight. One person can move it around, but two is recommended.
Brother claims that this heavy-duty machine can print 60,000 pages in a month and won't break a sweat doing it. This amount of power is perfect for small companies or places with high print volumes. Home offices will find no use for this unless they need to print something every 10 minutes.
The Quick Setup Guide gives you step-by-step instructions on how to set everything up, but honestly, just looking at the pictures should be enough to figure out what goes where. The steps are simple, though: take off any packaging materials, put the paper in, and connect to Wi-Fi.
I don't know about you, but I hate having a machine solely for printing and another one to scan and maybe fax if I'm feeling like living in the past. This printer only prints and nothing else, so keep that in mind when considering it as your new addition.
9. Brother MFC-L8900CDW (small business owners' choice)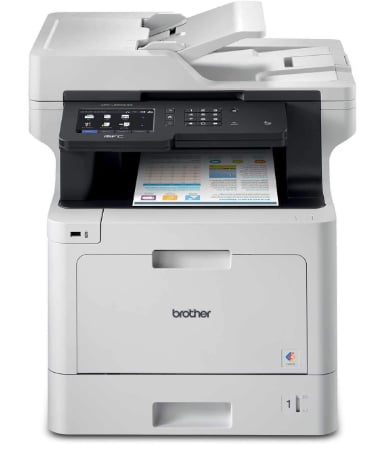 Some key points:
Available in white
Adjustable 250-sheet capacity paper tray
Expand total printing capacity up to 1,300 pages by adding multiple optional paper trays
6,500 page replacement toner cartridge
19.5″D x 20.7″W x 21.6″H
5' touchscreen color display
63.1 Pounds
Wireless and Ethernet connectivity
Up to 33ppm in mono and color print speed
Duplex Print, Scan, and Copy
2,400 x 600dpi print resolution
Review:
The Brother MFC-L8900CDW is a sleek printer that comes in a clean white color. But don't let its looks deceive you, because this printer isn't just about appearances. The thing has a lot of features packed into it.
First, let's talk about paper. If you hate refilling it as much as I do, then this will be music to your ears. The Brother MFC-L8900CDW has an adjustable 250-sheet paper tray. That's already impressive, but they didn't stop there; you can expand it even further up to a whopping 1,300 pages by adding more trays. That's enough for most people to not have to buy more paper for years.
Running out of toner too quickly happens to everyone. But not us, and not with this printer. It comes with a high-yield 6,500-page replacement toner cartridge. This means you won't have to deal with that pesky situation anymore, plus your wallet will thank you later in the long run. 
In terms of size, it's quite big, measuring at a depth of 19.5 inches, a width of 20.7 inches, and a height of 21.6 inches. And weighing in at about 63 pounds, it's no lightweight either. But hey, when was the last time something good came in a small package?
Controlling this device is pretty easy with the color display touchscreen on top of it all. Navigating through features is no longer as tedious as it used to be.
When you're in need of printing something straight from your bed or couch, the Brother MFC-L8900CDW has got you covered there too with its wireless and Ethernet options.
For anyone who loves the feel and look of a touch screen, this will be perfect. The Brother MFC-L8900CDW has a 5-inch touch screen color display that is as user-friendly as any other out there.
And let's not forget speed. If you're looking to print something quickly, then good news! This guy can print up to 33 pages per minute, whether they are black and white or colored.
By now, you might think that this is just another printer with some extra features stuffed into it, but nope, it's actually really nice and user friendly. It can also copy and scan, which makes it great for office use.
Overall, the Brother MFC-L8900CDW is the whole package when it comes to printers. It's got high-quality prints at 2400×600 dpi, so they'll look really nice too. It's the perfect printer for businesses or students who need something reliable that won't kill their wallet or break on them after two months of use.
10. Brother Business Laser (AIO) Printer for Mid-Size Workgroups with Print Volumes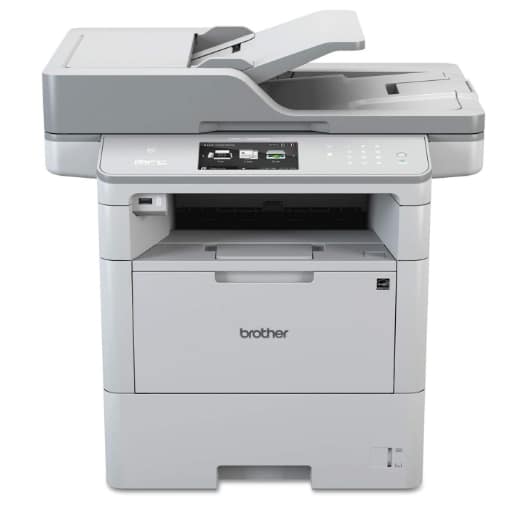 Some key points:
Available in white
41.9 pounds weight
Printing and copying at up to 52 ppm
4.85″ color Touchscreen display for easy menu navigation
Flexible wireless connectivity
520-sheet capacity paper tray, adjustable for letter or legal
50-sheet capacity multi-purpose tray for envelopes or alternative media types
Review:
If there's a printer that's worth buying, the Laser All-in-One is it. They're a great investment with their range of benefits. The speed at which they print and their high-quality prints make them popular for business. Having scanning, printing, and copying on one machine is just convenient.
If you want to get your hands on one, I'd suggest the Brother MFCL6900DW Business Laser All-in-One Printer. It's built specifically for businesses, so power is everything with this machine.
It can hold up to 1,090 sheets in its paper tray, so there's no need to always refill it. And we must not overlook the automatic duplex printing feature, which helps save you money on paper costs.
Being able to connect wirelessly to Ethernet makes it simple to print from multiple devices. The more important part of this printer is its security features. You can sleep easy knowing your sensitive documents are protected.
The Brother MFC-L6900DW copier is a true jack of all trades, and even more. You can scan, copy, and fax with it. Making it an all-in-one solution to your business needs.
The scanner has the ability to grab two papers at the same time, which causes the scanning process to be redone. To add on top of that, the maximum capacity for this thing is 99 pages, but in reality, it is only around 80, depending on thickness.
However, once you do finish scanning everything, the printer does make up for it with its amazing print speed of about 60 pages per minute. Well, maybe even higher if there's not too much work being done.
The Brother MFCL6900DW Business Laser All-in-One Printer is powerful and will fit well in your office. It's also a chunky unit, weighing 41.9 pounds.
It uses a 4.85 inch color touchscreen to make it easy to use. With that, you can get to all menus and features with just a few taps.
This printer can hold a lot of paper with its 520-sheet capacity tray. Refilling it will feel like a thing of the past. You don't even have to worry about needing special paper sizes. With its adjustable tray, this printer can handle any sheet size, from small to large.
But let's not forget those special media types that deserve their own special tray. It has one just for envelopes and alternative media. The special tray can hold up to 50 sheets, which is perfect for different paper sizes and materials you might have to use.
To conclude, the Brother MFCL6900DW Business Laser All-in-One Printer not only delivers impressive speed and performance but also offers convenient features like a color touchscreen display, wireless connectivity, and adjustable paper trays. If you want an all in one printer for your office, then this is it.