Starting a company is no small task; it's going to take a lot of money and thinking. The little things matter as much as the big things do.
Actions such as hiring new employees and purchasing office equipment play a significant role in maintaining a smooth workflow, and every decision you make in these areas can determine the difference between success and failure.
Office equipment is something that companies buy to help them do work. And they come in many forms, too. They can help in conducting tasks or actual work, but all of it serves as an asset to the company either way. Office equipment is a requirement for any company.
In this article, we're going to focus on a few essential items required for a productive workplace setup.
Computers and Accessories: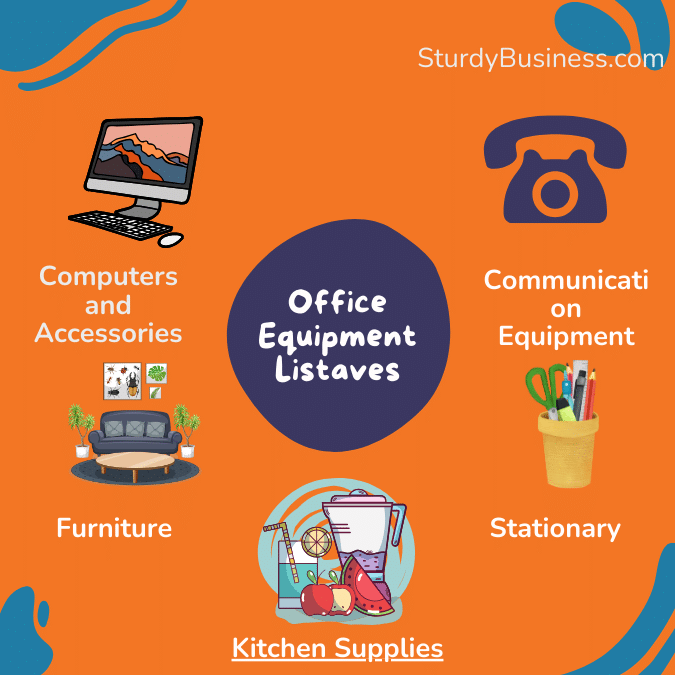 Any successful organization is powered by information. The fun part about it is that you can leverage it to your advantage. To do this, you need to buy and put in place the right business computers and accessories.
Secondly, backing up data is essential as well. You never know when a disaster might occur and cause data loss. With so many cloud services available nowadays, you don't even have to invest in secure and reliable backup equipment for your office.
Laptops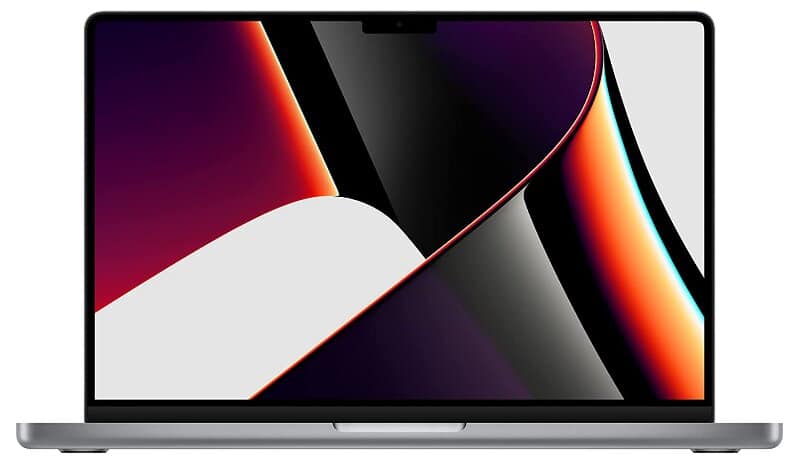 Sure, they may not be as powerful or have as big of a screen, but they are very convenient to carry around. And they can meet all your business needs.
Laptop computers give you freedom when it comes to mobility. You can take your work anywhere needed. With how far technology has come, laptops are now robust enough to serve as a primary computer for all but the most memory-intensive uses.
We have compiled a list of top ten business laptops that can meet all your business needs.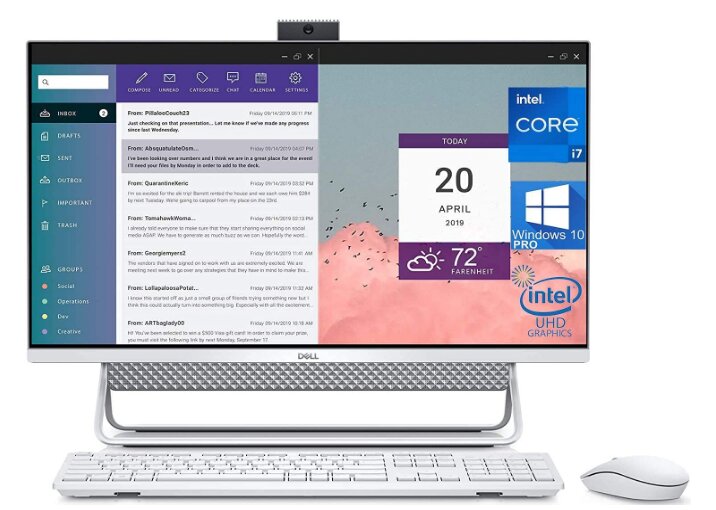 When it comes to working in digital marketing or graphic design, you might also need desktop computers. They are more powerful, can have big screens, and are easily upgradable.
While you may not need it, better graphics are also a nice touch. Upgrading a desktop computer is also easier and cheaper than upgrading a laptop.
You might like to buy from these ten best business computers.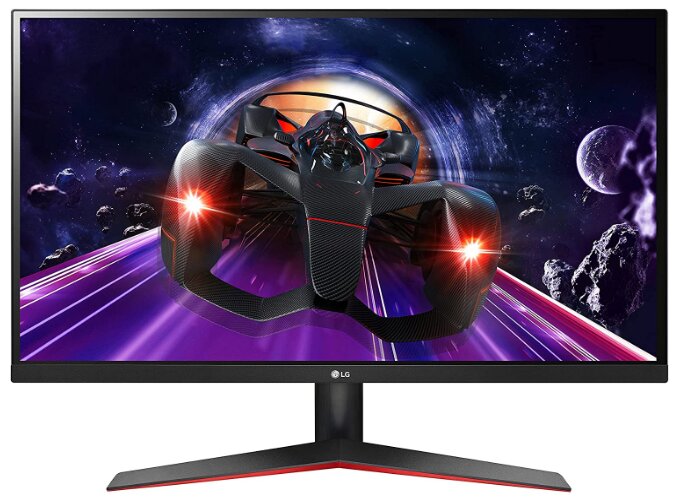 Monitors are the superheroes of the office. Being able to connect them to desktop or laptop computers as a primary or secondary display makes working much easier.
They're also big enough for everyone in a conference room to see the screen, making presentations a breeze.
Having a bigger screen is great. It gives you room to open many windows and be very productive. The colors are clearer and more vibrant. This small piece of hardware is essential for everyone's work setup.
Keyboard and mice:
Keyboards and mice have been at the heart of any office. We use them to input commands and navigate through our work. When it comes to typing up a document, the keyboard has never failed us.
The mouse makes it so easy to select files and edit content with its precise control. Together, they're a package that makes getting stuff done on the computer easy. Whether we're working on reports or looking at spreadsheets, these two things are always our best friends in the office.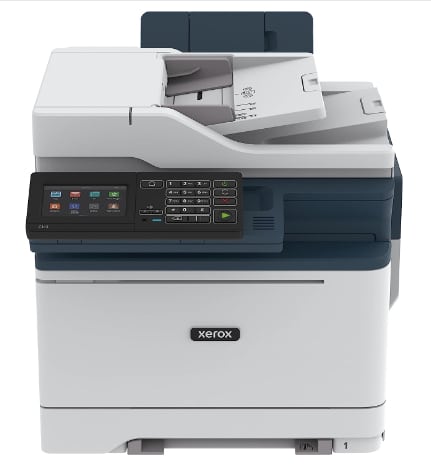 We live in an age where everything can be done electronically. However, some things need to be printed out from time to time like invoices, packing slips, flyers, letters, etc.
This simple piece of machinery still plays an important role in everyday office life, despite the fact that we spend most of our time on our computers. A printer can take electronic copies of important documents and turn them into hard copies, which you can hold onto with your own hands.
On the other side, scanners are useful for taking things like drawings or documents and putting them on a computer. This is done by taking pictures of them and converting them into a digital image. No longer do we have to worry about losing physical copies of important documents, which was a big problem in the past.
Although the paperless office era isn't here yet, 60% of work in an office can be done through digital equipment. This includes things like printers, projectors, scanners, and copiers.
Communication Equipment
Communication is important in the workplace. Imagine trying to get a message across without technology. It's difficult. In order to be effective at it, you'll need phones, fax machines, headsets, and a lot of other things that allow us to connect with others.

Microphones and headsets:
A microphone is one of these devices that we use to send sound vibrations into electronic signals. It scribes them onto a loudspeaker or recording medium.

Microphones are capable of allowing many types of audio devices for communication purposes, as well as music vocals and speech recordings
When you're taking calls, watching videos, attending meetings, and going about your busy day, a headset with the ability to switch between listening and speaking is a lifesaver. On top of that, it works great for audio output.
For a high-quality headset with better audio quality and ease of use, go for one with a USB jack. They do cost more, but they deliver better audio capabilities than the old stereo jacks.
Fax machines:
I'm sure you've heard of this old technology before. Faxes are a way to scan and send paper documents. They use wires to connect to other fax machines in different places to print out an image of the paper. Before the internet, faxes were revolutionary.
Phones:
Phones play an important role in conducting business professionally. Whether you use a desk phone or smartphone, they allow us to easily connect with clients, colleagues, and associates so we can work efficiently and quickly.
Desk phones give us our own line for calls, while smartphones do that and put it in our pocket along with access to any communication app that exists. Communication is key when working on professional tasks. Without it, nothing would get done.
Furniture:
Think of this, if there were no chairs to sit and work on, where would you be?
If there were no tables or cabinets, where would you store important things?
Now that we have that in mind, let's take a look at some essential office furniture. Chairs, tables, writing desks, stools, and cabinets are the must-haves.
Office desks and tables:
There are a bunch of different types of desks to choose from. Depending on what you need, there are desks made for certain things, like storage or space. But most importantly, it should be big enough to fit all your stuff.
Tables are also important for any office. They come pre-built and don't require any extra parts. Just put it where you want and get straight to work!
Chairs: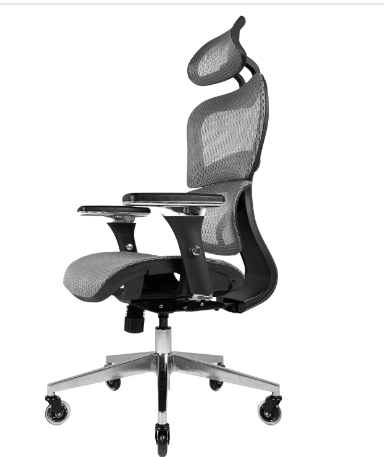 On average, an employee will sit in their chair for 8 hours a day. As comfortable as this may sound, it's actually really bad for the body! Sitting in the wrong way can cause long term health problems down the line. Investing in good chairs is a must if you want to keep your employees happy and healthy.
A good chair will also improve productivity. The better the posture, the less pain they'll have to deal with!
We have reviewed ten best office chairs you might like to buy.
Office couches: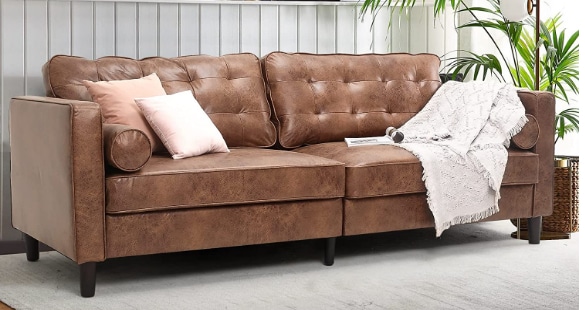 Office couches are key pieces of furniture that should be in reception areas, cabins, and higher-up lobbies; they're a bit different from the ones in your living room.
It's sturdier and has a much better design. The texture is incredibly smooth and soft, which can have a great impact on your office.
Here are the best office couches to make your office look expensive.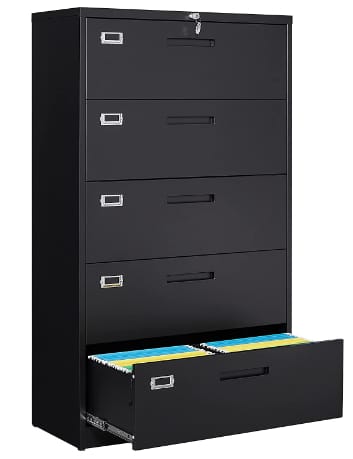 How would you store all your necessary things if there were no cabinets?
Confidential reports need to be locked away so they can't easily be accessed. This really highlights why cabinets are needed- privacy and storage.
Cabinets come in different sizes. Small cabinets are most commonly given to employees to store their personal items each day, which consist of anything from bags to food packets and other essential items.
Medium-sized cabinets have an administrative purpose. These are often used to store extra stationery items such as pens, papers, and letter pads. On the other hand, large cabinets serve the 'inaccessible' area. These come with specially designed lockers and are used to keep confidential documents, legal papers, money, etc.
Confidentiality is so important that these lockers need a special system to open them. And can only be opened by higher-ups in the establishment. Not only that, but they also come with extra storage space to store costly equipment and confidential office documents.
You might like to check these 4-drawer filing cabinets or 5-drawer filing cabinets.
Stationary
We live in a world with the speed of technology. Everything is online, and there's an app for everything. It feels like technology has taken over. However, when it comes to optimizing workflow, paper always comes out on top.
There are so many instances where you just need a pen or pencil and paper. Office stationery contains letterheads, notebooks, calendars, sticky notes, pens, permanent markers, pencils, highlighters, paper clips, staples, clipboards…you get the point. All these things are essential for running an office smoothly.
Kitchen Supplies
With coffee becoming routine in the corporate world, many know that an office coffee machine is essential. It's important to keep employees hydrated and satisfied with food and drink. To motivate them and keep them on their toes, free coffee and water do the trick. So, getting a water dispenser is a great idea for your office.

Companies have the option to consider a single coffee vending machine alone. But if you really care about quality, then you might opt for an espresso or bean-to-cup coffee machine.

Offering employees free coffee helps them stay focused and concentrate better. Just having an office coffee machine has a positive effect on company culture and employee morale.
Conclusion:
The above list includes essential office supplies that you require for setting up a professional-looking and well-equipped office.
Your choice of office supplies will depend on the kind of work you do and what you need. So pick the option that is best for your office!