It's amazing how the office decor is able to impact our mood and our ability to work. But it only makes sense when you don't just make things look nice; instead, you turn them into a message.
Creativity and productivity at your workplace start with office design. All we need to do is imagine ourselves in a place where we feel welcomed and comfortable. An area that sparks inspiration through visuals. You'd want nothing more than to be able to work in such an environment all the time, and we can guide you in making one.

But if your office is cluttered, chances are people don't want to be there. And no one would blame them. It's hard to focus and put out good work when everything around you is a mess.

A messy office has a huge impact on the morale of the team as well. No one wants to come into work in an environment where things are scattered everywhere.
There are many ideas you can try out, but there's no one way to achieve them. You can fill the space with vibrant plants or add cozy lounges so it feels like home. Other options include painting the walls, maybe putting up pieces of art, or even choosing the lighting. This could lead to something fitting for your firm's atmosphere and goals.
Let's take a look at some incredibly awesome office decor ideas that will transform your workplace! These office decor ideas are equally great for men and for women.
Along with the following office decor ideas, you can allow work on these 12 office decor ideas to make your office look expensive.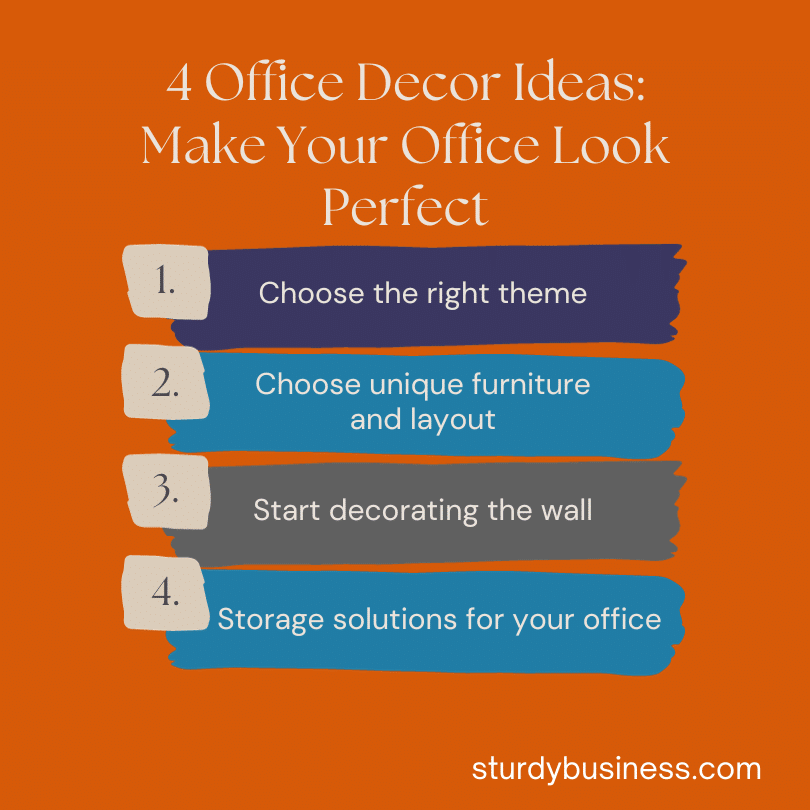 Choose the right theme:
Choosing the perfect theme for your workplace can be a fun experience that reflects who you are.
Think about your own taste: Reflect on the things you like and find exciting. Do you lean towards trendy styles, or do you feel drawn to retro-chic? Try to consider what colors and designs make it appealing to you.
Assess your needs: What kind of office environment will help produce the energy that makes you work best? For example, minimalist environments with neutral shades and clear lines create a calming space that lets you focus better. On the other hand, a creative person would want something more colorful, like natural elements.
Consider your space: Remember the size, the layout, and what you have in your office. Some themes could fit in different spaces. For instance, a tiny office may become overly plain for the sake of making it spacious and airy; conversely, larger spaces can accommodate various styles without feeling cramped or crowded.
Gather Inspiration: Just like the classic saying, "think outside the box," we have to do that but for creativity and interior design. To start, you can go through interior design publications. Perhaps even visit websites or social media pages related to it. If anything catches your eye, use a mood board or save pictures of it for later.
Experiment and Personalize: After gaining inspiration from all those sources, feel free to try new things. The sky's the limit when it comes to ideas. Don't be shy about combining elements from various themes or adding your own touch, either. Lastly, personalize it with things significant in your life (like pictures and plants) and something warm to you, like a welcome mat.
Choose unique furniture and layout:
There are some must-have items for an office and furniture is one of them. Choose office furniture that is right for you and will fit into the overall appearance of the office. Whatever the case, whether you go for modern and fashionable or classical style, the furniture should be the one that complements your desire.
To find the right furniture for your office. You have to consider a few things. Like comfort, durability, style, and space efficiency. One way to prevent discomfort, enhance performance, and reduce the risk of strain or injury is by getting good ergonomic chairs and desks that suit your height and needs.
Office furniture should last you a lifetime, so invest in stuff that's sturdy and practical.
If you have a smaller office, here are some suggestions to save space when it comes to furniture. You can try wall-mounted desks, collapsible office chairs, or multi-purpose items.
Be inventive when choosing your desk and chair to express your own unique style. On matters of aesthetics, you may select any design you see fit-from rare, unique pieces to vibrant colors to repurposing odds into furniture—provided that it is comfortable and functional.
Here are the best office couches and office chairs you might like to buy for your office.
In order to make an office look great, you need good lighting. It doesn't matter how many unique chairs or chic desks you get; none of them will truly shine if it's under bad lighting.
Of course, the best way to light up a room is with natural light. To do this, simply keep your windows unobstructed. An easy way to do this is by keeping blinds open during office hours.
But if you want to brighten up your office space, LED strip lights are a fantastic choice. You can easily put them around shelves, under desks, or along walls to make your space look more stylish and lively. As a colorful addition to any room (you have a lot of choices with these), it's super easy to install.
LED pendant lights and chandeliers are also a great option for this, but they're meant to be more of an eye-catching piece than something that boosts the overall aesthetic. That's not saying they don't do that, though, because they do.
The atmosphere and overall decorative theme will determine what color to go with. Warm white is great for something cozy and inviting; cool white is modern and energizing (great for those long days); or even colored ones just to add some spice. Regardless of what you choose, make sure it matches everything else in the room and gives off the mood you want.
If you have a big space with multiple sections, rugs can be used as an alternative to creating physical barriers. Doing so lets the area flow naturally. On the other hand, if your office is smaller, rugs can still be used to add color. You can put them under furniture and right outside of your door to liven things up. Even one or two would go a long way.
Additionally, you should also focus on aesthetically appealing business gadgets like business computers, laptops, printers, etc. It will add value to make your office look appealing and expensive.
Start decorating the wall:
When it comes to painting office walls, the best colors are ones that promote productivity and professionalism. Popular choices include light gray, beige, and off-white as they give a simple, calming feel. Since these colors are neutral, they allow other elements in the office, such as furniture or decor, to stand out. However, you can add a little bit of life with accent walls or art pieces. At the end of the day, your personal preferences will have a big impact on how your office looks.
Just because it's art doesn't mean it has to be drawings or paintings of nature. You can take a collection of shells, pressed flowers, or stones and mount them in a shadow box for your office wall. You will appreciate looking at your favorite nature collection every day.
Nothing says "I'm in charge" more than having your own monogram. Whether you create it yourself or purchase one already made, hanging up your initials in your office will make it feel like you have control over the room.
Finding motivation throughout the workweek slump is important. And one way to do that is to find something inspiring that can get you back on track by simply looking at it. Find one of your favorite quotes, hang it up on a canvas, and place it somewhere in your office.
Bringing plants to work is a nice idea. But sometimes it's just not practical or even allowed. If you find yourself wanting a piece of nature at your desk, consider getting some artwork that displays leaves, flowers, or anything else found in the great outdoors.
For people who love jotting down ideas and lists, consider adding an interactive whiteboard to your wall. It helps you stay organized and is tons of fun.
You've heard of a mood board. If your office isn't too casual, you can create one on your wall with photos, quotes, and whatever else can be hung up. As long as it inspires you every day.
Storage solutions for your office:
One of the best ways to keep your office organized and have things within reach is through storage solutions. You can use shelves to display books or decorative items, while file cabinets can be used to store documents, supplies, and other essentials. It helps maintain cleanliness and ensures that you can easily find what you need.
To keep your work area clutter-free, it's important to have desk organizers and accessories. Pen holders, file trays, and cable management solutions help keep your desk tidy and organized. Having accessories like a desk calendar or a whiteboard is perfect for jotting down important tasks and reminders.
If you're considering blending style into your office decor, try wooden filing cabinets. It has a timeless look that can elevate the overall aesthetic of your workspace.
If you want to save space and keep your documents, 2-drawer or 3-drawer cabinets can help you with that. If your office is larger, you can benefit from using the 5-drawer cabinets, but it's nothing more than a fancy balance between space and functionality.