Starting a blog with or without money isn't a big deal. Many platforms offer free hosting and domains to start your journey; some even offer you to add your custom domains to make your website look professional.
Sometimes it may cost you money (maybe a few dollars). In return, you get a lot of professionalism and comfort.
But.
Setting up a blog isn't successful blogging.
There is a lot more behind successful blogging that we have discussed in detail on this page.
Basically, successful blogging involves three major steps.
In the first step, you create your blog; in the second step, you write fully optimized high-quality content on underserved keywords; and in the third step, you monetize your blog.
If you don't choose untapped keywords, you might require to do some link-building.
Don't worry. We have discussed everything in detail below.
Create your blog
There are two options to create your blog, one is to use a free platform like Blogger, and the second is to create a self-hosted WordPress blog.
Without getting into details, I always stand with a self-hosted WordPress blog.
Investing a few dollars might be an issue for you in the early days. But investing your pennies and enjoying a professional blogging journey is way better if you are serious about blogging.
There is nothing wrong with using Blogger, Tumblr, Hubspot, or Medium, but your blogs will look immature, or you will always see many limitations.
Thus, there is no comparison between a free blog and a self-hosted WordPress blog.
We have discussed both techniques here.
Start free blogging with Blogger.

To create a blog on Blogger.com, follow the following steps.
Click here to get started.
Click "Create Your Blog"
Login to your Google Account, or click "create an account."
Choose your blog name (It will appear in the header. It should be your primary topic name, like Healthy Food, Growth Hacks, etc.)
Choose your blog URL (It will be like hirefreelancewriter.blogspot.com)
Add your display name – preferably the original name
Your free blog is ready.
You can now start creating posts on your blog.
The blog you created is in a raw format, and you need to do a bit more to optimize it. After that, your articles will rank on Google and other search engines.
Here is Blogger blogs' optimization guide.
Once you are done with optimization, you can start creating content on your blog.
It will still be a subdomain.
Subdomain doesn't affect your rankings, but still, it has a bad impact on user experience.
A user might think you must not be a serious blogger as you are not even spending a few bucks.
So it's far better to spend a little buying your unique domain name. And host that domain on your Blogger blog.
Choosing a domain name that's highly relevant to your blog niche/category/topic is better. For example, I write about business growth; my domain name is sturdybusiness.com.
Buying a domain won't cost you that much. Maybe, half to $1 a month, or way cheaper. Many times, you can get great deals for domain registration.
Even I purchased some domains with Yahoo Small Business Campaigns for free for the first year.
For example, Godaddy is offering domain registration at just $1. You can register your domain here.
Once you are done buying a domain for yourself.
Here is another guide to adding your custom domain.
After that, you can start making posts on it.
Although, Blogger is a bit for optimization. You have to do many things manually – almost everything.
For example, you are optimizing your blog and articles and checking if you have done everything right.
On the other hand, WordPress is pretty easy.
WordPress guides you on each step, and it will be like drag-and-drop stuff.
You use plugins that, at every step, keep an eye on your blog and content and guide you if you are doing right.
The best thing is that all the plugins are free – unless you use premium versions yourself.
So, instead of keeping all the responsibility and becoming a one-man army, why don't you spend a dollar to make your blogging easy and more professional for you?
If you believe in yourself and see yourself blogging after a year or two, or maybe ten years, then spending $1 to $2 a month shouldn't bother you.
Let's create an easy blog for you.
Create a Self-hosted WordPress Blog
If you believe that you can make thousands of dollars from blogging as others, would you mind spending $1 to $2 a month?
It's worth investing in, for sure.
In this process, you register a domain for your blog but don't host it on Blogger. You host your domain on a hosting you buy.
That means all your data will be on your hosting, which you can purchase from any hosting provider.
Although, initially, it's better to choose cheap hosting like Hostinger.
Hostinger offers hosting for as low as $1.39 if you purchase it for 48 months and approximately $2 if you buy it for 24 months.
It will cost you $50 for two years. It's cheap.
\Purchasing domain and hosting on Hostinger is pretty easy. You can follow the following steps.
Click here
Click start now
"Select" Single Shared Hosting
Choose a period
Add details, and submit
If you have not already purchased the domain from Godaddy, it's better to buy it here because it will make connecting your domain with your hosting even more effortless.
They will send you a personal login where you can host your blog. You can either follow this tutorial to install WordPress or message their 24/7 available team to install it for you.
Once your blog is ready, it's better to read this to optimize and make it auto-run for the rest of your life. It's just a one-time effort.
Either you install Yoast or RankMath SEO plugin.
Those plugins will always guide you on every article. It will even score your article for each article you publish for each keyword you set.
I usually try to get a score over 80. And it turns green on RankMath.
Once your blog is ready, Submit, and add your blog's sitemap in the Google search console. It doesn't take more than a while. You can add your blog here easily.
Here you will see how your blog is going on Google. Adding a site in Bing is also easy and beneficial. Submit the blog's site to Bing here.
Once you have created the blog, you should it make technically fit to meet google's new guidelines. In technical, it should be fast, clean and user-oriented.
Make Your Blogging Successful & Profitable
Setting up a blog on Blogger or your hosting is a one-time effort. You can easily do it or pay someone $5 on Fiverr, and your blog will be ready.
But that's not over.
Basically, your journey starts from here.
Either you purchase a domain or hosting or not. That doesn't matter. But, nothing is as important as this section is to earn from a blog without spending money on it.
So give your full attention here, and surely you will start blogging without money quickly.
In blogging, there are three important steps that all of us must follow to get rankings.
Keyword research
Content and optimization
Link building
It doesn't look easy, but I shall make it so easy that you will do everything without expertise.
For a beginner, I believe one should break his time and efforts with the following percentage.
Keyword research 25%
Content research and writing 55%
Off-site SEO 20%
If you follow this strategy, it will make blogging pretty easy for you.
Above all, find a niche/topic of your blog in which you can write with great interest and expertise.
For example, it can be web development, technical stuff, web apps, health, entertainment, Gardening, food, lifestyle, kitchen, or anything you like the most.
Whatever that is, you will indeed find an audience looking for help in that field.
Once you are clear about your niche, you will know what you should write about and how in your keyword research.
Keyword research:
It's one of the most important steps, where you should spend most of your time.
You must be curious about that, as there are tons of tools where you can find thousands of keywords in one click. Then why and how will you spend most of your time on it?
Why don't you use Ahref, Google Adwords, StoyBase, or other key research tools?
Those tools provide keywords with high volume, and most of them are already taken by many brand sites.
Competing with those high authority sites will take years to compete with them for a single keyword. Would you like to do that?
So to secure your rankings on the first page of Google and Bing, you should find very easy keywords on which no one is speaking, or at least quite a few are.
In this way, you will secure rankings in search engines pretty easily.
There are two methods to find those keywords.
Keyword Golden Ratio (KGR)
Untapped keywords Research (UKR)
Both methods are pretty much the same.
In both methods, you are finding keywords with pretty little competition.
Using the KGR method:
In KGR, you search for keywords with 250 monthly volumes. Then use the "allintitle" operator to check how many articles there are for that topic.
If fewer than ten articles are out there, it can be an excellent keyword for you.
For example, look at this keyword.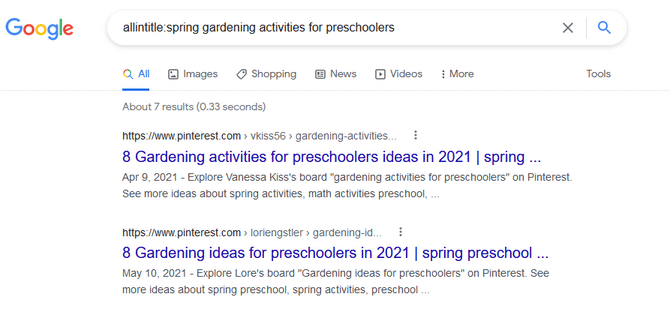 If Gardening was your niche, the keyword I found has only seven results. Even websites with those results are irrelevant to the search, like Pinterest, a social platform where people save Pins.
One can easily compete with these sites.
Although to find keywords volume, you can use paid tools like Ahref, Moz, and StoryBase or any free keyword research tool like WordStream.
The other best example is the topic we are discussing here, "how to start a blog for free" or how to start a blog without money."
According to the Ahref tool, it has roughly 6K to 9K visitors a month.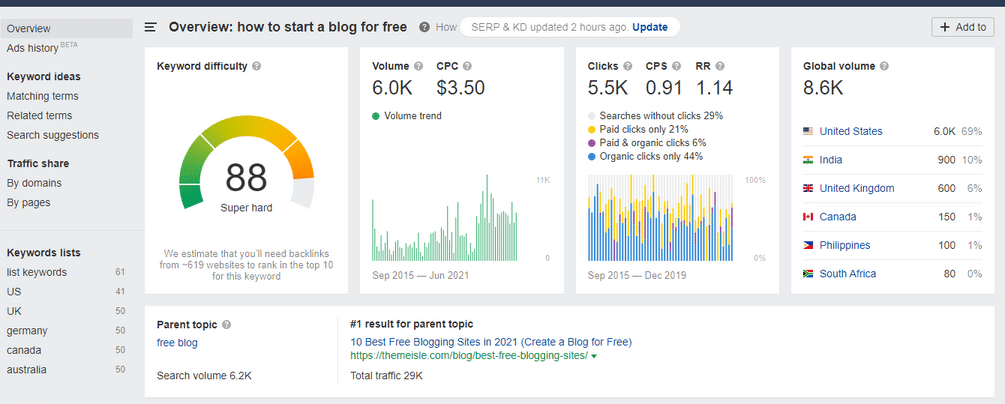 When we check out how many people have targeted this keyword, there are about 2600 results.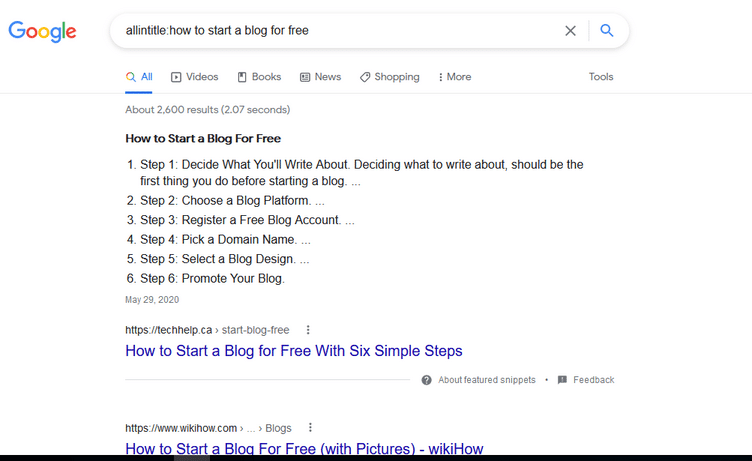 Those who write on such keywords should remember that at least 2600 competitors are already there.
Why not choose an easy one?
Using the UKR method:
It's pretty much the same as KGR.
But in this method, you don't care about search volume. And you don't use any operator (allintitle) to check available articles.
But you find a keyword, put it on Google, and see if there are people who exactly answer that query.
Suppose many results answer that query. Leave it.
Find another one.
Pick only those keywords that have no exact answers.
Indeed you will find dozens of untapped keywords with research.
You must be curious, how is that even possible?
Google has repeatedly confirmed that about 15% of daily searches are new to Google.
New bloggers have a great opportunity to get into it with low competition.
I have written an in-depth guide to finding untapped keywords. Any blogger can use the exact same strategies that I use to find underserved keywords and rank new faster on Google.
Content Research and Optimization
The next important step you should follow to succeed in blogging is topic research.
Go deep and get as much information as possible, feel it, smell it and live the topic so much that you could produce a fantastic article.
Try to add so much information that no one else is providing.
Never fluff, but add value to the article so much that they should love it once you present it to users.
In the beginning, try to write pretty lengthy content. It should be at least more than 1500 words. But content length doesn't mean adding irrelevant content.
For example, look at this article you are reading. Its word count is approximately 2600 words. Suppose I missed one portion of it; do you think it can be complete without that?
That means try to write on those topics you have a firm grip on.
Although your content should be for the user, optimizing it for search engines is essential.
If you are on WordPress, follow your SEO plugin's guidelines. Get more than an 80% score, and it will be optimized for search engines for that specific keyword.
And if you are not on Blogger. You can follow the following guidelines.
Add keyword in Title, Description & URL
Add a keyword in the first paragraph or at most 2nd one
Use keyword at least five times in the article, or make keyword density 1 to 2%
Use bullets and numbers
Add internal relevant links
Add essential external links
Following the guidelines mentioned above will help you appear on Google's first page.
Link Building
Once you have ten articles on your site, you should think of its marketing.
By link building, I don't mean building high-quality links that are impossible to get for a beginner.
Link building for beginners could be pretty easy if they do it appropriately. Here is how to do easy link-building for any website or blog.
For example, once you have ten articles on your site, you should join social media platforms with your site name. For instance, SturdyBusiness.com is available on Facebook, Twitter, Pinterest, and YouTube.
Share all of your articles on your social media profiles multiple times. And use relevant hashtags.
It will bring you some traffic and attention from Google.
After that, join forums relevant to your field. Spend at least an hour or two there. Answer others' queries, and leave your relevant links once they need them.
Relevant forum links will be enough for you to give authority to your site.
On forums, you will find many other bloggers in your niche. You can collaborate with them and ask them to add your links to your guest articles.
Monetization
Either you are on Blogger or WordPress. After publishing 20 articles on it, you can apply for Adsense for ads approval.
But that's not the only way to make money from it.
I firmly believe that one should not rely on one monetization method. There should be multiple income streams for any business.
My entire focus was on Adsense on my previous blog, and once it was disabled for some reason, it was very disappointing for me.
That's why you should use these three methods for your blog to generate income from it.
Adsense
Affiliate programs like Amazon
Review companies and products
All these three methods are high paying and work well on all types of blogs.
Summary
You might have plans to start blogging but don't have money.
It's not a big deal.
Many people start blogging without money, and so you can.
We have shared the best techniques to start successful blogging without spending money on it.
How to start a blog for free
There are many methods to start a blog for free. The best and easy one is to create a free blog on Blogger.com.
You can add a custom domain to it. You can directly monetize it with Adsense from your blog's dashboard.
How to start blogging and earn money from it?
It's easy to start a free blog with just $1. You can add valuable content and monetize it to make money from it.
In this guide, we have made it so easy that even a beginner can earn money without professional skills.