Celebrating work anniversaries is important because it increases employees' sense of belonging and inclusion; research confirmed that a sense of belonging and inclusivity increases job performance by 56%.
If you don't have plans for hangout, you can still send work anniversary messages to appreciate employees.
But, while wishing coworkers and employees their workiversaries (work anniversaries), make sure you send the appropriate and heartfelt messages in a unique way.
The following list of work anniversary messages is unique and has the best possible emotions to express your feelings effectively.
After the handpicked work anniversary messages, we have also discussed why celebrating work anniversaries is essential and how it impacts employee loyalty.
Here are the most incredible work anniversary messages. We have organized lists for different roles; you can check accordingly.
Heartfelt work anniversary messages for employees
If you are a boss, leader, or business owner, here is how you can professionally send meaningful, simple messages to your staff. The emotions added in the following work anniversary messages will make employees feel honored.
The following messages will have a massive psychological impact on the staff. If you want to celebrate their work anniversaries on social media, we have an eye-catching collection of images to share on social media.
It's been a year (or two, three, five, ten years) since you joined here, but I can see you are just as curious as you were on your first day. I am thankful to have an employee who is always passionate to be learning. Keep growing. Happy work anniversary!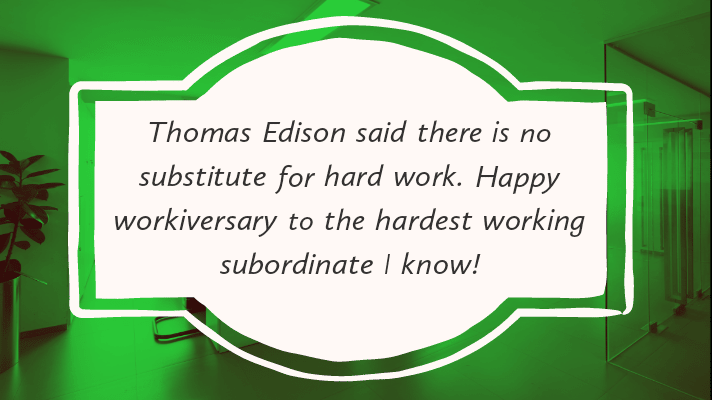 Thomas Edison said there is no substitute for hard work. Happy workiversary to the hardest working subordinate I know!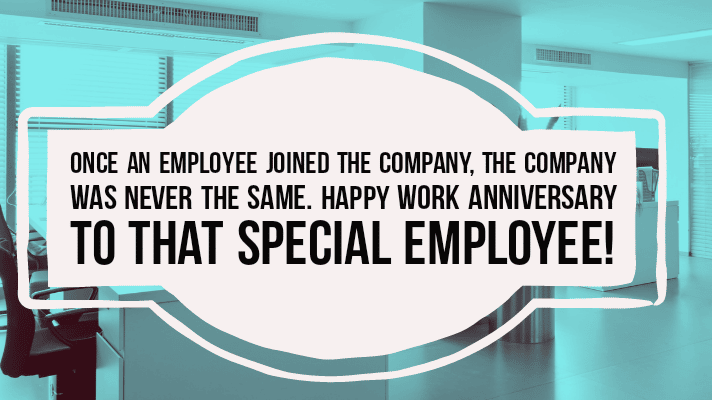 Once an employee joined the company, the company was never the same. Happy work anniversary to that special employee!
Today marks one year (or two, three, five, ten, or whatever years) since you joined the company, which is worth celebrating! Happy work anniversary!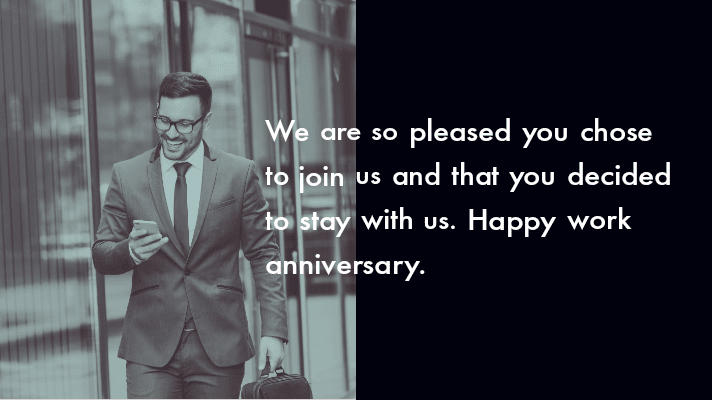 We are so pleased you chose to join us and that you decided to stay with us. Happy work anniversary.
We are so pleased every year you are here! Happy workiversary!
Happy work anniversary to the most gracious game changer I know!
Thank you for giving us these past twelve (or whatever) months and giving your best during that time!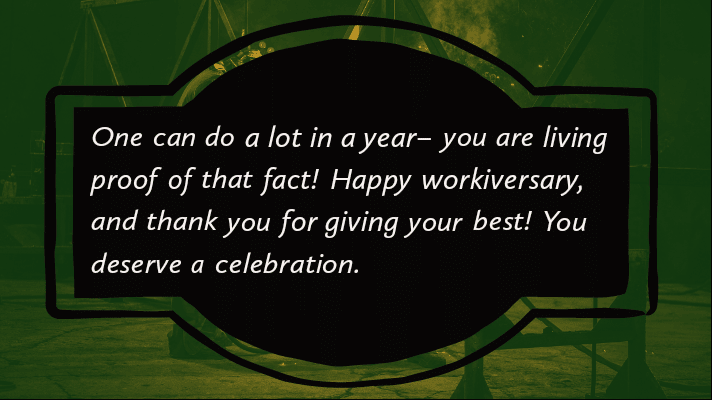 One can do a lot in a year– you are living proof of that fact! Happy workiversary, and thank you for giving your best! You deserve a celebration.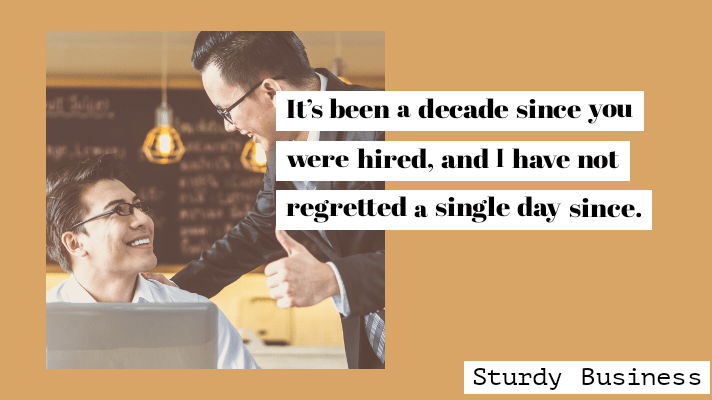 It's been a decade since you were hired, and I have not regretted a single day since.
I am excited to wish the happiest of work anniversaries to someone who's more than just a dedicated employee but also a precious team member.
Congratulations on your workiversary. Thank you for your hard work and devotion as a valued employee.
Happy 20th workiversary to an outstanding employee. You're an incredible team member, and I'm grateful for your optimistic attitude.
You have established an exemplary standard for all of us with your work ethic and devotion. Thank you for the hard work you have done for us all these years. Happy workiversary to a reliable employee!
Work anniversary wishes to managers and Bosses.
Here are some heart-touching work anniversary messages to send to your managers and bosses.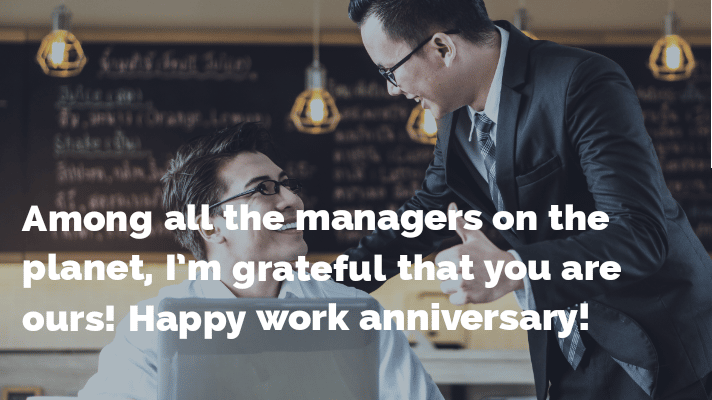 Among all the managers on the planet, I'm grateful that you are ours! Happy work anniversary sir/madam!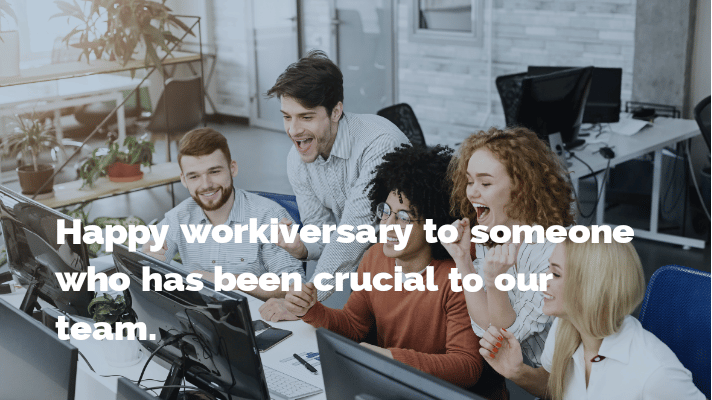 Happy workiversary to someone who has been crucial to our team.
Thank you for everything you taught me in the years so far and thank you for being an incredible leader. Happy work anniversay!
Happy work anniversary to an incredible Boss around!
I am grateful to have worked under you for a year, and I hope to be on your team for years to come! Happy workiversary!
Happy workiversary to a true leader who is more like a teammate in all the best ways.
Congratulations on completing 5 years here! We wish your bosses admire you as much as we appreciate having you as a manager!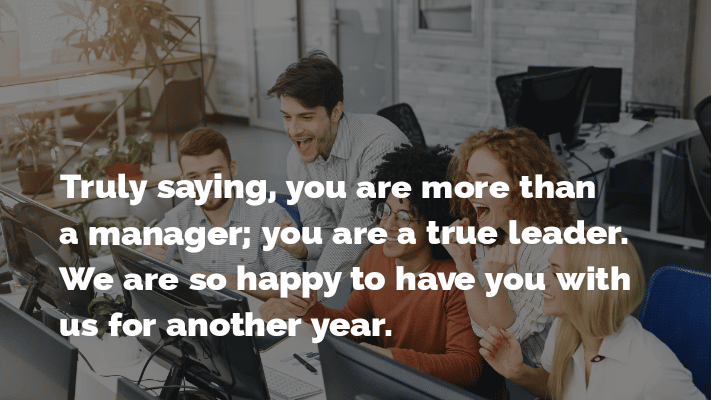 Truly saying, you are more than a manager; you are a true leader. We are so happy to have you with us for another year.
If I achieve half of what you have in your time here, I will acknowledge it as my career's success.
Happy work anniversary to a true leader who never forgets our workiversaries!
Heartiest work anniversary wishes to the Boss who made all of our workiversaries possible!
I can't imagine working here without a boss as awesome as you. Happy 5th workiversary!
Warmest wishes to an extraordinary leader who has gone over and above to lead our team over the past years. My heartiest congratulations on your work anniversary!
I don't have perfect words for all your company contributions and what you've done for me. Congratulations on your work anniversary!
Your leadership is a blessing to this organization. Your dedication and contributions are matchless. Happy work anniversary!
Every employee needs a manager with an abundance of positive vibes and confidence to get things done perfectly. Thanks for being that manager. Warmest wishes on your work anniversary!
Happy work anniversary messages for coworkers
Here are work anniversary messages that you can send to your coworkers.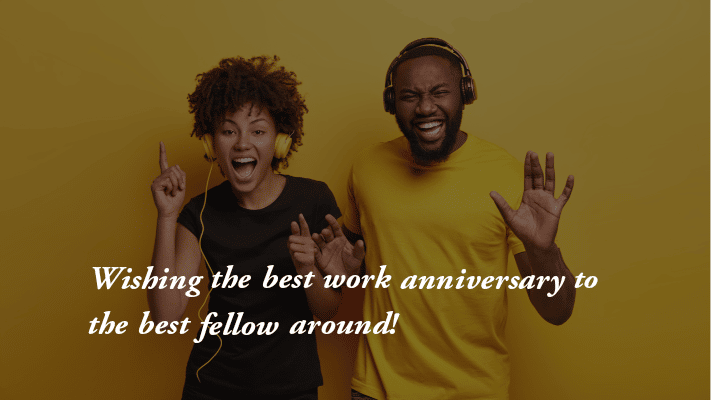 Wishing the best work anniversary to the best fellow around!
I am sure the future has big plans for you, but I'm so glad you are here with me in the present. Happy workiversary!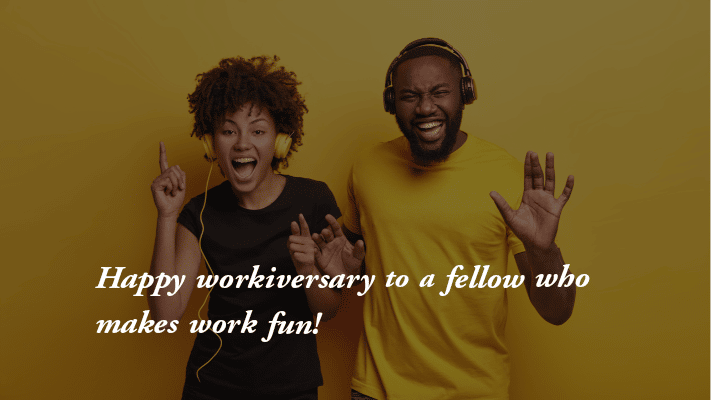 Happy workiversary to a fellow who makes work fun!
If all colleagues were as great as you, the work world would be perfect. Happy work anniversary!
You make a difference every day; we are thankful for your time with us. Happy workiversary!
Take it as your one-year-cheer. Woo-hoo!
Simple workiversary messages
Here are simple but incredible work anniversary messages and wishes you can send to anyone.
From the depth of my heart, wishing you a fantastic day. Happy workiversary.
Has it been 5 years already? Time flies when you are happy with your teammates! Happy work anniversary!
Today marks your first workiversary, but it feels like you have been here forever. We are glad to have you as part of our team!
2 years ago, it was your first day. The moment you joined us, everything changed! So grateful to have you as part of the team.
1-year simple work anniversary messages
If someone has completed their first work anniversary, here are two exceptional work anniversary wishes.
This is the first of many happy milestones. Warmest congratulations on reaching your one year!
Happy first workiversary! Looking forward to a 2nd, 3rd, 4th, and more!
Ten years work anniversary messages
Here are some handpicked messages to congratulate an employee who has completed a decade in the company/organization.
It has been a fantastic decade with you! Happy work anniversary!
Wow! It's been a decade. Each has been better than the last. Can't wait to see what you achieve in the following decade!
Thanks for being with us over this past lovely decade! So happy to have had you along for the roller coaster ride!
There have been ups and downs, but you have chosen the company and the team through good times and bad. Thank you from the depth of my heart for being here and being reliable.
Completing double digits at a workplace is no small deal. I appreciate that! Happy workiversary!
It's been ten years with you; here is how we feel it. Thank you for being an integral part of our company's growth over the years. We greatly respect and value your hard work and devotion. Happy tenth work anniversary.
Best quotes to wish work anniversaries
People may hear your words, but they feel your attitude.

– John C. Maxwell
The strength of the team is each individual member. The strength of each member is the team.

– Phil Jackson
A team is not a group of people that work together. A team is a group of people that trust each other.

– Simon Sinek
Pleasure in the job puts perfection in the work.

– Aristotle
If your actions inspire others to dream more, learn more, do more, and become more, you are a leader.

– John Quincy Adams
People rarely succeed unless they have fun in what they are doing.

– Dale Carnegie
Productivity is never an accident. It is always the result of a commitment to excellence, intelligent planning, and focused effort.

– Paul J. Meyer
Don't judge each day by the harvest you reap but by the seeds that you plant.

– Robert Louis Stevenson
Success means doing the best we can with what we have. Success is the doing, not the getting; in the trying, not the triumph. Success is a personal standard, reaching for the highest in us, becoming all we can be.

– Zig Ziglar
Somewhere, something incredible is waiting to be known.

– Carl Sagan
Why it's essential to celebrate work workiversaries?
We all know that employee loyalty is one of the most significant factors in business success; it either makes or breaks the business.
While understanding employee loyalty deeply, we have noticed that recognition and appreciation are the two most effective free tools to make employees loyal.
Celebrating work anniversaries makes an employee realize that the employee is meaningful to the company/organization; it also sends a message that the employee is being noticed.
As a result, employees feel special and put more effort and energy into achieving impressive results.
How do you say congratulations for work anniversary?
You can simply say "Congratulations" or "Happy work anniversary" to celebrate workiversaries. But it looks pretty formal and doesn't show the person (your coworker, manager, Boss, or employee) is important to you.
That's why the great idea is to send heartful work anniversary messages, quotes, and wishes; we have shared a great list of work anniversary messages, quotes, and wishes.