The ideal way to store and organize office files and folders depends on a number of variables, including the types of documents you have, how frequently you need to access them, and how long you need to preserve them.
Making a filing system is one technique to help with your sorting. It does not need to be complicated.
While it could be tempting to keep documents away until you need to refer to each piece of information once again, you should not wait another year to organize your paper files.
Otherwise, it becomes too hectic to organize your years of paperwork, so you should organize and store your important documents as soon as they are ready!
If your firm is small or new, choosing where or how to keep your papers might be a quick fix that can be completed in one day, but if it is a large business, it can be a hassle if it is not well maintained.
In an effort to make it simpler for you to select the best practices for keeping your vital documents safe, we decided to put together a guide to the many document storage options available.
The consequences of not having an organized system
An essential component of a business's efficiency is the use of appropriate documentation and record management procedures.
According to data, document problems typically account for approximately 21% of the decrease in productivity in companies.
Contrary to popular assumption, effective record management involves more than just neatly stacking your papers in filing cabinets. Maintaining their integrity, safety, and security is likewise a priority!
If you are unsure whether you need a filing system or not, here are the indicators that suggest you may need one!
There are more records or documents in your control than your staff members can file at once.
Dissemination of records is difficult for you.
Your office storage is beyond capacity with the number of paper records.
Records are regularly misfiled by your employees.
It's not over yet.
If you do not implement secure record-keeping procedures, your business could face legal consequences, as there is a risk of misplacing or losing crucial records.
If you have years of paperwork to store, you should buy 5 drawer file cabinet.
How to store paperwork like a pro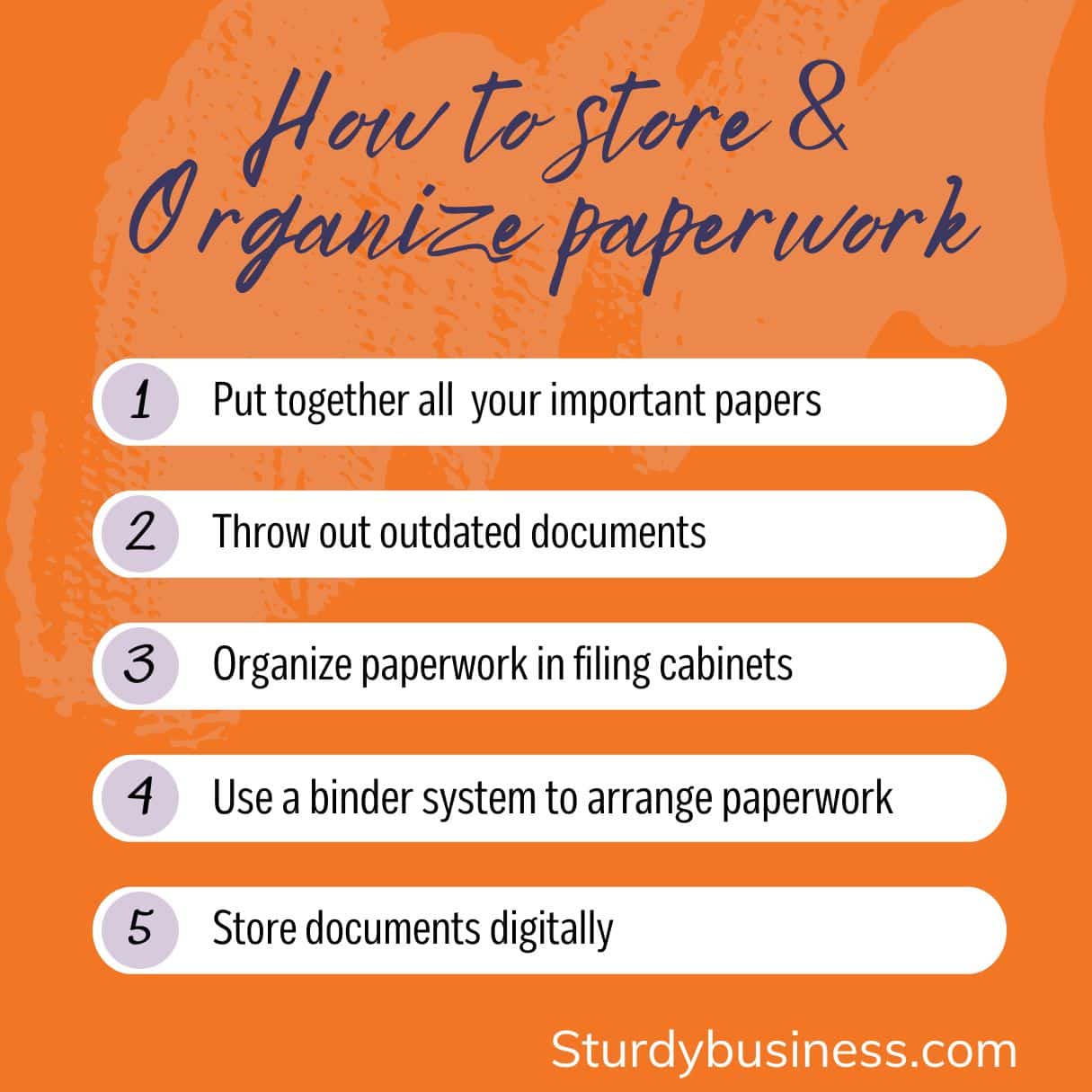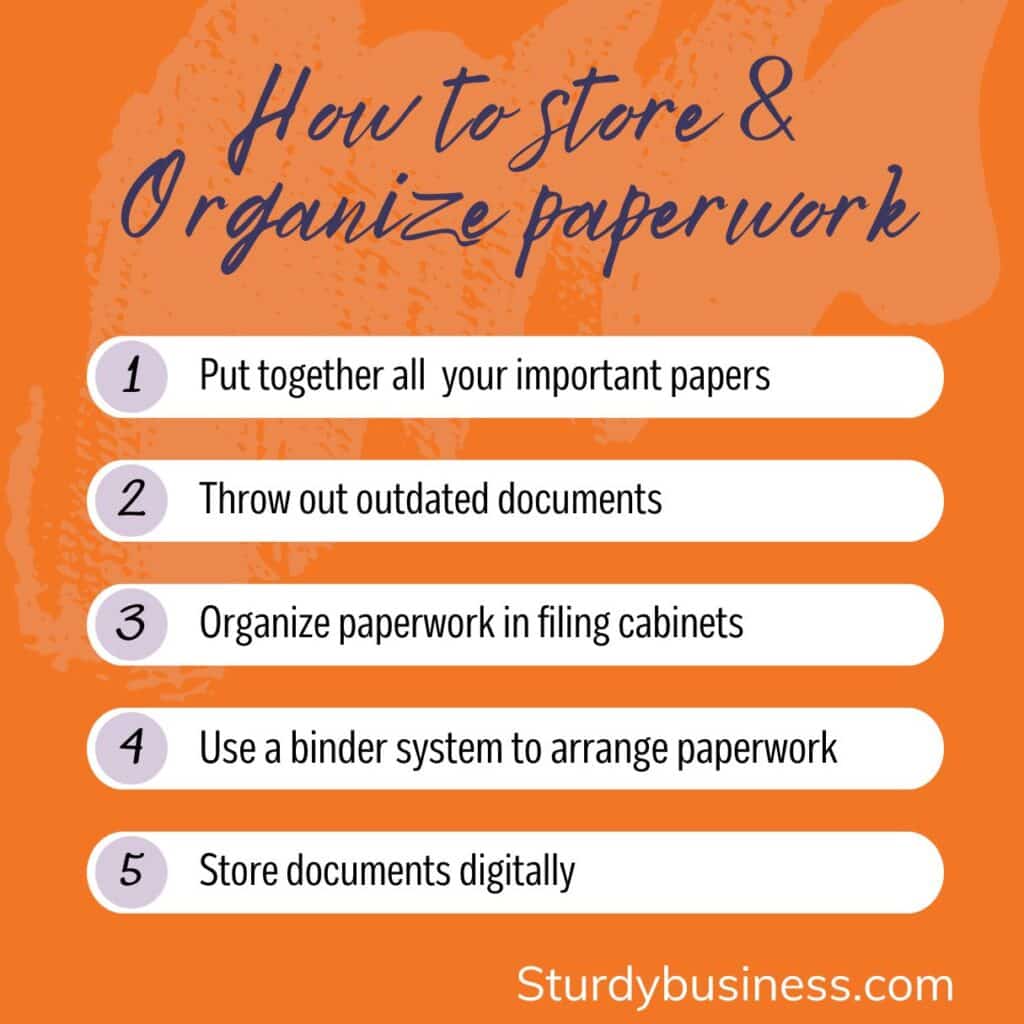 Organizing paperwork and documents is a tough job. In fact, there are some strategies that can make record management easier, otherwise, it creates a lot of mess.
As I deal with years of paperwork at the office, I know, how hard it is to organize and keep sensitive data safe.
If you don't want to mess with papers, you can use these best strategies to organize all of your paperwork in a simple and practical way:
Put together all your important papers
The first step is to gather all your papers in one place and examine each one individually.
It's important to check every page of any paper, even those that are enclosed in envelopes, to see whether there are any undesirable materials such as leaflets or other papers.
This may be the most time-consuming but crucial step.
It can be useful to organize documents into categories. This facilitates quick and simple filing once you are done.
Throw out outdated documents
No matter if it is a stack of papers or a digital folder, it is important to have a strategy for securely discarding information when you need to.
You should remove any documents that are out of date or that you have determined are unnecessary once you have established an organization system that works for you and has categorized all of your documents.
Organize paperwork in filing cabinets
Document storage in filing cabinets is standard procedure.
Filing cabinets come in a variety of sizes and shapes, and they can be locked for added security. If you don't already have a filing cabinet, you should read this filing cabinet buying guide.
Alternatively, you might consider purchasing one of the best 4-drawer office filing cabinets, which is commonly used by many businesses.
If you already have a filing cabinet, you can follow these simple steps to create an organized filing system.
Gather all the documents you need to file and sort them by type
Next, design a system of labels with distinct and brief headings for each category
After that, put the documents in the correspondingly titled folder. A consistent labeling system should be applied to the whole filing cabinet. Remember that the front of the filing cabinet should be filled with the most crucial documents for easy access. Dividers are another tool you can use to organize a folder into many groups.
To arrange your files by topic, pick colored file folders
Use inner files to separate subtopics and use hanging files for the main topic
To save time, alphabetize the major categories
Last but not least, keep the filing cabinet organized and effective by frequently going through it and clearing out any unnecessary papers.
Your documents are protected against deterioration, loss, or misplacement by a filing cabinet, which provides an organized and safe storage system.
You can discover the papers you need quickly and keep a clutter-free workspace with the help of effective labeling and categorization
Use a binder system to arrange paperwork
The best method to organize with binders is to reduce paper clutter and make vital documents easy to find in an emergency.
If you want to start using binders for organization, start by considering the documents that you frequently need to access or that you would like to be able to locate easily
It could be useful to create multiple types of binders if you have a lot of paperwork that you need to regularly review. Here are a few ideas:
As needed, create dividers for your binder. Back up the final binder with a stack of blank loose-leaf paper. As you require more paper, take it out and put it away after you are done with your work.
Papers can be filed in divider sections either from most recent to least recent, or the other way around.
The date should always be written on the top of loose-leaf paper. This makes it simple to hunt down things if the loose-leaf papers become separated.
In a binder's front pocket, you can retain assignments that need to be handed in, and a clear plastic pocket can hold items like guidelines or sources of information.
Documents that are important or are used often should be placed at the front of the binder.
Before you close the binder, make sure to carefully place the papers in the back
Store documents Digitally:
If you have a lot of data to store and you can't afford to put it all in your filing cabinets. This is the best solution.
The amount of paper you need to store can be reduced by switching your files and other records to digital storage.
I understand that many of us may be hesitant to fully rely on digital storage, but it's not a bad idea.
Some non-sensitive data can be stored on your business laptop, while it may be safer to store it on your business desktop or utilize cloud services.
In a nutshell, storing documents digitally is an excellent strategy as it centralizes all your documents in one location for quick access.
Many people appreciate it because they don't need to organize or invest in new storage solutions.
The level of sensitivity of the information will determine how secure your digital storage needs to be.
For any size business, it is important to safeguard financial data, so you should consider additional security precautions beyond what your software solutions provide.
Digital storage allows you to access your documents from any location and on any device.
Saving your documents digitally is relatively easy.
You can scan the documents, add them to cloud storage or your computer, and group them by category, similar to a traditional filing cabinet.
Use Cloud-Based Storage Systems
If you want to access your documents globally or remotely, the best solution is to save them on cloud storage.
Scanned paper documents can also be kept on cloud storage platforms like Google Drive or Dropbox. While most of them (like GDrive) are free and encrypted, you might also need to utilize a password manager to lock the files and prevent unauthorized access.
The only drawback to cloud storage is that nothing is ever completely secure. There is a little risk involved! Like a malware attack can steal your password.
If you are considering using this option, make sure to back up your files on an external hard drive at least once a month to guarantee the security of your data.
Off-site storage system
This option is good for those who face space issues. Off-site storage facilities provide outstanding security and reasonable space, making them a cost-effective choice.
Inactive paper files from your home or company might be stored in facilities that offer storage rooms.
You can organize these documents in sealable boxes and store them away in such facilities if your office requires you to maintain many customer documents over the course of several years.
Some tips for document storage:
No matter how you choose to store your documents, there are a few best practices you should follow to keep your storage system organized and effective.
Here are some pointers to assist you in doing this.
Keep your documents accessible when storing them
You can certainly save some money by keeping storage in-house, but it's crucial to have a reliable system in place to ensure that your documents are easy to find
Prevent deterioration of your papers
You must consider wear and tear if you want to prevent your documents from being harmed. They can still sustain damage from frequent handling, sunlight exposure, and spillage even when they are stored safely. To lessen the possibility of damage, place them on plastic page slips before filing.
Boxes and binders must be kept off the ground
Cardboard storage boxes may become damp and humid from the ground, which will lead to the degradation of both the boxes and the contents inside. Place boxes wherever they are possible above the ground, such as on shelves.
Final thought:
We are all aware that dealing with papers is a challenging (and frustrating) aspect of life. Even though scheduling time to organize paperwork and documents may seem difficult, if you only handle one duty at a time, it can actually be very simple.
It is crucial to organize and store this paperwork, although the most effective strategy will vary depending on each person.
We have pretty well-covered everything there is to know about document storage. With this information, you should be better equipped to choose how to keep your papers.