Selling domains for profit is a great business. But selling domains itself is not an easy process. Sometimes, it requires a lot of patience.
So you shouldn't think you will list a domain and it will get sold.
This business demands a lot of expertise.
At least, you should be well-equipped with the following tools.
You should learn how to find and buy high-authority premium domains.
You should learn how to find the right buyers to sell domains at the best prices.
So here is the thumb rule.
Not all domains are great domains, and not all buyers are the right buyers.
Let's say you have a great domain for a laundry business, and if you try to sell it to a grocery store owner, you will waste your energy.
But this guide will help you go through all the steps and sell your domain names.
We have covered all the key areas to price domains accurately, find the right buyers, present your domains the right way, and sell safely.
This guide is not only helpful for those who want to adopt this business as a full-time job. But this will be equally helpful for those who own some unused domains.
It's normal that all entrepreneurs, business people, bloggers, and investors buy domains for some ideas that never come true.
Such unused domains are a burden on the account, and they must be sold on time. Otherwise, you regret it.
I remember I had a nice domain in 2012. Someone offered me $200 for the domain, but I didn't sell it. I had plans to use it for a blog later. After years, I changed my mind and I didn't renew it.
Similarly, once I realized that it's necessary to sell domains at the right time. I got an offer of $3000 for another domain and I instantly sold it.
I sold through a GoDaddy auction.
It was not totally a GoDaddy auction sale. I had reached buyers privately and one of those guys purchased the domain through Godaddy. The domain had a nice domain authority and traffic.
So in this domains selling guide, we will discuss practical methods to sell your domains privately and through domain-selling marketplaces like Godaddy, Flippa, and Sedo.
The process to sell a domain name starts with valuing your domain.
Calculate your domain's value accurately
If you don't know how much your domain is worth, you can't sell it, or at least regret it.
For instance, Daniel sold a domain for $26 at an auction. The buyer sold it at $2000 on another marketplace instantly.
The reason was that Daniel had no idea domain's price.
Similarly, many sellers never sell a domain because they demand a price many times higher than the actual price.
It's true that you never know the actual value of a domain. It's not s scientific process.
The simple rule is if you get the right buyer, the buyer will pay the best price. But it doesn't happen frequently.
If you want to sell a domain name quickly, you should rather try to estimate your domain name first.
There are some appraisal tools that estimate your domain based on other similar domains sold. But appraisal tools are not accurate. You should rather try to estimate your domain name price with the following tips.
Domain name length:
The first thing that attracts a buyer is how short the domain is. As the shorter the better. If you have a top-level domain (TLD, like .com domains) with three characters, it can sell for thousands of dollars to a million dollars.
For instance, STM.co was sold at $20,000, and eth.co was sold at $300K.
Keyword and relevancy
The next big thing that has a great influence on the price is its relevance to the industry. Is your domain industry specific? Let's say domains with eye-catching keywords.
In sturdybusiness.com "business" is the primary keyword.
Keywords and relevancy will attract more buyers. Thus making the domain more valuable.
Is your domain name easy to remember?
The domain name itself plays a big role in valuing the domain. If it's easy to remember, it becomes a hot cake for buyers.
Do you have a domain that's short and easy to remember?
Backlinks profile
The next big thing that has a great influence on the domain price is the backlinks profile.
None of the appraisal tools use this intelligence while valuing a domain. But humans do.
That's why you should never rely on appraisal tools. Although, if the domain doesn't have any sound backlinks, appraisal tools might overvalue your domain.
Domain history
Unfortunately, appraisal tools don't rely on domain history. That's why they can't guess prices accurately.
For instance, even a premium domain that is expired can be available at a very cheap price.
Now, if the domain was used for some spam, malicious activities, or redirects, the domain has no value.
Otherwise, it's a great asset.
Here is an example to make you understand.
I found the domain name businesshelp.com. It's a great domain available for under $5. It's a great deal. But the problem is that this domain has been used for some black hat SEO techniques, and it has some redirects in history.
You can also check its history in the waybackmachine.
Buyers don't take interest in such domains. They need clean domain names.
Now, with the following tips, you can guess how much your domain is worth.
If you are still confused.
You can use any appraisal tool.
All the appraisal tools use the same technique to price a domain name. They check length, keyword, extension, and the average of other similar domains sold.
But tools may or may not be accurate. Tools many times over-value or sometimes devalue the domain price.
Here is an example.
As I have mentioned earlier, eth.co was sold at $300K.
Now I checked the price through the Godaddy Appraisal tool.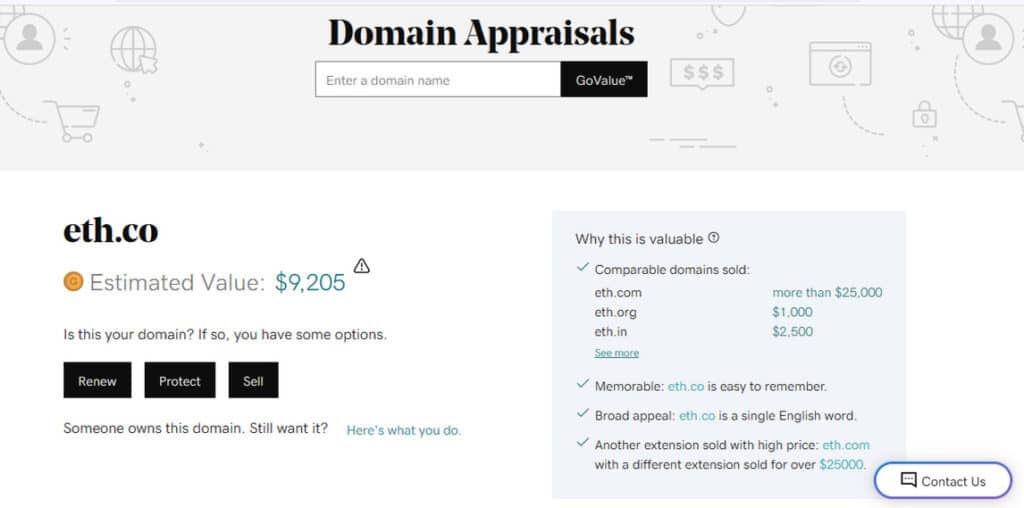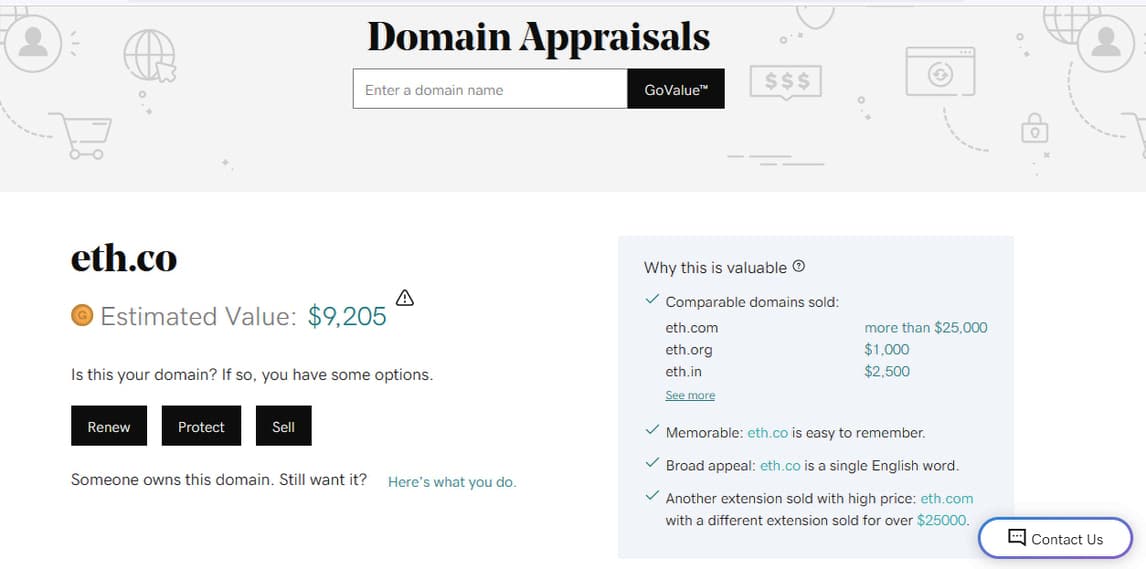 According to the Godaddy appraisal tool, it's the price is around $9K that's far less than the actual price.
Here is my guess why this happened.
There are three clear reasons.
This domain was registered in 2013 and expired. (Source: WayBackMachine)
Similar domains are sold at very low prices.
The domain doesn't have a .com extension.
So we can't say that appraisal couldn't guess the right value. They valued the price in general, but as tools are not sure about the use case, and other factors, they can't guess how high it can go.
Appraisal tools can never be accurate because they can't judge all the details. But humans do.
So if you are not sure how much value your domain is, you should ask domain name experts.
There is a forum named, NamePros, where buyers and sellers discuss their domains. You can also ask experts to value your domain.
Not everyone on the platform is an expert, but someone will surely tell you the right price.
Now, when you know the actual price of your domain. You can move to the next step to sell your domain names.
Here are the best ways to sell a domain name
There are multiple ways to sell a domain, like selling a domain through social media platforms, email marketing, reseller brokers, and auctions.
But if you want to sell your domain names quickly then definitely selling on auctions is the best way to sell domains.
Selling domains on auctions has two steps.
List your domain.
Invest money advertising it.
You are done.
If you don't want to invest money or pay commission rates, you can sell your domain names for free. It won't cost you money, but it will take your time and effort.
There are dozens of social media platforms like Facebook, Linked In, Twitter, and sites like Craigslist where buyers and sellers meet one another.
You can join relevant communities, and share your domains. If you could find the right buyer, you will sell it for free.
The other best platform to sell domains without paying commissions is EFTY.
They charge you a monthly subscription fee according to the domain's quantity. Let's you will pay $15/month for listing 50 domains.
Makes sense?
Now let's move forward to the famous ways to sell domain names instantly. The two of the following are totally free.
Here are the best places to sell domain names
The best five ways to sell domain names are:
Sedo
Flippa
Afternic (Godaddy auctions)
Sell in communities (FREE)
Reach outs (FREE)
All of these are the best well-known ways to sell domain names.
The mentioned three platforms have a strong attraction for buyers to find great domain names. Whenever people are looking for powerful domains, they always check these places.
But these three platforms will cost you money. You will pay up to 20% of the total domain value and also some listing prices.
Here are the commission rates for these platforms.
Commission rates
Commission rates help you decide on a better price for auctions. Let's say if you are offering your domain at $1000 privately, you can make it $1200 for Afternic.
Commission rates for Afternic
Afternic (Godaddy) has 3 different plans for premium listings. Here are the details.
For domain names with a price range of $0 to $5000, they shall take 20% and at least $15 for a successful sale.
For domain names with prices ranging, from $5001 to $25000 they shall take $1000 + 15% of the amount over $5000.
For domain names with price ranges, of $25000 they shall take $4000 + 10% of the amount over $25000.
So while setting a buy-now price, it's always better to add something extra than you already had in mind. Godaddy shall take $5/yr to join the marketplace.
Commission rates of Flippa
Flippa has some great commission rates for selling your businesses and domains. You can sell your domain names, websites, and even starter websites and applications, but the commission rates are the same for all successful sales.
Up to 50K successful sales, they shall take a 10% commission.
From 50K to 100K they shall take a 7.5% commission.
Over $100K it's only 5%.
But they shall charge you for listing your product, and they shall get your domain name in front of the right buyers.
Commission rates of Sedo for successful sales
Sedo is in between Godaddy and Flippa. They have the following commission rates.
10% if the domain was parked and sold with a fixed price.
15% of the gross amount for all successful sales in the Sedo marketplace.
20% if it's sold through SedoMLS partners.
So it's a great place because this marketplace is dedicated to selling and buying domain names.
Listing domain names on top marketplaces
Once you have decided where you should sell your domain names, or even it's preferable to list your domain name on all these platforms.
Let's move on to how to list your domain names on these best marketplaces.
Listing your domain name on Afternic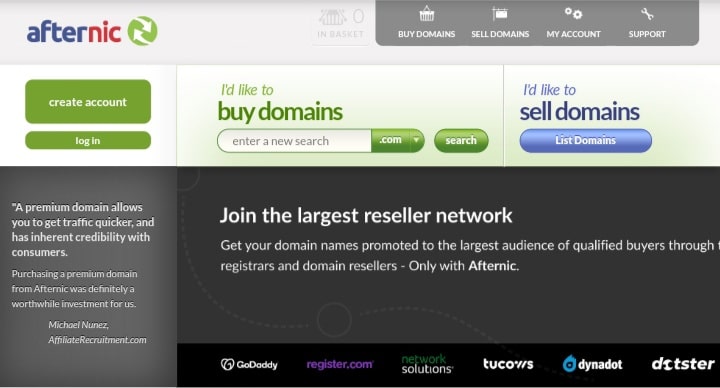 Selling on Afternic is easy but most people don't know how to sell a domain name on Afternic. Godaddy is the parent company of Afternic, and Afternic is one of the top companies to buy and sell domains. It has a great market for selling and buying domain names.
Here is the step-by-step process of listing your domain on Afternic.
Join Afternic. It will inquire about some essential details. Be real.
Verify your email.
Click on the sell domains in the top right corner.
Add domains and click continue.
Set prices.
Submit for processing
And you're done.
But if your domains are on Godaddy and you have a membership for Godaddy auctions then it's far simpler to list your domains on auction. You can follow the following steps.
Login to your Godaddy auctions account.
Click on "List a domain" available in the second top menu.
Add domain name and other details.
Set "7-day public auction" to make it available for public auction.
Agree to their terms.
And click finish.
You can choose to promote it with just a few bucks. Your listing will appear after 72 hours in the public auction.
Listing your domain on Flippa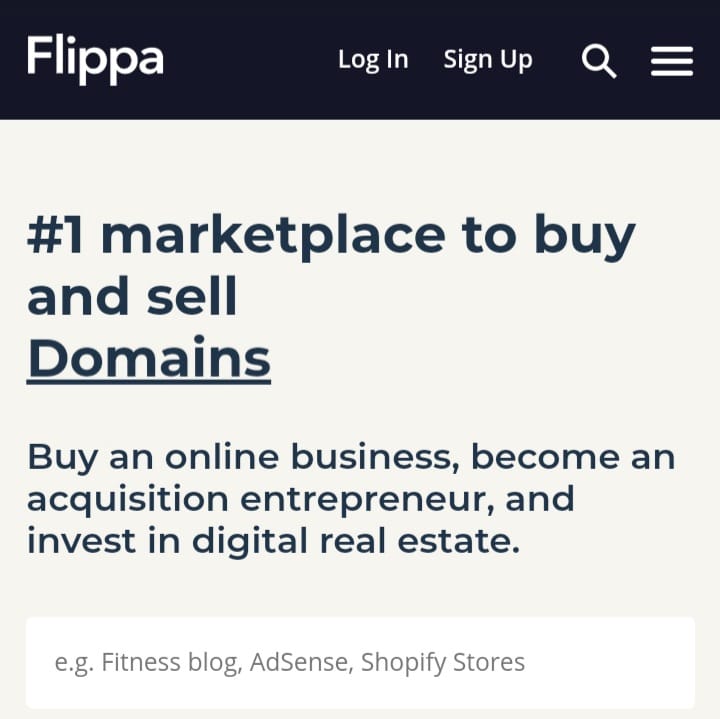 Follow the following steps to list your domain name on Flippa. It's the best place to sell domains.
Join Flippa. It's simple as others.
After verification of your account, click on "Sell Now."
Add the URL of your domain.
Click Domain and then click Let's go.
Add a tag line. It should be eye-catching. Like, Brandable domain name with domain authority 50, etc.
Describe it. Explain why one should buy your domain.
Choose auction or classified depending on your need. Choose an auction if you want to make it open for bidding for some specific time.
Set your desired prices. Keep the minimum value the least so that buyers could bid on it if they have the least price. Don't worry; you are not selling on it; it will just get others' attention.
Choose your plan to promote it. It starts at just $10. If you want to sell your domain names instantly, then choose a better promotion plan.
Choose your payment method.
Verify it.
And it's live on my favorite marketplace to get buyers' attention.
Listing your domain on Sedo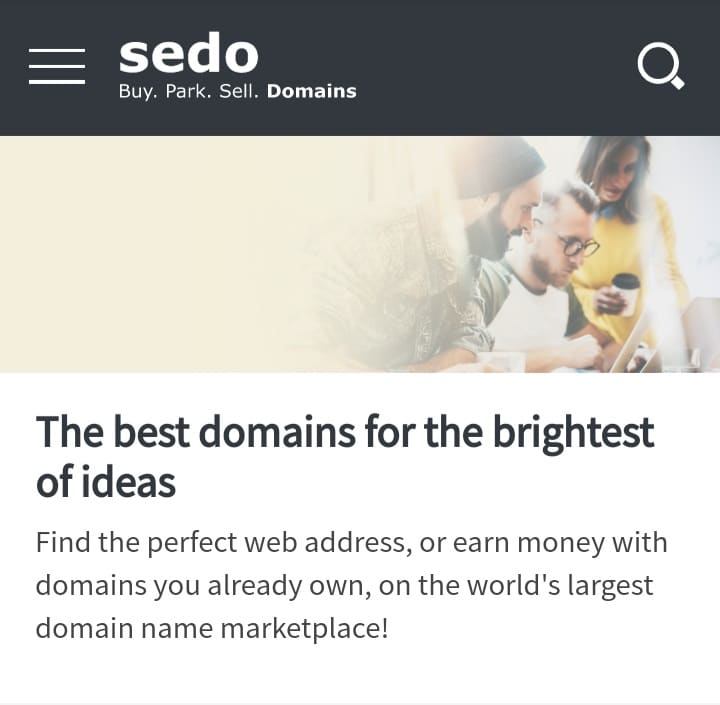 It's also as simple as listing on other the best marketplaces.
Join Sedo. It's simple.
After verification, log in to your Sedo account.
Hover over your name, and a new tab will appear, click Add domains.
Add your domain name (names).
Agree to their terms and conditions and go to step 2.
Set the price for it.
Choose the price option, "Buy now" for a fixed price and "Make an offer" for bidding.
Set the minimum price, from where you will receive bids.
Go to step 3.
Choose your registrar. And click on "Please complete your payment details!" to add your payment details.
Agree to their terms and click Finish.
Later on, you will get an email to verify your domain and you will require to change DNS or add TXT records for verification.
It's reviewed before it appears on your domains list.
Sell domains in communities
If you want to sell domains for free, the best places to sell your domains are relevant online communities.
Let's say, as I mentioned NamePros and Facebook. There are many similar platforms where you can present your domain and sell it for free.
Let me tell you a real story of a Facebook friend.
I met a guy in a Facebook group. He was offering high domain authority (DA) domains with $10 to $50 dollars commission
The great thing about this process is that he doesn't buy any domain.
He finds an expired domain, and shares domain details (domain authority, domain age, spam score, character, extension) in the groups and on his wall.
Interested people buy the domains with their money, and pay him a commission for finding the domain.
You can also use the same technique to sell your domains. But if you own premium domains, this technique might not work.
You might not sell a $20K domain through a Facebook group.
The second drawback of such communities is that it's risky.
Many scammers are there to scam your domains, don't trust anyone. Always use an Escrow but they will charge money once again.
Reach out to companies and businesses
Many times, you have premium domains and you want to sell them to companies.
I have collaborated with different companies on different matters. I have realized that companies usually don't handle such jobs on their own.
But if you make them an offer, they analyze the offer.
So if you want to sell domains to businesses and companies, you need a lot of preparation.
For instance, here is what you should do to sell domains to companies.
You should reach out to the right person in the company.
Present the domain the right way. Make them realize it's worth investing in.
Make sure they feel comfortable buying from you.
Meet in person or use Escrow.
The hardest thing to sell domains in reach outs is finding the right person in the company.
If you can't do that yourself, you can hire any professional to do it for you.
Conclusion
We have noticed that there are multiple ways to sell your domain names. But the secure and fast ways are to use the best marketplaces available online.
Such marketplaces charge money, but they make selling safe and quicker.
If you compare commission rates, Flippa has the least commission rates. So Flippa is overall the best marketplace to sell your domain names. And when it comes to selling domains for free, online free communities like Facebook groups are the best places.