If you are running a store on Amazon, you must already know what SEO is. If you are still unaware of the term, here is a pretty simple definition of SEO:
Search engine optimization (SEO) is optimizing a webpage to rank organically on the search engines.
For instance, you optimize your products and listings to organically rank on the first page (or ideally first position) on Amazon for your desired search terms.
How do you do that?
You follow Amazon's guidelines to secure a position on the first page for your desired search term (also known as a keyword).
The exact path you can adopt to rank your Amazon products and listings on the world's biggest search engine – Google.
The good news is it will not hurt your rankings on Amazon at all, but it will help you be more unique and outrank on Amazon and Google.
So optimizing your listings on Amazon is a win-win: You are more likely to secure some good positions on Amazon and Google.
But here is the problem.
Google SEO isn't for all Amazon stores.
The top reason is that in Google SEO, URL plays a significant role. If you keep changing URLs, you are less likely to rank on the first page.
So let's try to figure out:
Which Amazon stores should focus on Google SEO? And which shouldn't.
Should you optimize your Amazon listings for Google?
Here are some situations when you should prioritize and focus on Google SEO for amazon listings.
Niche stores: If you are a niche or microniche store on Amazon, Google SEO will be worth the money. The reason is that you can focus on your primary keyword and optimize all your listings accordingly. It boosts rankings.

For instance, if you offer computers, you can optimize your whole store for the primary keyword. You have a great chance to rank for competitive keywords on Google. And if you are a microniche, for instance, you offer business laptops, you must focus on Google SEO for your Amazon listings.

Evergreen products: As an Amazon affiliate, I have monitored Amazon listings for years. I understand that some Amazon listings are evergreen; you don't delete the listing for years.

Money counters, file cabinets, furniture items like couches, and many other products are evergreen. You can stick with one listing for years, if not decades.

Potential customers: You might already know that Google secures 91% of the search market in the world. It has many times bigger audiences than Amazon, so if you want to expand your store to attract potential customers from a big marketplace. You can start with starting a website, or you should prioritize Google SEO for your Amazon store.
The following example will make up your mind about it.
If we see the estimated search volume of the search term "Couches" on Amazon and Google, we see a big difference.
Here is the result for Google.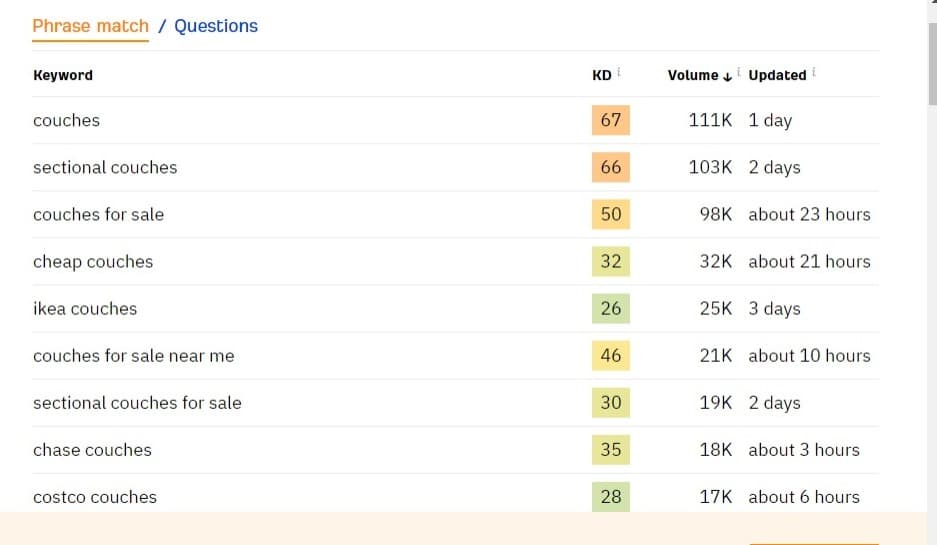 Here is the result for Amazon.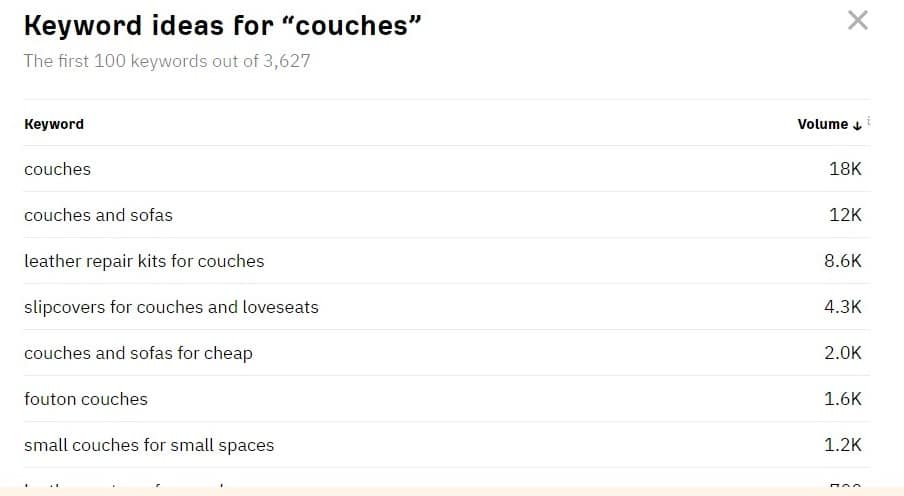 Approximately ten times more people search for couches on Google than on Amazon.
If your listings or store ranks on Google for those keywords, it's a win-win. You are getting traffic from Google, and it's also helping your Amazon SEO.
Makes sense?
The other great way to target this traffic is to launch your business website. With your business website, you build trust, do branding and get tons of free traffic.
When is Google SEO not worth it for your Amazon store?
Here are some situations when Google SEO isn't your thing.
Broader audience: If you don't have a niche for your store, you might not secure good positions on Google. However, if you are a reseller and the product itself has loyal customers, then it can help you secure positions for product names.

Changing listings often: Many resellers have to change listings often. For instance, the actual seller has updated prices, and you can't afford it, the product went out of stock, or there could be many other reasons.

In all situations, Google SEO is not a good fit for your Amazon listings.

Competition: If you see massive competition against your products, you shouldn't even consider it. The reason is that if many giants are spending tons of money on high-traffic keywords, instead of burning money here, you should rather launch your business website or focus on PPC.

Traffic and CTR: People sometimes prefer using Amazon for buying intent rather than searching on Google. In that case, Google SEO won't get you a handsome ROI (return on investment).

You should ensure that there is some good traffic on your keywords and that the CTR is also fantastic. Many tools like Ahref, Semrush, and Google keyword planner give you a rough estimate of each query.


How to get started with Google SEO for Amazon?
If you think Google SEO will be worth the money for your listings, the next question that comes to mind is how to get started.
There are two ways to optimize your Amazon products for Google organic traffic.
Do it yourself: If you don't have a good budget or the revenue isn't good, you can start optimizing your Amazon products for Google yourself.

As said earlier, the path is almost the same as you optimized it for Amazon, with some key differences.

In Google SEO, nowadays, on-page optimization plays a big role; If you publish high-quality content in your listings, you can appear on Google. However, if there is sound competition, you can start building dofollow links.

The key difference is content. As many of my friends are in dropshipping business, I know they don't produce high-quality content for their listings. They think that if the content is plagiarism-free and keywords are added, that's enough.

But Google loves high-quality, optimized content; if you could manage to get that, you can surely Rank on Google's first page yourself.

Hire an SEO consultant: External consultants charge you money, but they save you tons of money.

For instance, if you want to do this, you will start by learning SEO, staying in touch with the SEO industry, and much more. As a result, you can't focus on many other jobs.

On the other hand, if you hire an SEO consultant, they have advanced SEO knowledge, years of experience, industry tools, and a strategy to rank on the first page.

As a result, they save you time, money, and resources and let you focus on the things you are good at.
How to hire an SEO consultant for Amazon listings?
Knowing how and where to hire an SEO consultant or an agency for your Amazon store is also important.
As SEO is remote, you don't need to find SEO experts locally. Anyone around the globe can do it.
You can work with any consultant but research the agency.
Here are essential things to consider while choosing an SEO specialist for your Amazon store.
How long have they been in SEO? Where are they currently heading on the SERP?
Does the SEO consultant have an online presence where you can review them? For instance, if an agency with a website doesn't offer good services, you can leave bad reviews around the globe.
Ask the consultant/agency/freelancer how much it costs.
SEO agencies and freelancers often charge between $70 to $150 an hour. Some experts may charge over $220/h.
Make sure to find an affordable expert in your budget range. For instance, sturdybusiness offers small businesses the most affordable SEO services at $50 an hour.
The top reason behind these cheap rates is that we want every business to grow, so we prioritize small business affordability instead of prioritizing profits.
We have secured top positions hundreds of times and can do it for you. If you need an Affordable google SEO service for Amazon, you can contact us.
Contact Us