Before buying a laptop for your business or personal use, you would have realized that manufacturers always put forth a business and a consumer version of the same line of laptops.
It makes you wonder why there are two different yet similar-looking versions of the same product.
These two versions only look similar but are made for two different types of buyers.
While home laptops are usually designed for style, business laptops offer a sturdy chassis, more intricate design specs, and improved durability.
Corporate customers with more prominent companies buy these laptops by the thousands and expect these business laptops to last several years.
They are definitely eager to run a hassle-free business by investing once in a tech product of high-quality standards.
The same goes for solo entrepreneurs, remote workers, or someone in a representative position that involves a lot of traveling; it's essential to understand the ins and outs of the business machine to rely on.
Even if you don't work traditionally, all you do on your laptop is write emails, surf the Web, and post your copies to social media; you can benefit significantly from a notebook optimized for productivity but still affordable.
What is a Business Laptop?
Before we discuss the key differences between business and consumer laptops, first, let's understand what makes a laptop a business laptop.
Here are the two bullets that make a difference.
A business laptop is equipped and tailored for company use by multiple people. Manufacturers optimize commercial laptops for traveling and complicated features than regular laptops.
An office laptop will be more savvy in battery life, speed, and power to keep up with a long-hour workweek. Laptop battery life, speed, and power are even more necessary when video conferencing as organizations are inclined to use multiple tools to connect.
We have compiled a list of all the aspects and features that make a business laptop your perfect investment designed specifically to meet your business needs.
If you are a business owner and don't want to boil the ocean, here are the top-rated best laptops for small business owners.
Business vs. consumer laptop – a complete comparison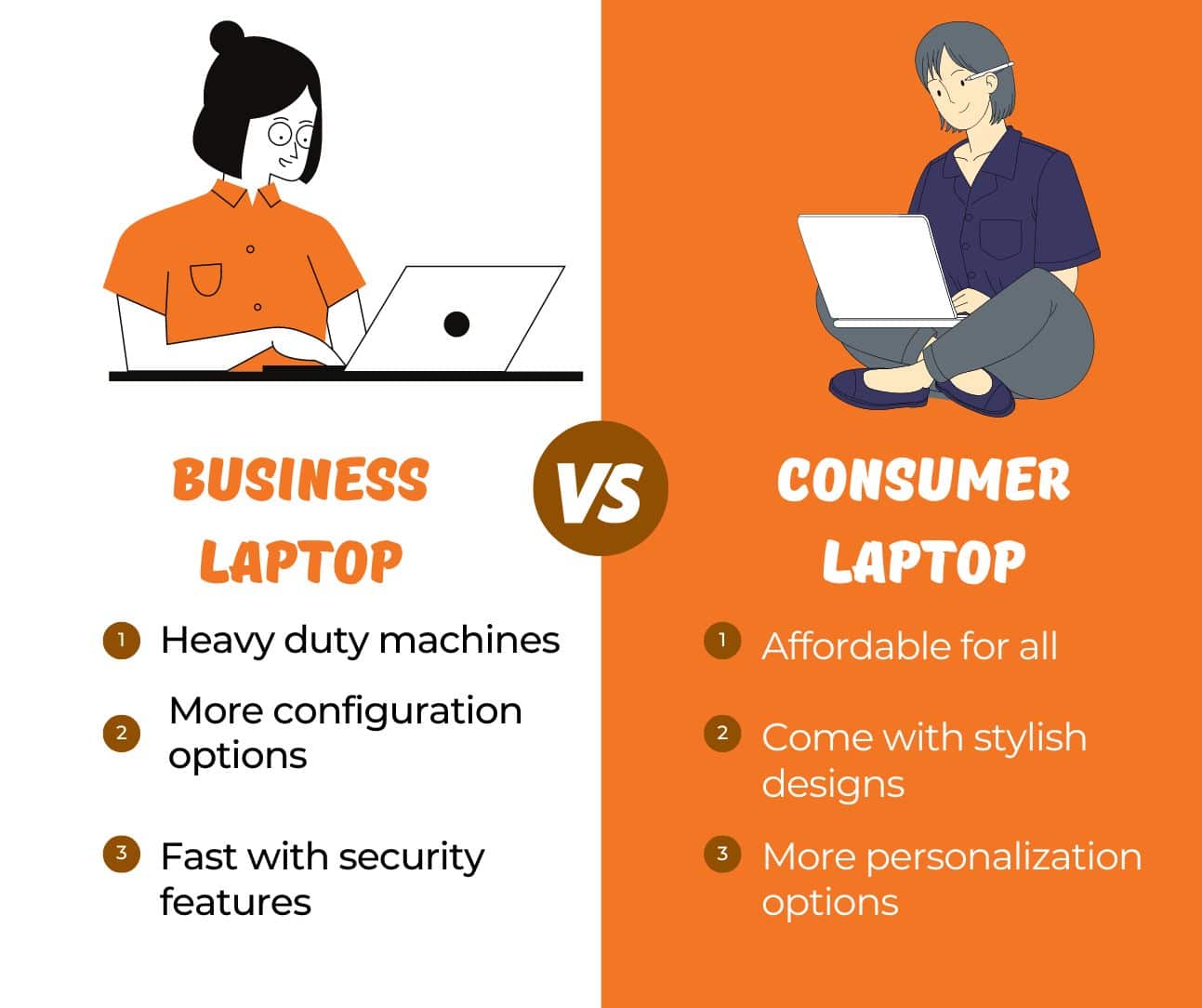 Now, let's discuss every aspect that distinguishes a business laptop from a consumer or regular laptop.
Hardware – Performance and Storage
You might find the exact hardware parts specification used in business and consumer laptops.
But business laptops have faster processors, higher RAM, and larger and faster hard drives. SSD (solid-state drive) is also a preference for all commercial laptops.
The hard drives use sturdy components and hold up to unexpected bumps much better than many personal laptops.
On the other hand, low-cost regular laptops will not be able to withstand damage very well.
Business laptops also come equipped with a webcam for virtual meetings, lots of USB ports for external devices, and the biometric fingerprint scanner is a win of a security feature.
A built-in 4G modem for cellular broadband is another attractive feature of most latest business laptops on the market. This feature enhances work efficiency and keeps the employee team connected even during travels.
On the other hand, home or regular laptops don't necessarily need to have business features.
If you have a fast processor, sufficient memory, and the necessary storage, you have a perfect consumer laptop.
But as you don't have all the required features, you cannot use it for work.
For instance, you don't have an excellent camera to attend meetings, you don't have an HDMI port to connect to other monitors, and you might not have enough RAM, which is essential for multitasking.
In short, a regular laptop definitely won't help you complete your work without interruption.
Battery Life
The next key difference between a consumer and a work machine is its battery life.
Business laptops have powerful batteries that last longer than regular laptops.
To understand the scenario, just imagine going to a business meeting, working on your machine throughout, and then having to plug it in somewhere for your presentation.
No business person can afford that.
Additionally, a good battery with a longer runtime instantly affects your employee's work output
As every business has its own dynamics, a strong battery backup gives your team the freedom to work remotely.
For companies with many virtual client meetings, a strong battery saves them the worry of running around with chargers.
Business machines with a battery runtime of 8 to 15 hours can easily last a whole workday without any charging breakdowns.
Some daily-life laptops come with a sealed-in battery that is irreplaceable without visiting the service center.
Whereas many business-specific machines have swappable batteries, which make work hassle free. For instance, Latitude 14 5000 offers a 3-cell or a 4-cell battery.
Security Features
One industry standard for business machines is to have a biometric fingerprint scanner under their arsenal- even the lighter models have this feature.
But the scanner spec is a rarity for personal use laptops.
It's typical for any corporate laptop to have built-in software to ensure the security of your company's data.
Not to forget where these added features are a must for business devices, this security gap is quickly filling up as consumer laptops are not falling behind.
These days, companies are in the race to manufacture business and consumer products that match any digital device's high-end requirements.
So for starters, your company is more stable with business machines as they also have antivirus software and security acceptance.
Warranties and After-Sales Support
The warranty is also beefed up with business devices, which are expected to last a few years.
For example, HP business laptops come with three-year parts and labor warranties.
Manufacturers offer exclusive service teams for business users as a product with excellent features is backed by a good service facility.
In contrast, regular laptops do not have that course of action.
Business laptops are heavy duty
With consumer laptops, buyers have the incentive to upgrade frequently to stay on par with the latest tech trends, and companies take this on by playing with the specs and design of their products.
Manufacturers also assume that consumers get lighter use from their laptops than business users.
The design companies of digital products create their ware keeping this objective foremost as business laptops are created for tough, endless usage.
It's not feasible for companies to constantly upgrade entire hoards of laptops, so they benefit from the business designs as they don't waver excessively over the years.
Usually, companies are looking for high tech durable business machines that are a one-time spend but are fit to go for years without a headache. Commercial devices are made to function without a lot of wear and tear; features like swappable batteries and extensions add to the lifespan of these products.
Maintenance
Maintenance of business laptops is much easier because of the compatible design, and the added bonus of changeable batteries extends the life span of business devices.
Additionally, it is standard for business machines to be durable. Most are water resistant, safeguarding against the occasional spills, and can also take well a few drops and knocks.
Display
Gone are the days when business machines were considered an eyesore; they also picked up on the looks game by becoming more desirable.
But the consumer laptops still call the shots while being easy on the eyes and no sweat to tackle than any business computer.
Bright, glossy displays and keyboards are a staple of regular laptops.
As businesses become more customer satisfaction oriented, they are now working on including business machines that speak volumes about their work standards.
These days big names such as Dell and Lenovo are catching up to this trend by incorporating the best display features of a consumer laptop into a business machine, making it all the more likable for users.
Workspaces are in for a revamp as they like to present themselves as inclusive by incorporating consumer aspects. Hence, the demand for attractive but durable business devices is here to stay.
Business Laptops have more configuration options
Most companies bulk purchases their business devices once for a big overhaul, so manufacturers design any series of laptops keeping in mind the diversity of their users.
Consumer laptops have been trying to provide some room for custom specs- but only to offer additional storage or a high-end display. But offering varied makeover options like the ones by business machines is a little wishful for regular laptops.
Price comparison
You'll likely see a higher price tag with a business laptop's increased battery life, speed, and power. The price depends on the features and the model you choose.
With commercial devices, you actually pay for the higher end of all the specs with a surety of a purchase to last.
Consumer or gaming laptops designed keeping gamers in mind can be on the higher end of the budget.
While affordable business laptop models are available and focus on long-term usage, paying more for a suitable device will save you future stress and repair costs.
For instance, here are the best small business laptops under $500, and here are some of the best laptops for Zoom meetings. Both lists include cheap business laptops that you can use for routine office work.
Additionally, for business professionals, here are business laptops under $1000 that are very affordable.
PS: You can get at much-discounted prices if you buy your business laptops at these special times.
Take away
The perfect choice of your business machines can make or break your company, as any company runs on solid machinery.
With most or nearly all businesses involved in one or the other form of device usage, It is mandatory to be equipped with the best version to beat this competitive business world.
Any business or enterprise that equips their employees with the best work instruments also creates a positive image for their clients that their work is in good hands.
So if you are planning to purchase a laptop for your business, which will eventually be the medium of your extensive sales, you should better not leave it to a regular laptop but make that one-time investment to purchase a business laptop instead.
Any good business person knows that the rule of thumb is to invest in products or services that ensure multiple returns.