Hiring the right blog writer is as important as having a blog. So instead of directly telling you the best places to hire a business blog writer, I thought to let you know a few crazy facts.
Blogs can get you 400% more traffic. More traffic can get you more conversions if your writer has the guts.
There are many other benefits of having a blog, here are my favorite ones.
77% of internet users read blogs. Source – the west program
Americans spend 3x more time on blogs than on emails. Source: Hubspot
81% of the buyers search online at least once before they complete a purchase. Source: GE Bank
79% of online shoppers spend 50% of their time researching the products. Source: Hubspot
It means almost 8 out of 10 quality customers are researching products and services online, especially through blogs.
It can be you who engage them with compelling content, win the trust and make them loyal customers, or it can be your competitor who will do that.
So here is another thing.
Even starting a blog for your business isn't enough. Unless you find a business blog writer who writes engaging and converting blogs.
But unfortunately, not all writers can get you the same results.
Here are a few reasons;
Usually, writers don't spend time researching the product, customers, and the market. Freelancers are always in a hurry to get things done.
They never build an ICP (ideal customer profile) so they can never convert them.
They don't know the practical techniques to write a converting copy. They are basically content writers, not copywriters.
It means a writer can either make you or break you (in all your blogging efforts).
So here are some quick tips for hiring a copywriter for your business blog.
Your blog is your life-long investment. So always focus on the quality and hire experienced copywriters. A few more bucks will get many times more ROI. Otherwise, you will regret it.
Ask the writer about his research process. How is he going to build an ICP to write personalized content?
Always check samples and the results, especially if the writings got any conversions.
Always ask if the writer has a grip on on-page SEO. And how will he optimize the page? If he understands the future SEO trends, that's even better.
Now let's get started with the best places from where you can pick affordable copywriters for small businesses.
7 Best Places to Hire Small Business Blog Writers
Sturdy Business
I usually write for my own blog. It's how I make a living.
I use two streams to make money through my blog.
Ads – it demands fully-optimized content to rank higher on Google and get more traffic to make anything.
Affiliate – I write SEO-optimized converting content. I get 6% to 7% conversions. That's way more than the average conversion rate.
So here is what I can do for you.
I can write you fully-optimized blogs that will not only rank on Google but also convert more than the average conversion rate.
Makes sense?
Learn more about my copywriting services.
Here is the last thing.
I have a decade's writing experience. After so many ups and downs, I am now aware of how to unlock the untapped opportunities to write content. I shall also help you with choosing the right keywords.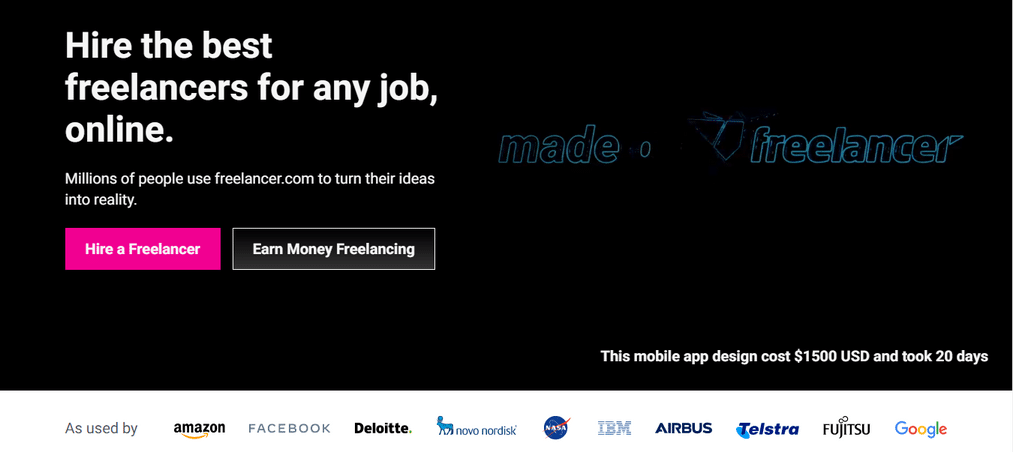 It's one of the best places to hire the best blog writers. Your money is secure, and you get your work done within your specified period.
It's pretty easy to hire a blog writer on freelancer.com.
Once you create an account, you can create a job with all the details of your work and post it. Sooner, hundreds, if not thousands, of applicants will reach you. Who would be ready to do your job at even lower rates?
However, it will be a bit hard to get the right one for your small business. You need one who could get you great business for a longer run, and for that, it's better to communicate with those whose samples inspire you.
After that, you can even ask them to write a paragraph on your topic so that you can take an idea of if it's suitable for your business or not.
Secondly, reviews and ratings can help you make a better decision for your hiring.
I always meet some of the best writers through Freelancer.
I have recently hired a writer on Freelancer. I realized that it's still the best affordable marketplace. I provided her with the products, the main keyword, LSI keywords, and strict guidelines. And she has done a great job after two revisions.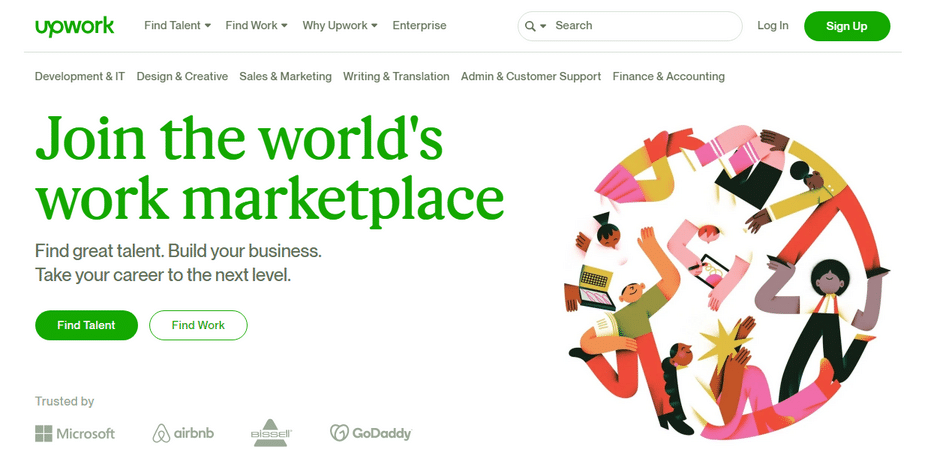 It's another best marketplace to hire the best blog writers for your small business.
With time, Upwork has made many things pretty hard for freelancers, which is why it's a less spammy website. Unlike Fiverr, you will get pretty low, low-quality writers creating a mess in your Inbox. However, none of the platforms is 100% safe.
Hiring someone one Upwork is pretty the same as on Freelancer.
You create a job and post it, sooner tons of applicants will respond to your job. And you can interview the best of them.
However, here you can also reach out to a writer whose writing style inspired.
Say you search "business blog writers" in the search box (available at the top). You will see too many well-reputed writers out there.
If someone's portfolio could inspire you, you can reach out. Once agreed, you can create a job specifically for that blog writer.
I found my friend Elizabeth here. She is a fantastic romantic stories ghostwriter.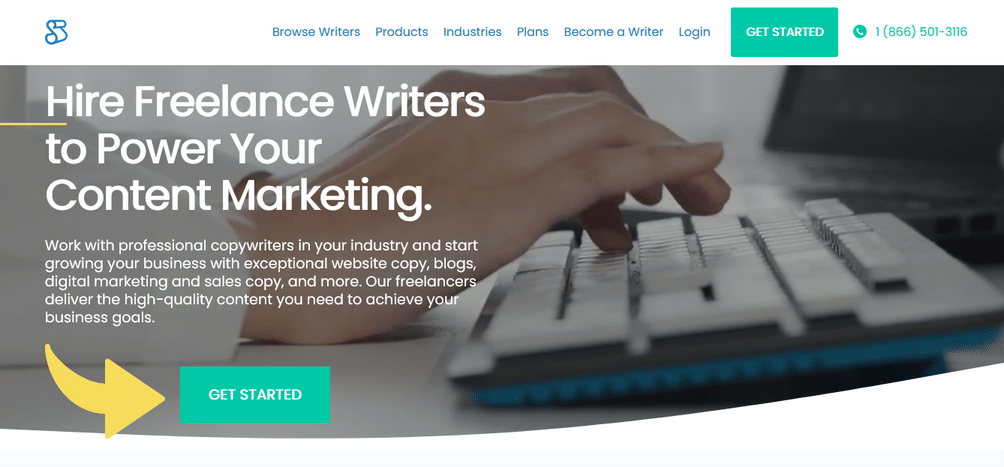 Scripted is a dedicated marketplace for writers.
It's also one of the best marketplaces to find blog writers for Hire. Its greatness comes with its quality control features.
They accept only 2% of the writers to keep their place pretty safe. But it makes them a bit expensive as compared to many other marketplaces.
Secondly, they have a subscription fee, making it a bit different from all other platforms we added.
Although, like other platforms, it's easy to hire blog writers on Scripted.
Once you join, Scripted as a business, Like Upwork, you can easily describe your work and pick the right one for you.
LinkedIn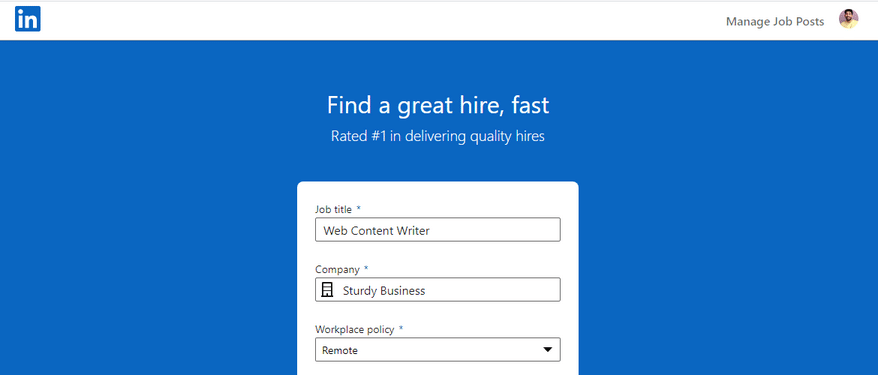 Not so long ago, when I was starting a new blog, I needed a writer. The first time, I tried LinkedIn to hire freelance writers. I created a free ad, and tons of writers applied for it.
Two of them were pretty good but needed some polishing.
So LinkedIn can be one of the best free platforms to find talented writers. If you don't find it with a free ad, you can run a campaign. It definitely won't cost you much.
Investing here in ads might save your money but also find you an ever-lasting co-worker. So while looking for some best small business blog writers, it's ridiculous not to give it a try.
To post a job on LinkedIn is pretty easy. On the right side, click on "Post a Job" in the upper bar, and it will lead you to the exact page. Otherwise, click here.
Reddit is one of the most trusted communities on the internet. The reason is that they always stay genuine and hate spammers.
That's why finding blog writers for your small business on Reddit is easier than you believe.
Reddit has a dedicated subreddit, r/hireawriter, to help businesses find perfect writers. However, to keep the community safe, like many other subreddits creating a post on this Reddit also requires much Karma.
If you already have, that's great; otherwise, you can buy Karma easily to make your post for Hire.
Once you create a post with the tag [For Hire], writers will reach you with samples, and you can easily pick the right one for your small business.
On Reddit, you can see how old the profile is and what the writer has already shared to get you an idea of their mentality and many other things about that guy.
That's why it secured a position in our best places to find blog writers.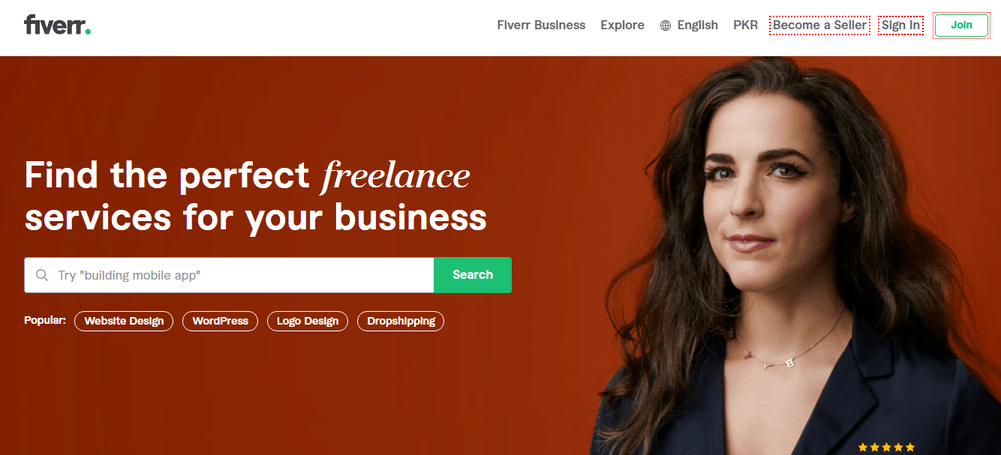 Indeed, Fiverr is also one of the best marketplaces to find writers.
But finding freelancers here is pretty different from all other marketplaces. Here freelancers have already created their Gigs, and you need to pick the one for you.
Say you put the phrase "small business blog writers" in the search box. You will find hundreds of Gigs in front of you.
You can select a few who could inspire you and reach out to learn more about their Gigs.
Otherwise, you can create a "Buyers' Request" where you describe your job and post it. Sooner, many writers will reach out, but unfortunately, most of those responses will waste your time.